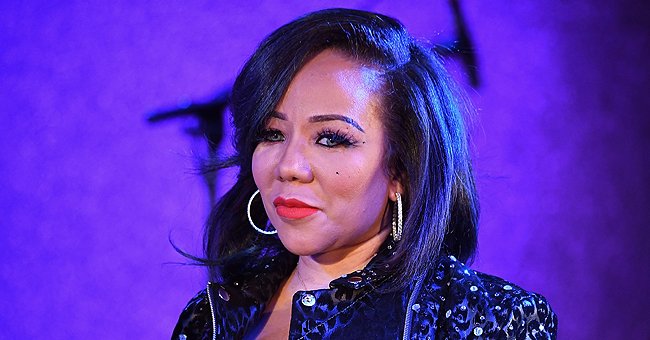 Getty Images
See What Tiny Harris Had to Say to a Hater Who Criticized Her Post about Daughter Zonnique's Pregnancy
Tiny Harris clapped back at a fan for criticizing her parenting after she shared a post celebrating the news that her 24-year-old daughter was expecting her first child.
Tiny Harris' oldest Zonnique Pullins recently announced that she is expecting her first child with the rapper Bandhunta Izzy.
In an exclusive interview with People, Zonnique admitted, "probably for the past three years, this same rumor [that I was pregnant] had come out. This time I actually am pregnant. It's weird!"
Zonnique and her boyfriend are expecting a girl. She revealed to People that she is five months along. The 24-year-old also shared the news in a heartfelt message on Instagram. She wrote:
"Y'all know I'm a private person and wasn't gonna say anything until felt ready to share...so with that being said going back into my corner."
In her post, Zonnique thanked her friends, family, and fans for the support they had given her. Her mother also shared her excitement.
Tiny, who had kept the news to herself for weeks, admitted, "I can finally say...My baby is having a baby!! I'm getting more excited by the day!!"
While many people celebrated with the grandmother to be, one person criticized her parenting. The person questioned Tiny about why she was excited about her daughter's pregnancy. The user said that Tiny should have taught Zonnique how to be a wife instead of being an unwed mother. In her response, Tiny said:
"Girl get off my page wit that [expletive]. She gone be good if she don't have a husband! I didn't have one when I had her & we great now."
Tiny's response received a lot of mixed reactions from commenters. "Truth hurts! Your suppose to want better for your daughter & not be ok with your child doing what you did," wrote one person.
Other fans gave their support for Tiny and Zonnique. One person commented, "this baby was created out of love, and that's that." Tiny responded to the post from The Shade Room and shared her surprise that they found her comment.

Tiny Harris commented on a post from The Shade Room about her exchange with a fan on one of her posts | Source: Instagram.com/theshaderoom
Zonnique shared the news about her pregnancy with
her stepfather
T.I. during the premiere episode of the talk show, "The Mix."
T.I. looked visibly surprised and was convinced that the hosts on the show were pranking him. Zonnique told People that she chose to tell him that way because she thought it would be a hilarious pregnancy reveal.
Please fill in your e-mail so we can share with you our top stories!