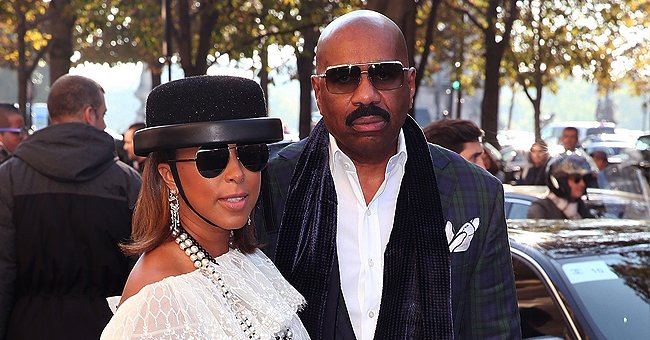 GettyImages
See Steve Harvey's Wife Marjorie's Epic Response to Fan Who Assumed Her Husband Cheated on Her
Steve Harvey's wife, Marjorie hilariously clapped back at a fan who suggested that her husband cheated on her amid rumors of divorce.
Marjorie Elaine Harvey never fails to give epic responses to trolls who come after her marriage to husband Steve Harvey. This was the case in a recent Instagram photo of herself which was simply captioned, "Today" along with a neutral smiley face.
In the image, Marjorie was seen with a somber expression on her face while sitting on a leather couch. She had her hand on her forehead while gazing blankly at something afar.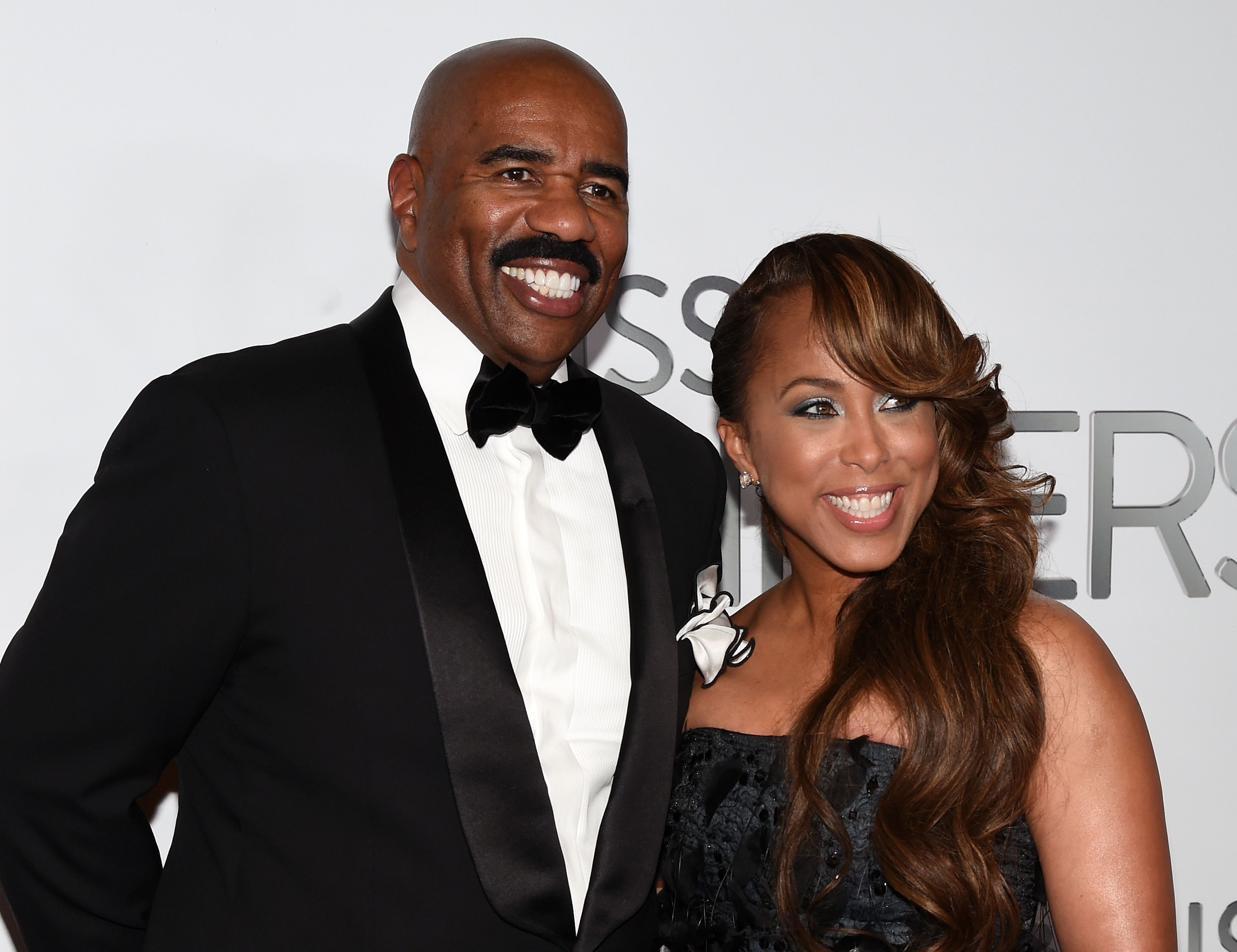 Steve Harvey and his wife Marjorie Harvey at the 2015 Miss Universe Pageant at Planet Hollywood Resort & Casino on December 20, 2015 in Las Vegas, Nevada | Photo: Getty Images
Although she wasn't her usual flamboyantly dressed self, her natural beauty was evident, thanks to her milky skin and long hair. As expected, the cryptic post garnered over a thousand comments from fans who had several things to say about the photo.
The divorce rumors began spreading around the same period [Steve] had gotten news that "The Steve Harvey Show" would be pulled from [NBC].
Many of them offered prayers and kind words for Marjorie encouraging her to not lose hope. However, there was a troll who hinted that she was sad because of her husband.
The user who simply wrote, "Steve cheated" accompanied by laughing emojis hinted at issues surrounding rumors of divorce that loomed over the Harvey family.
However, despite the insensitivity of the comment, Marjorie reacted calmly and with humor as she played along with the fan's joke, saying Steve cheated "only on his diet."
The fan's comment comes as no surprise as there have been rumors in the past of Steve and Marjorie on the divorce trail. According to reports, Steve, who is on his third marriage, was in the midst of a "divorce war."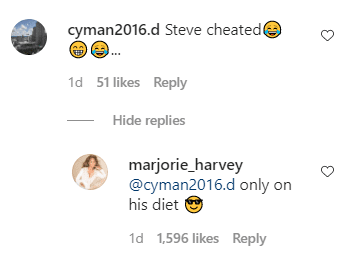 A screenshot of fan's comment on Marjorie Harvey photo | Photo: instagram.com/marjorie_harvey
The renowned show host was allegedly trying to liquidate his assets and have his property moved into his name to avoid a lengthy divorce process.
It is unclear how things in the "Little Big Shots" host's personal life would affect his career and profession. However, it is noteworthy that he has also experienced hardships on his job.
The divorce rumors began spreading around the same period the star comedian had gotten news that "The Steve Harvey Show" would be pulled from the NBC broadcast.
The show was slated to be replaced by "The Kelly Clarkson Show, " a development the "Family Feud" host was not duly briefed about beforehand.
As if that wasn't enough, the TV big shot also received news that Melissa McCarthy would be filling his shoes on the NBC show, "Little Big Shots."
Amid all the fuss, the comedian's wife has maintained that things between the couple are okay. She held that the work issues her hubby was facing were nothing but open doors to new opportunities as they had pending projects they intended to try out.
She is equally doing well on her own as an all-round fashionista. She owns a popular fashion blog called "Lady Loves Couture." Apart from running her fashion blog, she also manages the websites for Marjorie Harvey's Closet and Marjorie Harvey's Handbags.
It is no surprise that the fashion blogger always comes forth to defend her man as they have always had each other's backs.
The duo had to surmount the challenge of Marjorie's three kids and Steve's four not being on board with the blend. The "The Steve Harvey Show" creator recalls having to tell his children to "deal with it,"
Although Steve and Marjorie had known each other for about 28 years, they got married in 2007 and share seven children - four from Steve's previous relationships, and three from Marjorie's, whom Steve adopted. They also share five grandchildren.
The bond between the partners seems to have stood the test of time. Hopefully, it will continue to do that.
Please fill in your e-mail so we can share with you our top stories!