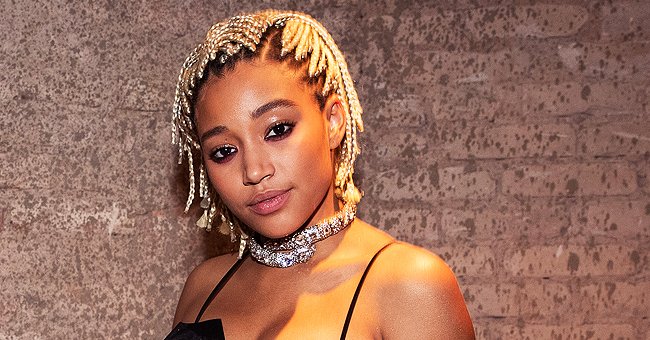 Getty Images
Amandla Stenberg Once Took Jaden Smith to Prom — 9 Things about the Rising Star
The talented young woman has become one of the most prominent rising stars in Hollywood. Since getting her breakthrough performance on the big screen as Rue in "The Hunger Games" in 2012, she has gained critical acclaim.
21-year-old actress, Amandla Stenberg has been in the spotlight since she was very young. Apart from being a gifted performer on screen, she has also been known for being around stars like her good friend, Jaden Smith who she once went to prom with.
In the picture they took right before heading to the party, the duo looked as cool as they could. While Stenberg sported gray braids, Smith wore a black and white dress.
Besides having cool friends off-screen, Stenberg is also an accomplished musician and a committed activist. In 2015 and 2016, she was included in Time's list of Most Influential Teens. She also called Oprah Winfrey's attention and was listed in her SuperSoul 100 list of visionaries and influential leaders.
In a few years, the actress has been an artist on film, TV, and music, and has received several awards and nominations. Stenberg is also always finding ways to make a stand on racism issues. But if you want to know more about this young Hollywood talent, here are 9 facts about her.
1. HER NAME AND MULTICULTURAL FAMILY
Stenberg grew up in a multicultural home. Her mother is African-American and her Danish father comes from an Inuit-Greenlandic mother. She also has an Asian half-sister.
Her name has a deep meaning. Amandla means "power" in Xhosa and Zulu, two languages from southern Africa. She eventually said that her mother named her after Miles Davis's 1989 homonym album.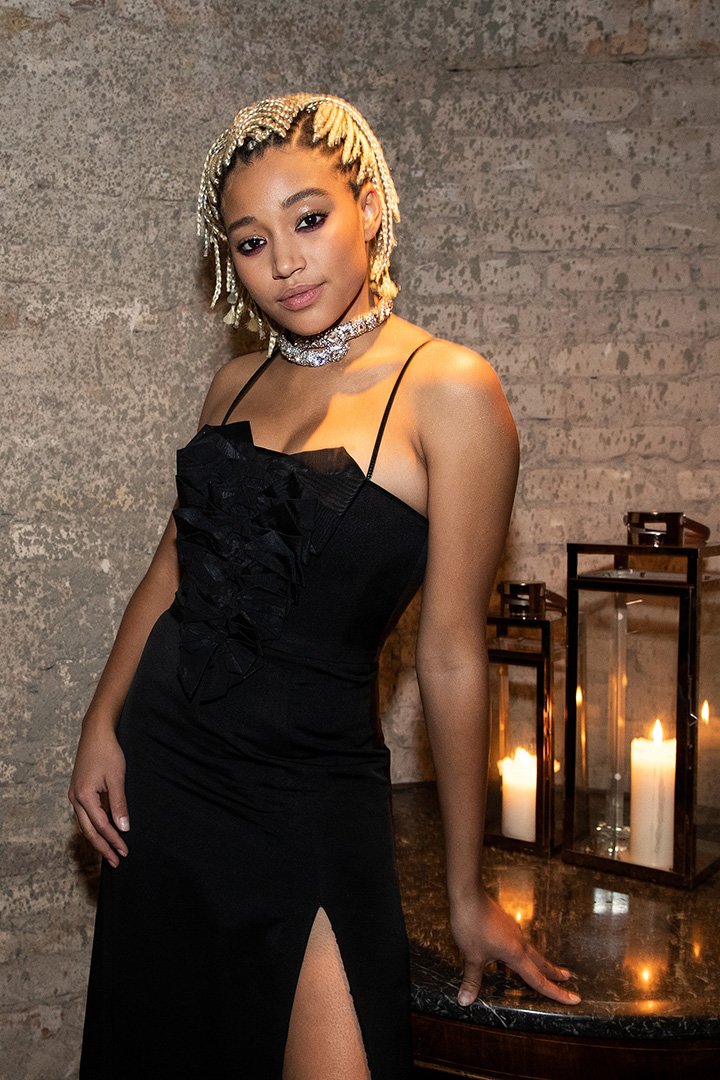 Amandla Stenberg attends the post premiere cocktail reception of "The Eddy" during the 70th Berlinale International Film Festival Berlin at Soho House on February 27, 2020 in Berlin, Germany. I Image: Getty Images.
In 2010, Stenberg landed her debut role on screen in "Colombiana" next to Zoe Saldana. The following year, a few months after she read "The Hunger Games" novel, she was cast as Rue in the film version. In 2015, she was a regular on the series "Mr. Robinson," and in 2018 she was the star of "The Hate U Give" based on a novel about the Black Lives Matter movement. In 2019, she was cast in the Netflix series, "The Eddy."
Stenberg has been widely known for her activism towards Black culture appropriation and racism issues. When she was 16-years-old, her school assignment which was a video called "Don't Cash Crop On My Cornrows" became viral when she criticized how the music industry was taking Black culture attributes as merchandise but failed to stand for equality for Black people.
Stenberg plays the violin, drums, and guitar. Moreover, since 2013, she's been singing in a duet called "Honeywater" which has released two EPs. She also wrote and recorded two songs, "Let My Baby Stay" and "Always" for the soundtrack of the films, " Everything, Everything" and "The Hate U Give" respectively.
After referring to herself as bisexual for a few years, in 2018, Stenberg came out as a lesbian and was seen for the first time with her then-girlfriend and musician King Princess in the MTV Music Awards. In an interview at the time, she explained that since accepting she was gay, she began to understand love and sex in a different and more expansive way.
Stenberg has always been close to big stars. She was part of Beyoncé's visual album "Lemonade" which was released in 2016. The actress was also close to a "Black Panther" opportunity but walked away due to racism concerns on the contract.
It seems that Stenberg has an old soul even though she is only 21 years old. The actress/singer revealed that she likes 60s and 70s rock and roll music and that her favorite novel is 1943's "A Tree Grows in Brooklyn."
After the success of "The Hunger Games," the young actress spent a couple of years with no acting jobs. In an interview, she said that she was not interested in characters with no complexity. "I like to play characters that I believe in, that is three-dimensional, that I think are worth it," she explained.
If everything she does was not enough, Stenberg is
for the nonprofit No Kid Hungry and an Ubuntu Education Fund supporter to help the education of children from South Africa.
Please fill in your e-mail so we can share with you our top stories!