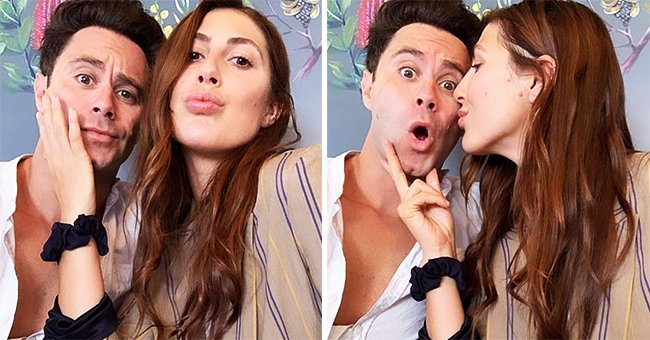 instagram.com/theemmaslater
ET Online: DWTS Pros Emma Slater & Sasha Farber to Live Apart While Filming Season 29 – Here's Why

Emma Slater and Sasha Farber will have to find themselves living apart when the new season of "Dancing With the Stars" begins. Surely, working in the same industry should not be the cause of separation.
Professional dancers and married couple Emma Slater and Sasha Farber are reportedly going to be physically separated for the new season of "Dancing With the Stars" (DWTS).
Entertainment Online talked to the pair about the coming changes resulting from the coronavirus pandemic. Slater and Farber explained why it has to happen.
MARRIED PROS TO LIVE SEPARATELY
Season 29 of DWTS will get underway soon, but by the time it does, all the married couples on the show will be living in separate houses. It is part of the new safety procedures the show intends to implement.
Slater and Farber, who have been married since 2018, laughed about the unusual circumstances. Of course, they know that there will be challenges as well.
Farber joked that his wife would not be living in their home because she would either burn down the house, let all the flowers die, not feed the dog, or have the house in a mess.
LOOKING FORWARD TO OTHER CHANGES
He then commended the show's producers for coming up with the procedures to keep everyone safe. Meanwhile, Slater said it was going to be "really weird and really hard" to stay away from her husband.
Typically, the pair help each other with their dance routines. They will not be able to do that anymore. On a positive note, Slater looks forward to having the cameras around more regularly.
She believes some funny moments will come out of it. Meanwhile, her husband is looking at the bigger picture. He questions whether all the changes — some of which are a secret — will affect how people see dancing overall.
The other married couples on the show include Valentin Chmerkovskiy and his wife, Jenna Johnson, and Pasha Pashkov and his wife, Daniella Karagach, who will be making her debut.
SLATER AND FARBER FULLY WILLING
The producers are keeping the pairs apart so that if one of them gets sick and has to sit out the season, they will not spread COVID-19 to their partner, creating a shortage of two professionals.
Slater and Farber are more than willing to make the sacrifice and stay apart from each other until one of them is eliminated. In contrast, fans are not so pleased about another major change in the show.
Since the firing of Tom Bergeron and Erin Andrews as hosts, DWTS fans have expressed outrage over the move. Bergeron has been hosting since the show's inception in 2005.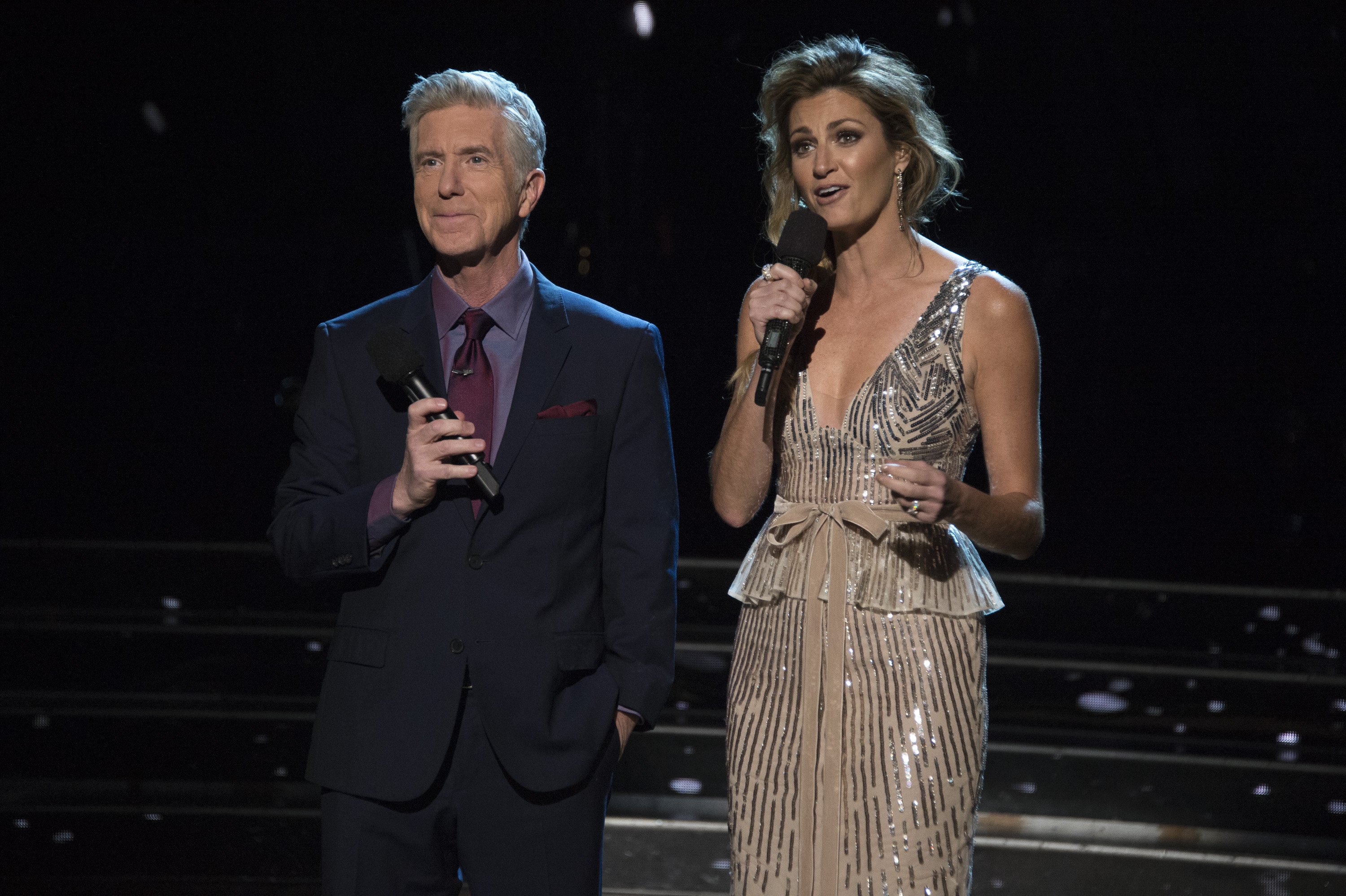 Tom Bergeron and Erin Andrew co-host the Semi-finals of "Dancing With the Stars" on November 12, 2018 | Photo: Getty Images
FANS REMAIN UPSET
Andrews joined him in season 18. Both co-hosts have been graceful about their departure, thanking the network and DWTS for their time. Fans were not as eloquent.
DWTS viewers continue to voice their disgruntlement at no longer having Bergeron on. Some fans pointed to other changes over the years, noting that the most recent is a sort of final straw.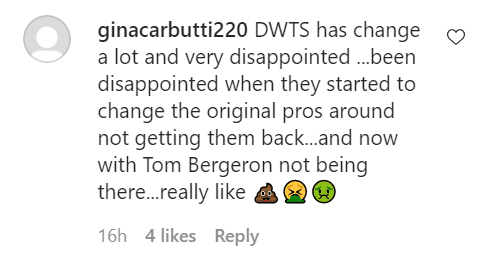 A fan comments on a status by "Dancing with the Stars" on August 17, 2020 | Photo: Instagram/goodmorningamerica
The dancers have also expressed their disappointment. Actor Alfonso Ribeiro, who competed on the show before, was raw about his feelings regarding the change.
RIBEIRO VOICES HIS OPINION
In an interview with Us Weekly, Ribeiro called Bergeron and Andrews the "backbone" of the show and said that he would never have sent them off. He wondered why management made the move at all.
Ribeiro wished replacement host, Tyra Banks, good luck with her new role. However, he said it would be painful to watch without his friend, Bergeron, hosting.
Still, he will be watching in support of his other friends on the show — namely, the professional dancers and judges. DWTS will return on Monday, September 14, at 8 pm ET.
Please fill in your e-mail so we can share with you our top stories!