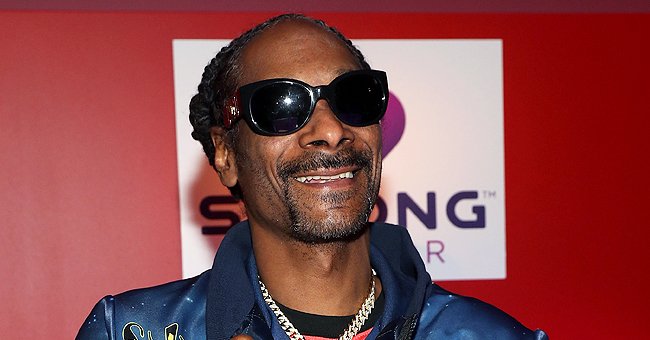 Getty Images
Snoop Dogg's Daughter Poses in a One-Sleeved Top & Matching Pants as She Flaunts Her Tattoos

Daughter of veteran rapper Snoop Dogg, Cori Broadus posted stunning recent photos of herself looking gorgeous in a blue two-piece top and pants outfit.
Rapper Snoop Dogg's daughter Cori Broadus is a stunner and her recent post shows that off perfectly. The young beauty shared a post with two photos of herself in a smashing two-piece, captioned:
"Just taking it day by day @fashionnovacurve colorful set fashionnovapartner."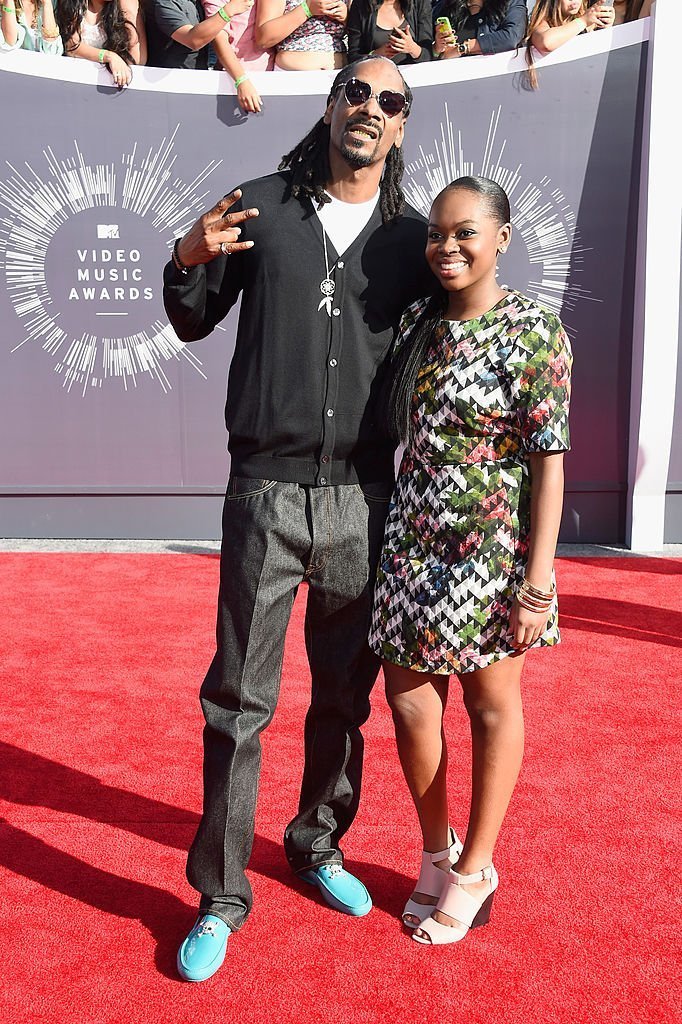 Snoop Dogg and Cori Broadus attend the 2014 MTV Video Music Awards on August 24, 2014. | Photo: Getty Images
Cori's outfit was a two-piece set with a sky blue crop top that had only one sleeve and showed off her flawless skin as well as her numerous tattoos. These included a butterfly on her forearm and two others on her shoulder and wrist.
The top was matched with a pair of pants in the same airy light blue color and more printed designs. The pants looked phenomenal as they hugged her figure and showed off her generous curves.
Cori, who is not a stranger to catching people's attention, quickly received several likes on her post with numerous adoring comments complimenting everything from her straight long hair to her stunning outfit.
In 2018, the rapper's young daughter chopped off all her hair.
Although Cori seems to have tons of followers and fans who dote on her, the 21-year-old has had her fair share of internet critics and backlashes.
In January, the rapper's daughter who is somewhat known for her love for body art through tattoos shared a snap of herself sporting yet another tattoo.
It might not have caught people by surprise if not for its uncommon position — her face. Following Cori's photo-post was a simple caption that read: "Belle= beautiful in French."
As usual, it did not take long for her post to start racking up likes and she soon had over ten thousand likes and comments, gushing over the new ink, which said "Belle" over her right eyebrow.
As might be expected with social media, it did not take long for the hateful comments to start seeping in with the kind ones.
Many followers were astonished at the rather bold move, questioning why she would do something so drastic as getting a permanent tattoo on her beautiful face. Not much of a reaction towards the backlash came from Cori and she seemed pretty content with her new look.
The face tattoo was not the first of her bold moves. In 2018, the rapper's young daughter chopped off all her hair, ready to take on a new, bold, and fierce look while embracing her natural beauty.
The 21-year-old is an aspiring singer who goes by the stage name CHOC and her biggest fan, unsurprisingly, is her dad, Snoop Dogg. In 2019, the rapper's only daughter snagged her first stage performance in front of an L.A crowd.
There was no one more excited than Snoop as he rushed to his Instagram to share a snippet of his daughter's performance.
It seemed like just moments ago when he was cheering her on during her high school graduation in 2017. Snoop's baby girl has grown into an amazing, beautiful, and talented young woman.
Please fill in your e-mail so we can share with you our top stories!