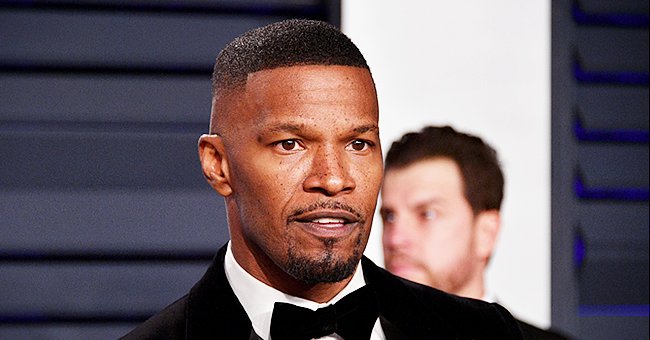 Getty Images
Check Out Jamie Foxx's Stylish Silky Polka-Dot Top – Fans React
Actor, comedian, and singer, Jamie Foxx looked flawless in a silky polka-dot shirt. His fans were smitten by the finesse that they praised him for the stylishness.
Jamie Foxx is all shades of handsome in his recent Instagram post. The actor flaunted his fashionable side for his thousands of audiences to view.
He shared a selfie that showed him rocking transparent shades with a blue and white polka-dot shirt. The singer's beards gave him an alpha male appearance. Lastly, he opted for a silver necklace and left the first two buttons of his shirt undone.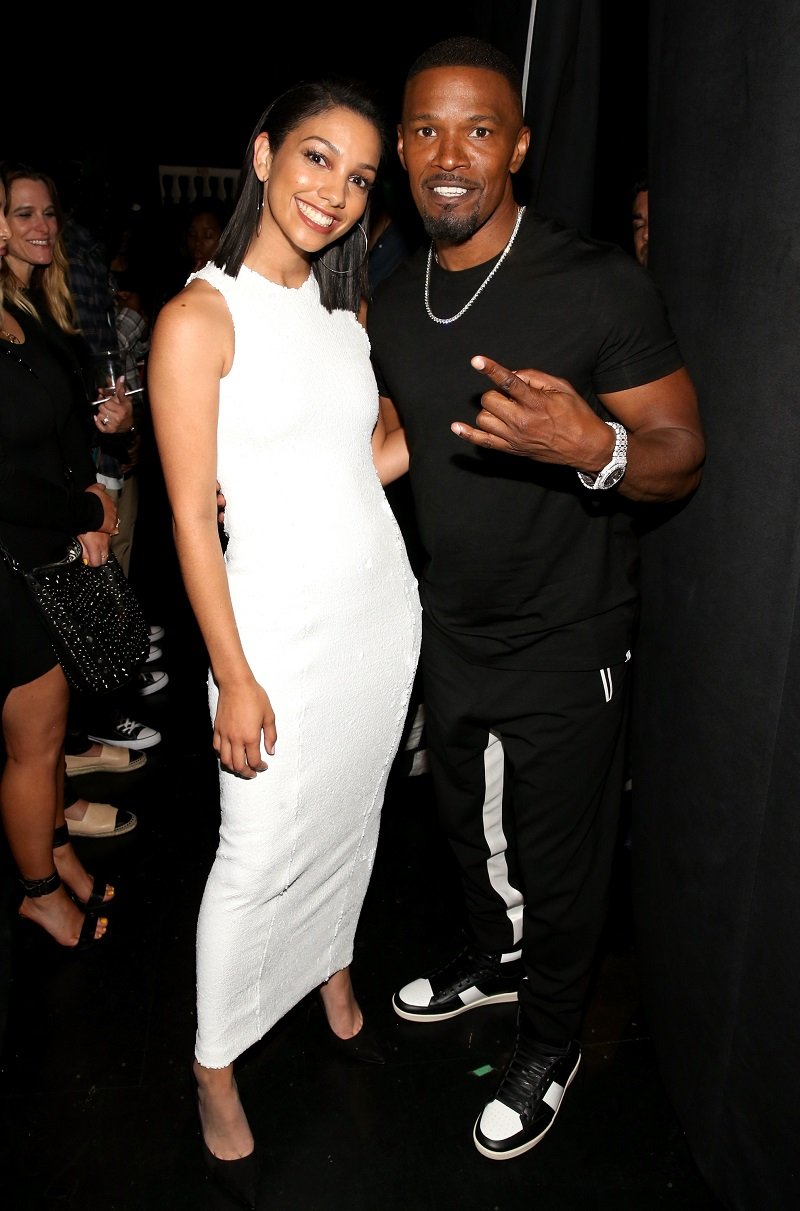 Corinne and Jamie Foxx backstage at the 2018 BET Awards. | Photo: Getty Images
The background of the image revealed that it was an indoor setting. Foxx was standing in front of stairs found in lavish buildings. In a short time, fans quickly spotted the actor's handsomeness in the unique silk shirt.
After liking the picture, many of them settled in the comment section to praise his looks. A few could not explain with their words so they opted for the fire, heart, and lovestruck emojis.
Another part of Foxx's life that seems entertaining to his fans is his personal life. Like many A-list celebrities that are always watched by the eagle eyes of the media, the actor is not an exception. Most of the decisions he makes concerning himself often make the headlines.
A year ago, several tabloids ran wide with stories about the comedian after his separation from his long-time girlfriend, Katie Holmes. A few weeks after the split, he moved on, and that again made the news.
His younger daughter, Anelise, was working her hands on the piano, and Foxx excitedly quipped that she is as talented as her father.
While the actor may be reported to have had a few romantic relationships with a few women, he takes his fatherhood duties seriously and gushes about his eldest daughter, Corrine Foxx.
After posting an image of the younger Foxx in a "PHENOMENALLY BLACK" inscribed shirt on Instagram, he wrote:
"you are my love and my light. You continue to blossom and grow!!! I love you!!! #daddydaughtertime."
Foxx is one of those celebrities who value family time. During an interview, he shared his quarantine experience via a video and it reflected that he is an excellent host and that he bonded well with his loved ones.
In the clip, he had different family members, especially his kids playing around and having fun. His younger daughter, Anelise, was working her hands on the piano and Foxx excitedly quipped that she is as talented as her father.
Although he had other plans like touring Ghana, West Africa before the quarantine due to the outbreak of the novel coronavirus, he settled for having a swell time with his pack!
Foxx does not stop at being a great father or a stylish personality. He is also an impressive actor. He has a Grammy Award to his name, and over the years, his features have earned high ratings from critics.
Please fill in your e-mail so we can share with you our top stories!