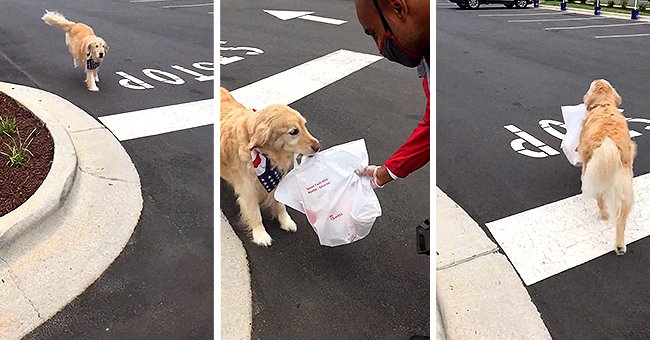 Facebook/ChickfilaCarrawayVillage
Watch an Amazing Video Showing a Golden Retriever Fetching Chick-Fil-A for Her Owner
A Golden retriever in North Carolina is as good at stealing hearts as she is at curbside pickups. In a new viral video, the dog showed another side of being man's best friend.
Last Thursday, Ellie became an instant hit with everyone who watched a video posted by one of the team members at the Carraway Village Chick-fil-A in Chapel Hill, North Carolina.
Picking up food so her owner can ensure sticking to social distancing regulations, the golden retriever made hearts melt across the country. Since the posting of the clip, it's been watched by over 2.4 million people and counting.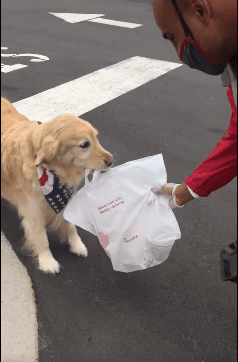 Ellie the golden retriever doing a curbside pickup on her owner's behalf. | Source: Facebook/Chick-fil-A at Carraway Village.
The clip showed Ellie eagerly running over to the gloved Chick-fil-A member waiting curbside while her owner named Nick safely stayed on the other side of the parking lot.
Then, the man placed the handles of the takeout bag in Ellie's mouth before she ran back to Nick with the food.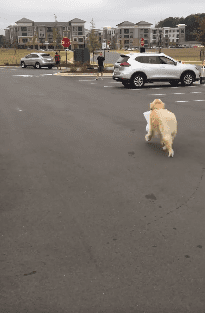 Ellie the golden retriever heading back to her owner with the curbside pickup of their takeout chicken order. | Source: Facebook/Chick-fil-A at Carraway Village.
Adorable as it is, the cuteness doesn't stop there. During a quick chat with USA TODAY, Carraway Village Chick-fil-A director of marketing, Gabriel Baker dished that Ellie loves carrying bags for Nick. Apparently, she eagerly does so for 0.2 miles before they get home, as Baker added:
"She just walks along with it in her mouth, just trotting along beside Nick. People will honk and wave, especially now that she's famous."
Since mid-March, the restaurant relied on drive-thru orders, takeout, and curbside pickups to keep serving its customers. Social distancing regulations came due to the novel coronavirus pandemic, and it had restaurants temporarily close their doors.
However, everything in the bag is not just for Nick; Ellie gets her favorite 8-count chicken nuggets when he orders as well. Aptly, Chick-fil-A captioned the adorable video:
"It's our favorite thing to do to serve yummy food to happy Guests — four-legged Guests included."
Golden retrievers are known for their intelligence and family-friendly demeanor. These dogs stay childlike themselves well into childhood, so it's no surprise that they've become a popular breed among families with children.
Orientated towards pleasing their human families, they are easy to train. And like it says in the name, they like to retrieve things. They make excellent special needs dogs and energetic and trustworthy addition to any family.
Recently another dog found himself a family but in a rather unusual way. Earlier this month, the manager of Hyundai Prime in Brazil adopted Tuscon Prime and even gave him a job with the phones.
However, it needs to be noted that Tuscon Prime is a stay dog that would keep coming back to their showroom no matter what. Eventually, he had crept into the hearts of all the employees, and he stayed having found his home.
Please fill in your e-mail so we can share with you our top stories!