Marie Osmond Shares a Photo with Husband Steve from a Trip They Took in Honor of His Birthday
Former professional basketball player Steve Craig added another milestone to his years this week. His wife, country singer Marie Osmond, took to social media to share a sweet message to celebrate. 
Marie Osmond shared a picture of the couple and gave her man a birthday shout out. The image showed both of them standing on what appeared to have been a hill, with mountains and natural landscape stretching behind them. 
Osmond looked beautiful in a checkered shirt and a pair of jeans while pairing her look with a hat and a pair of sunglasses. Steve Craig, however, opted for a cap with a pair of jeans and a blue polo shirt.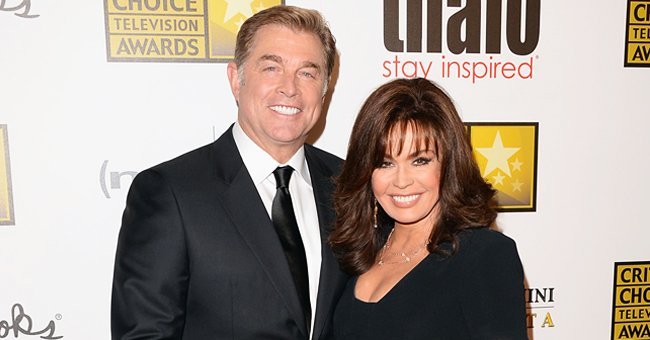 The couple looked relaxed as they struck a pose and smiled for the camera. Osmond was even comfortable enough to embrace her husband. 
Captioning the picture, Osmond pointed out that the couple had decided to celebrate Craig's birthday with a day out. She said: 
"? #HappyBirthdayto my sweetheart!! ?We... decided to spend some together time enjoying God's beautiful earth..."
Osmond and Craig have one child together — Stephen. However, Osmond has seven other children, all from different relationships. Despite the daunting task, Craig has taken on the fatherhood role quite conveniently. 
Osmond and Craig have shown that a couple destined to be together will make it work somehow.
The love story between Osmond and Craig is indeed astonishing. The couple first got married in 1982, although they divorced just three years later. 
It's unclear what caused the couple's split. However, they moved on to other relationships. Interestingly, the couple would reconnect again after failing to find true love. To everyone's surprise, they married once more in 2011. 
Osmond and Craig have shown that a couple destined to be together will make it work somehow. As for why she married him a second time, Osmond claimed that Craig was the sweetest man she knew. 
The singer also explained that she decided to give their marriage another shot because Craig reminded her of her father. As she said, her father treated her mother well. That taught her to be loyal as well. 
While marrying someone for the second time is a tad rare, Osmond and Craig have made it work. From the looks of things, they seem to be happy together.  Eventually, happiness is all that matters. This couple is a testament to that.