Solange's Only Son Julez Looks Grown-Up as He Shows His Shiny Hair and Braids
He is known as Solange's son and Beyonce's nephew, but he has the looks to shine on his own light, even at his young age. Moreover, he seems to be ready to join other celebrity children and become a socialite and an Internet personality.
34-year-old singer-songwriter Solange Knowles is the proud mother of a 15-year-old son named Daniel Julez J. Smith Jr., shared with her first husband, American football player Daniel Smith.
Julez, as the teenage boy is called, recently joined Instagram and his account in the social network rapidly grew viral when the public identified him as Solange's son and was surprised about how grown-up he looks now.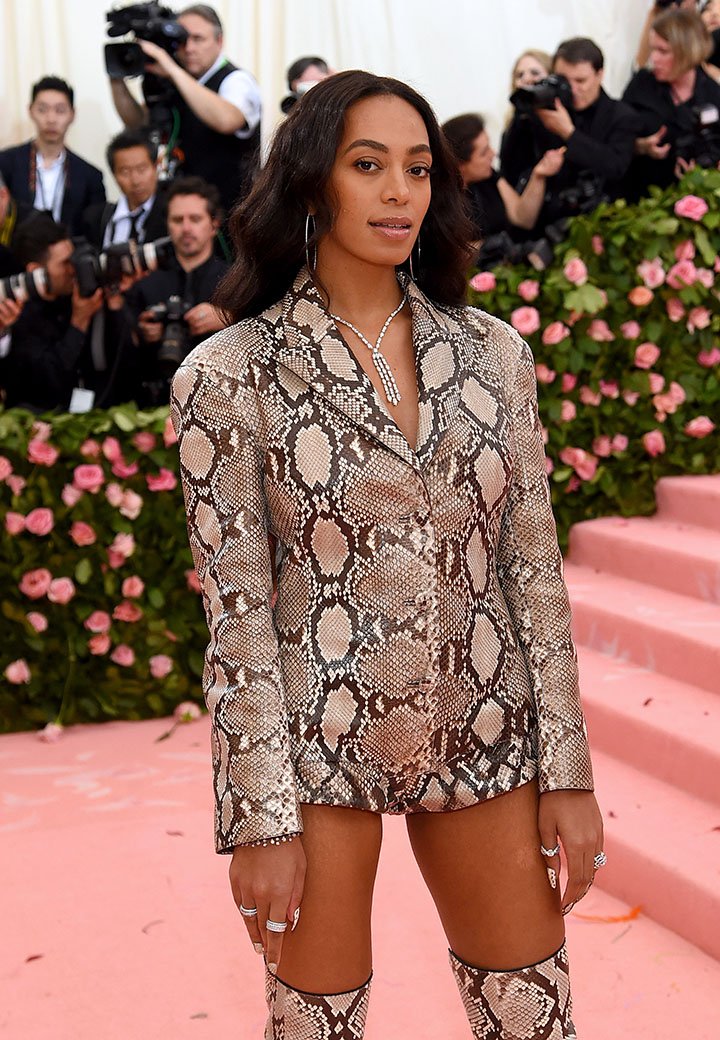 On August 28, 2020, Julez took to his new Instagram account to share a slideshow of pictures of himself during an evening out in the city, where he seems to have gotten a haircut and braids, with the teenager flaunting his hair in some images.
Ever the mysterious guy, Julez only captioned the slideshow with a "Don't Walk" emoji. The first image in the post shows him hiding his face under a hoodie while standing on a sidewalk.
In the following image, Julez's green eyes and curly hair emerge from the hoodie as he seems to wait somewhere indoors. The next snapshot is a mirror selfie taken with the flash on.
Another selfie shows Julez in the bathroom as he checks his braided hair out in the mirror and shares his new look with his fans and followers. He seems to be very satisfied with his new hairstyle, and his friends showed him support in the comments section of the post.
"Big bro, go crazy!" somebody wrote. "Rockstar," another user wrote, adding an electric guitar emoji. "Yes," approved a third user, adding a fire emoji. In the first two days since published, the post gathered more than 4000 likes. 
DISCOVERED IN SOCIAL MEDIA
Julez's sudden social media popularity started when celebrity news outlet Hollywood Unlocked shared a screenshot of his Instagram Story declaring his love for Jordyn Woods' younger sister Jodie. 
The post included an image of Julez as he looks now, shocking his mother's many fans with his mature and handsome looks that make us all feel that time certainly flies.
"Crazy, I remember when Solange was pregnant with him in the Soldier video. Now he's all grown up professing his love for Jordie. Time flies yo!!!!" an expressive fan shared in Hollywood Unlock's post's comments section on August 21.
HE SPEAKS FRENCH
A few years before debuting his own social media profile, Julez drew some attention when his proud mother took to her Instagram account to share a video of him speaking French during his fifth-grade graduation in 2016.
In the since-deleted post, one of Solange's fans questioned why Julez was learning French, suggesting that he should better study subjects related to his African heritage and the Bible.
Solange took the time to write a long response to the woman in question to, among other things, explain that actually Julez was interested in French to be able to travel to African countries and to connect and make friends with people from Senegal, Rwanda, and Morocco.
While acknowledging that every family has its own standards, she was unapologetically proud of her sixth-grader knowing French.