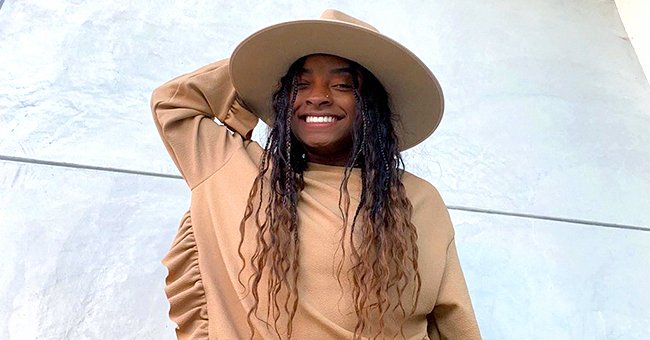 Instagram/simonebiles
Simone Biles Flashes a White Smile Posing in Shorts with a Nude Sweatshirt & Matching Hat
Simone Biles flaunted her million-dollar smile in a recent Instagram post. She also showed off her amazing fashion sense with a nude sweatshirt and matching hat.
Record-breaking gymnast Simone Biles is all about spreading joy on her timeline, as seen in her recent Instagram post. Over the weekend, Biles shared a lovely photo of herself having a swell time outdoors.
The 23-year-old showed off her killer fashion sense in ripped shorts and a nude sweatshirt adorned with ruffles. She finished off the casual ensemble with a matching fedora hat that covered part of her ombré braids, with the long ends of her hair framing the sides of her face.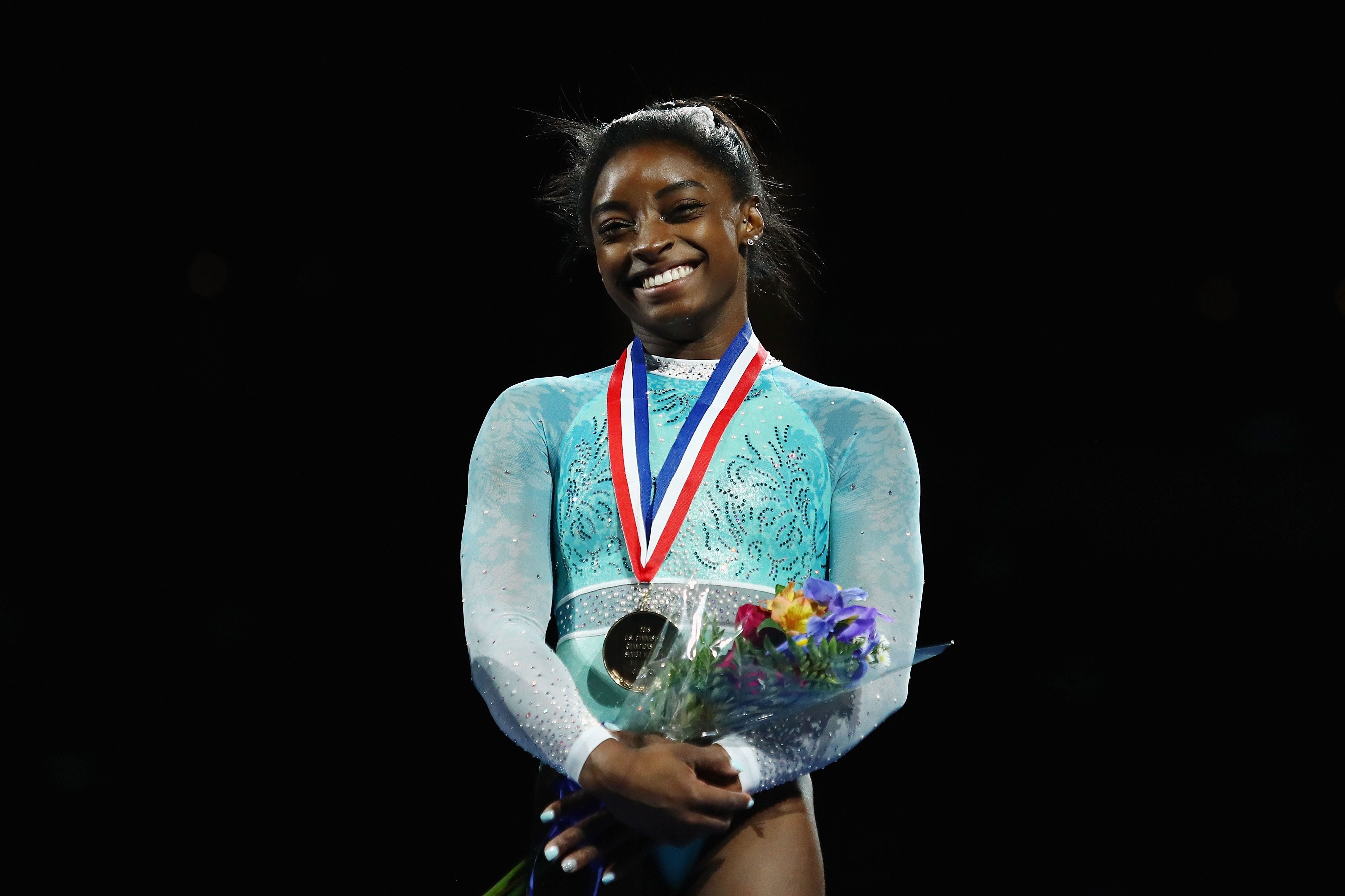 Simone Biles stands on the podium during day four of the U.S. Gymnastics Championships 2018 at TD Garden on August 19, 2018 in Boston, Massachusetts. | Photo: Getty Images.
In the first slide, the gymnast brought her tongue out while playfully posing with her hand in the air. In the second, she gave a million-dollar smile, flashing her white teeth and giving fans a glimpse of her blue nail polish.
The gymnast was recently in the news when she became Instagram official with her new boyfriend Jonathan Owens.
The post, which was captioned, "smile & enjoy the weekend," was bombarded with thousands of likes and sweet comments from her followers.
Many praised her lovely style, asking her for advice on where to get something similar while others complimented her beauty. One fan gushed:
"You're gorgeous inside and out!!!"
Biles is no stranger to kicking off the weekend with lovely photos of her relaxing and having a great time. This was the case in an August 22 post where she showed off her toned body in a black bikini while lying at the edge of a pool.
The four-time Olympic champion looked sun-kissed and without any worries wearing sunglasses and holding a metallic cup while giving fans a glimpse of her luxury white Gucci slides.
Even though the ongoing COVID-19 pandemic has stopped Biles from bagging more medals, the five-time world champion has continued to wow fans with her gravity-defying stunts.
Last week, she shared a mind-blowing clip on Twitter of her at practice performing a one-and-half twist step out to a double layout. The impressive video was liked over 19,000 times and retweeted more than a thousand times.
When she isn't showing off her gravity-defying skills or epic fashion sense, Biles is all about letting fans in on her love life. The gymnast was recently in the news when she became Instagram official with her new boyfriend Jonathan Owens, months after her split from Stacey Ervin Jr.
She debuted their relationship with cute photos of the NFL player hugging her from behind. Since then, Biles has uploaded more pictures of them, letting the world know she has found love again.
The latest post of them to have fans swooning was a clip the athlete shared of them on her Instagram story. The lovebirds were seen cuddling while music played in the background.
Biles looked radiant sporting a black top as she laughed at the Houston Texas player who was rapping while shirtless, proving that she is happy with him.
Please fill in your e-mail so we can share with you our top stories!