Eniko Hart Shows Her Huge Baby Bump as She Basks in the Sun in a Black Two-Piece Swimsuit
Kevin Hart's wife Eniko is getting some sun and showing off her huge baby bump as she wears a black two-piece swimsuit. 
Kevin Hart and his wife Eniko are expecting their second child together and the excited mother is eager to show off her growing stomach. 
Last month, Eniko showed that she could still hit the gym even months from her due date, sharing some impressive gym pictures of herself working out. 
The model who has been sharing regular photos of herself throughout her pregnancy recently celebrated her baby shower and she is definitely looking forward to welcoming her new child.
Recently, Eniko shared a sweet 3D sonogram of their daughter and she accompanied it with a sweet message saying:
"I cannot wait to kiss these fat cheeks! ?#BabyK?"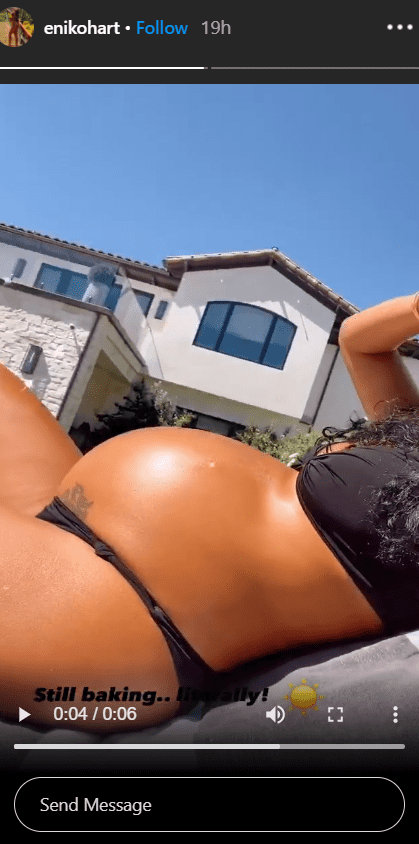 Until then, Eniko is enjoying her pregnancy and recently shared a stunning video of herself sunbathing in a black two-piece swimsuit. 
The star shared the clip to her Instagram story and she looked like she was glowing as she wrote that she was "still baking....literally." 
Their relationship has seen some turbulent times, including instances of infidelity.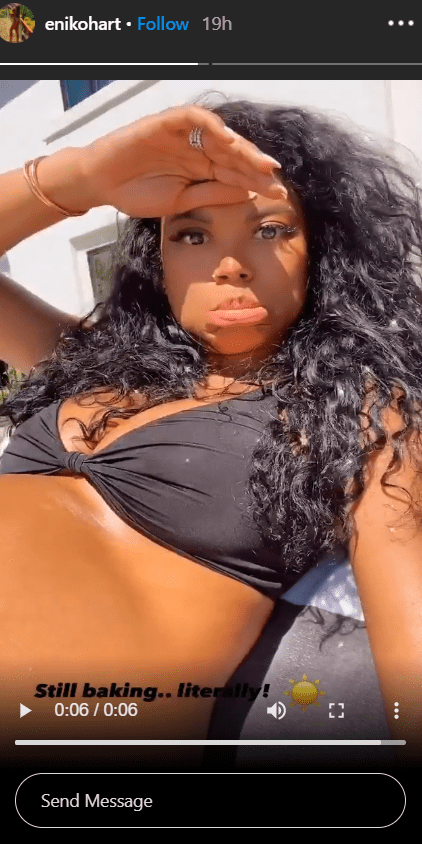 Eniko and her comedian husband revealed that they were expecting a girl on Mother's Day by sharing a family photo to their Instagram page. 
The "Jumanji" star broke the news with a photo showing their whole family as his wife wore an "it's a girl" sash. He said:
"We are thrilled about the arrival of our baby girl....Family of 6 WOOOOOOOOOW!!! God is unbelievable...We are blessed to have you in our lives."
Eniko and her husband share another child, son Kenzo, while Hart has two other children from a previous marriage, daughter Heaven and son Hendrix. 
The couple has been married since 2014. However, their relationship has seen some turbulent times, including instances of infidelity. 
One instance was in 2017 when the actor was being blackmailed with a "sexually provocative" video showing himself and another woman while his wife was pregnant with their son.
After publically admitting to the affair, Hart apologized to his wife who eventually decided to forgive him and stand by him, with the couple still going strong today.