Simone Biles Reveals She Suffered Chest Piercing Rejection
For a while, Simone Biles enjoyed her latest fashion statement, a chest piercing which she flaunted on social media. However, she recently opened up that she suffered a chest piercing rejection.
Simon Biles has had some fashion moments. One of which was her sternum piercing which she debuted earlier in the year. On Instagram, Biles, who is the world's most decorated gymnast, flaunted her piercing in many snapshots to the delight of fans.
However, her recent post on Instagram had a fan asking why she took out the chest adornment. In her reply, Biles revealed that she suffered chest piercing rejection which occurs when your skin feels like there is a foreign object stuck in it and is trying to push it out.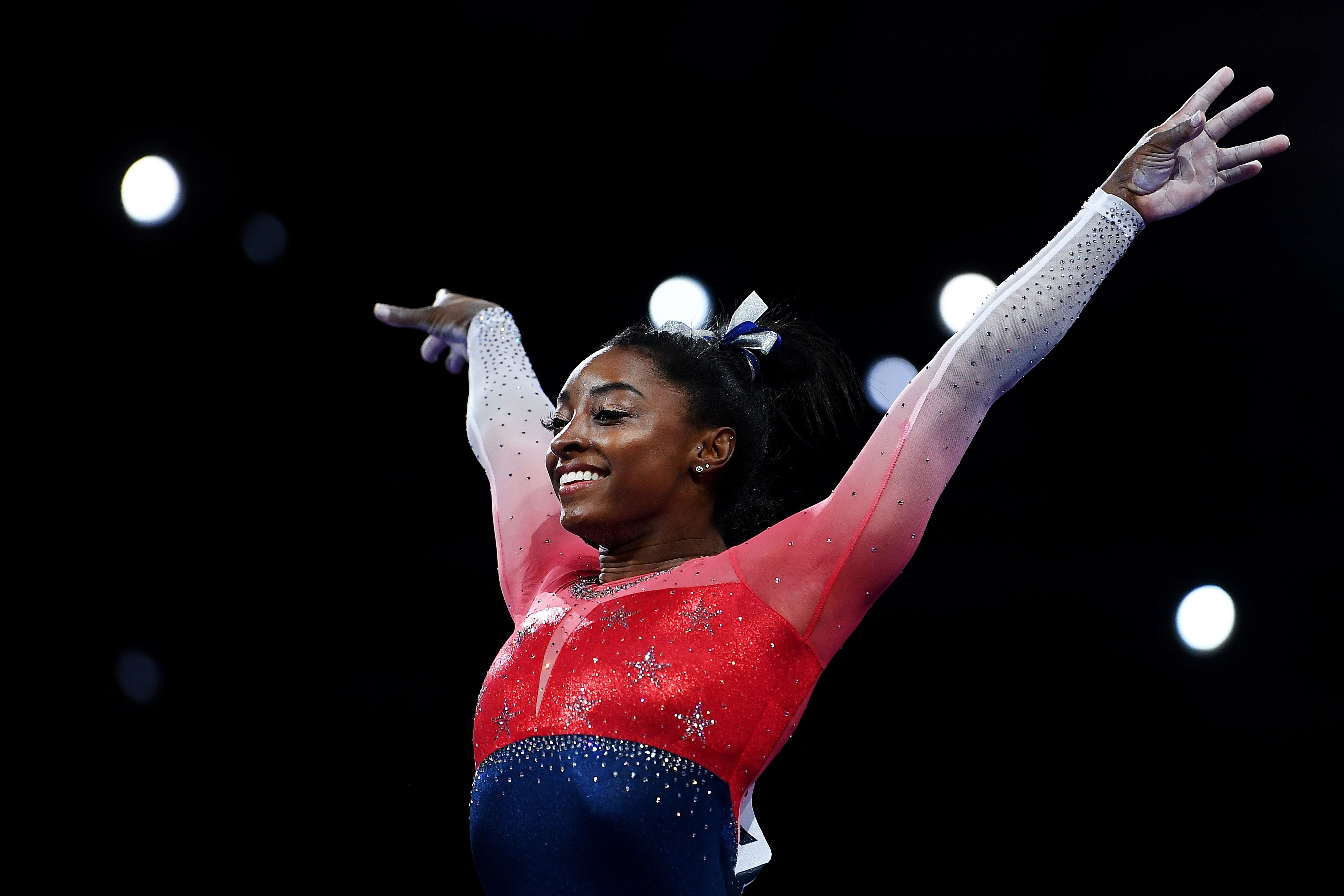 In the image showing Biles and her new boo, a fan asked her if her chest piercing reject to which Biles replied that it did sadly. She also continued that she had plans of taking the piercing off anyways so it was all good.
In February, Biles, 23, debuted her sternum piercing as she rocked a black plunging dress that teased her cleavage and gave followers a clear view of the new fashion item.
In her caption, the young adult let fans know that she was unbothered. Stars like Gabi Butler and Biles' ex-boyfriend, Stacey Ervin Jr., gave their approval and admired her in the comments.
The sternum accessory which is inserted with a hollow needle sits on the skin and is prone to infection or snagging. Therefore proper care has to be put in place to avoid complications.
She made it known in an interview that their separation was for the best.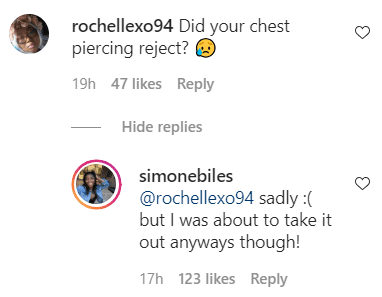 More of her photos appeared on Instagram where Biles rocked top-notch fashion items and flaunted her piercing. Another of her show-offs 
was an all-black outfit
that accentuated the stud-like jewelry.
Biles made news headlines in April after she broke the internet with her unique handstand performance. In the video shared to her Instagram page, she wore a white sports bra and a pair of pink jogger pants in her home's interior. 
The 23-year-old who is an A-list Olympian took her handstand stance and swiftly pulled off her joggers while maintaining her position.
While the novel coronavirus pandemic halted plans for the 2020 Olympics, Biles has continued her training in preparation for the postponed games. 
These days Biles is basking in her newfound romance with NFL champion, Jonathan Owens. Last month, she debuted her relationship on Instagram with a romantic snapshot of her and Owens. 
Biles and her ex-lover, Ervin called it quits in March. She made it known in an interview that their separation was for the best. 
Owens formerly played college football at Missouri Western State University. He currently plays as a safety for the Houston Texans.