Father of Beauty Influencer Ethan Peters, 17, Speaks Out about His Son's Cause of Death
Beauty influencer Ethan Peters, known to his fans as Ethanisupreme, tragically passed on Sunday at the age of 17 - but sadly he is not the only social media star to pass recently.
Well-liked social media influencer Ethan Peters died on September 6. His father confirmed the sad news although there is no "official ruling" about his cause of death yet, as Fox News reported.
Over the last couple of months, several young social media influencers tragically passed away, and Ethan's father attributed his passing to the heaviness of the cancel culture in this modern-day and age.
HIS FATHER CONFIRMED THE NEWS
Ethan's father found him in his bedroom around 11 am in the morning and said that he felt certain his son died by drug overdose and added:
"He wanted nothing but to inspire, make people laugh and push the boundaries of what is acceptable in our world for All young people."
To his father, Ethan was a "kind soul" that just wanted to spread joy, one who also left behind a best friend now devastated by the loss as well. Ava Louise and Ethan were best friends, and for months, Ethan was the only one she spoke to.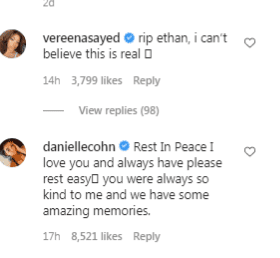 HIS BEST FRIEND PAID TRIBUTE
Mourning, Ava paid tribute to him on social media. Posting a picture where they posed together in their swimwear, Ava added a heartbreaking caption as she wrote:
"We had our last FaceTime call last night and I am so so sorry I cut it short. I can't breathe. This is the worst pain I ever felt. [I've] lost friends but never a best friend."
OTHER SOCIAL MEDIA STARS TO RECENTLY PASS
On August 19, the YouTube star Landon Clifford passed away aged 19. He became known for chronicling his life as a teenaged father and husband, and the shocking news came in an announcement from his wife, Camryn. 
The young widow shared that Landon spent six days in a coma before he died, donating his organs and saving other lives in the process. In May, YouTuber Corey La Barrie died after being involved in a car crash in Los Angeles, on his 25th birthday.
Similarly, YouTube star Thea Nicole's death came unexpectedly in July. Only 24 years old, Thea, who became a British social media influencer and dancer, was also eight months pregnant, and tragically her unborn son passed as well. 
At the time, there had been no official cause of death, and Thea's family requested privacy to deal with the heartbreaking loss.
The National Suicide Prevention Lifeline is 1-800-273-8255. Other international suicide helplines can be found at befrienders.org.