Getty Images
See Kevin Bacon's Sweet Tribute to His Wife Kyra Sedgwick on Their 32nd Wedding Anniversary
Kevin Bacon showed gratitude to Kyra Sedgwick, his wife of over three decades, as he thanked her for all the years. Bacon made it a throwback affair with a photo from their wedding.
It was a celebration of love for Hollywood's Kevin Bacon and his wife, Kyra Sedgwick, as they commemorated their 32nd anniversary of being together.
On his Instagram page, Bacon showed off a lovely photo from older times when he and Sedgwick had said their vows and begun their marital journey.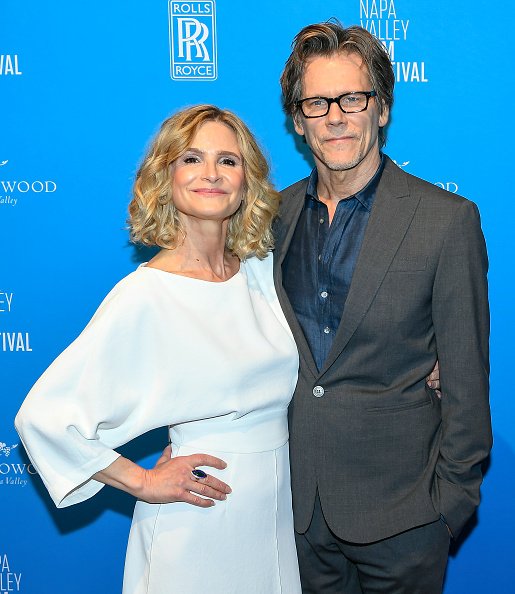 Kyra Sedgwick and Kevin Bacon at the Lincoln Theatre on November 13, 2019 in Napa, California. | Photo: Getty Images
Bacon gushed over his wife, Kyra Sedgwick, as he sweetly stated the number of days it has been since their 1988 wedding. The star actor shared a black-and-white image of him and Sedgwick when they were newlyweds. He wrote in his caption:
"11,680 days with you. Thanks for making them all count @kikkosedg."
Many fans showed that they cherished a good love story as they filed to the comment section with heartwarming wishes for the celebrity couple. While some followers heartily calculated the couple's minutes and seconds together, others admired how they have been able to keep it going.
The star, who is a mom of two, got busy with a new skill.
It was the Bernie Madoff saga in 2008, where Madoff pulled off what was called the largest Ponzi scheme in history. Bacon, 62, and his wife were part of those defrauded.
The couple made it known that they had invested all their savings. Sedgwick's sister was also a victim, and it was harder for them more so finding out on the eve of Christmas. The two were able to recover because they both had jobs.
The first time they met, Bacon was already a young actor, while Sedgwick was a starstruck 12-year-old girl. She and her brother had gone to see a '70s movie which had Bacon in it, and she met him afterward.
Their parts would later cross in 1987 on the set of "Lemon Sky." She once revealed that he was not her type, but things changed when they got to know each other better.
Bacon shared that his star wife has made more sacrifices in their marriage, and he admires her. Sedgwick explained that her spouse helped her attain a milestone as a director.
The star, who is a mom of two, got busy with a new skill. While the couple's son, Travis, stays with them, their 28-year-old daughter, Sosie, lives nearby.
Please fill in your e-mail so we can share with you our top stories!