Deshaun Watson Cries While Speaking to His Family after $160M Extension with Houston Texans
Deshaun Watson signed an extension with the Houston Texans that will earn him $160 million. He became emotional while talking to his family after signing the contract.
Football quarterback Deshaun Watson recently spoke with the media over Zoom. He started tearing up when his family called in to congratulate him on his achievement.
"I love y'all, I appreciate everything," the 24-year old said. Watson added that having the option to extend his career was an incredible blessing for him.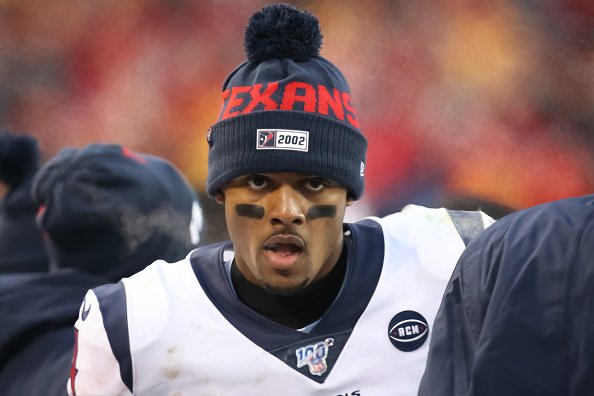 Watson went on to say that he wants to continue to dive into the community most of all. He also wants to keep on building his legacy.
He described the contract he signed as "life-changing." But Watson said what means the most to him is the commitment the team has shown to him.
He also credited his mother for his massive accomplishment. "I am so grateful to my mom, who is and has always been my rock and showed me anything is possible," he said.
At an early age, his mother instilled in him that no matter what happens he must persevere and keep going. He has always been the center of her life.
Watson thanked all his fans for continuously supporting him. He promised he would do everything he could to bring the championship to their city.
Watson is a brilliant example of the kind of player the Texans need on their list.
Watson received a four-year and $160-million contract extension over the weekend. His contract has the second-highest value in the history of the NFL behind Kansas City Chiefs' quarterback Patrick Mahomes.
The total value of the contract of Watson signed is $177.54 million, with almost $111 million in guarantees, as reported by ESPN.
Since the end of last season, Bill O'Brien, a Texans head coach and general manager, has been stating that the organization wanted to ensure its quarterback was in Houston for quite a while. 
According to O'Brien, Watson is a brilliant example of the kind of player the Texans need on their list. He explained that Watson is a very hardworking person and that he is a champ. 
Watson was Born Derrick Deshaun Watson in September 1995, in Gainesville, Georgia. He became the first freshman quarterback to start on his football team.
During his high school career, Watson set several state records, which include the most career passing yards and career passing touchdowns.
Watson also had an incredible junior year. He beat the number one team, from the University of Alabama, to take the 2017 College Football Playoff National Championship.
Meanwhile, just like Watson, Football quarterback Ryan Fitzpatrick is also admired by numerous fans. He started his career with the St. Louis Rams in 2005 and has played for eight different teams.