Ryan Fitzpatrick's Seven Kids Were Born in Different States — Meet the Dolphins Star's Family
Veteran NFL quarterback Ryan Fitzpatrick has played for eight different teams throughout his career. However, more fascinating than his nomadic NFL career is his large family and the fact that all seven of his kids were born in different states.
Not so many players can boast of the perfectly balanced "chaotic" life that Ryan Fitzpatrick has enjoyed since he began his career with the St. Louis Rams in 2005. 
The fifteen years following have seen Fitzpatrick embark on a fantastic football journey that has carried him to seven other teams and welcome seven children in different states.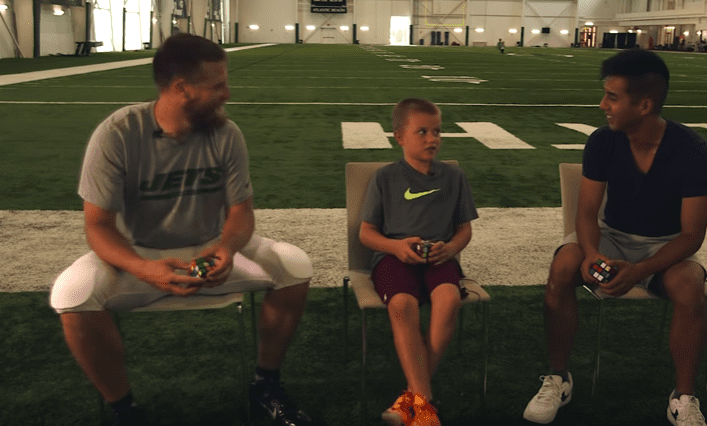 Fitzpatrick is Widely regarded as one of the most intelligent NFL quarterbacks in history and studied Economics at Harvard in addition to his outstanding football career. 
As a starting quarterback in 2003, Fitzpatrick led his college team to a winning 7-3 record. The following year, he was named the Ivy League Player of the Year and helped his team win the Ivy League Championship with a perfect 10-0.
More importantly, during his time at Harvard, the 37-year-old NFL star met his wife, Liza Barber. Throughout the years, Barber has been the primary source of stability for Fitzpatrick and their kids as he bounced around the NFL as a backup quarterback. Here is more about their long-lasting relationship. 
RYAN FITZPATRICK AND LIZA BARBER'S LOVE STORY
The couple met during their time at Harvard, and interestingly, Fitzpatrick was not the only one who had a stellar career in college sports. Ryan Fitzpatrick's wife, Liza Barber, was an outstanding soccer player for the Crimson and captained the team during her senior season in 2004. She became an All-American player before graduating in 2005.
After he left the Bucs in 2018, he signed on with the Miami Dolphins and quickly won the starting position in the third week.
By the time Barber was graduating from Harvard, Fitzpatrick was already into his rookie season in the NFL with the St. Louis Rams. The couple had already been dating for a year and gearing to take their relationship to the next level, as they operated a joint account. 
The talented quarterback planned to surprise Barber with a proposal but almost ruined it when he bought the ring from their joint account. On the same day that he purchased the ring, her card got denied at a Gap store while doing some shopping. 
The cashier at the store thought Barber had been double charged for an item, and she told the store associate she would have her back account checked when she got home. With the ring hidden in his car, Fitzpatrick knew he had to propose before they got home.
While driving back home, he asked Barber if she would like to grab some dinner, and despite all the fancy restaurants, all she wanted was McDonald's. Fitzpatrick describes it as the perfect setting, and the lovebirds got engaged while gobbling down a 10-piece Chicken McNuggets.
RYAN FITZPATRICK' MARRIAGE TO LIZA BARBER
Ryan Fitzpatrick got married to his college sweetheart Liza Barber on June 24, 2006. The couple celebrated their 14th wedding anniversary earlier in the year, and during this time, they have had much to celebrate. 
Over the years, the lovebirds have built a great life together despite moving around a lot due to Fitzpatrick's nomadic NFL career. The couple share seven kids, Brady, 12, Tate, 10, Lucy, 8, Maizy, 6, Zoey, 4, Ruby, 2, and Jake 1.
Fitzpatrick cannot say enough about the sacrifices his wife has made through the years to help keep the home running smoothly. While speaking about his wife and her overwhelming personality, he said:
"She's unbelievable and she does it with a smile on her face every day and just has a great love for life, and that's something that trickles down to our kids. I got lucky in finding her."
Ryan Fitzpatrick can also be described as a loyal family man. Despite the apparent danger associated with wearing wedding bands during a football game, Fitzpatrick has never taken his ring off and revealed it is a personal decision between him and Barber. 
When he is not playing football, he is back home, putting in a shift with the kids. For most people, having seven children might be too much of a burden, but life could not be any better for Fitzpatrick. 
Ryan Fitzpatrick's kids are growing up so fast, and the veteran quarterback has already developed a close bond with his oldest child, son Brady, 11. The public first got introduced to their adorable father-son relationship when Brady crashed his father's press conference during his time with the Houston Texans. 
The famous quarterback may have doubters over his career, but certainly not in his family. Before becoming a regular starter for the Miami Dolphins, Fitzpatrick's son, Brady, was already starting him on his fantasy football team. 
RYAN FITZPATRICK'S CAREER
Fitzpatrick made his NFL debut on November 27, 2005, after he was picked by the St. Louis in the seventh round (250th overall) of the 2005 NFL Draft. Since then, Fitzpatrick has gone on to play for seven different teams in fifteen years. 
During his nomadic NFL career, Fitzpatrick has held several NFL records and a few franchise records for teams like Houston Texans, New York Jets, the Buffalo Bills, and the Tampa Bay Buccaneers.
Fitzpatrick was utilized as a backup quarterback for most of his career, but after he left the Bucs in 2018, he signed on with the Miami Dolphins and quickly won the starting position in the third week.
With several years of experience behind him and a career that has seen him travel around the country, Fitzpatrick remains a powerful influence in the locker room and one of the most highly regarded players in the NFL today.