See Todd Chrisley's Response to a Troll for Calling Him Gay & Saying Savannah Was Unattractive
"Chrisley Knows Best's" Todd Chrisley penned a fiery response to a troll who wrote hateful comments about him, his daughter, Savannah, and her partner, Nic Kerdiles.
The ultimate clap back dad, Todd Chrisley, took his time to respond to an internet troll who came for him and his daughter with hateful comments. Captioning a screenshot of the many hurtful things the troll said, Todd began:
"@tiffanygirlsnyc I sat with your message that you sent to @savannahchrisley, and today since I had a few minutes, I decided to allow my [expletive] to manifest enough to say [expletive]."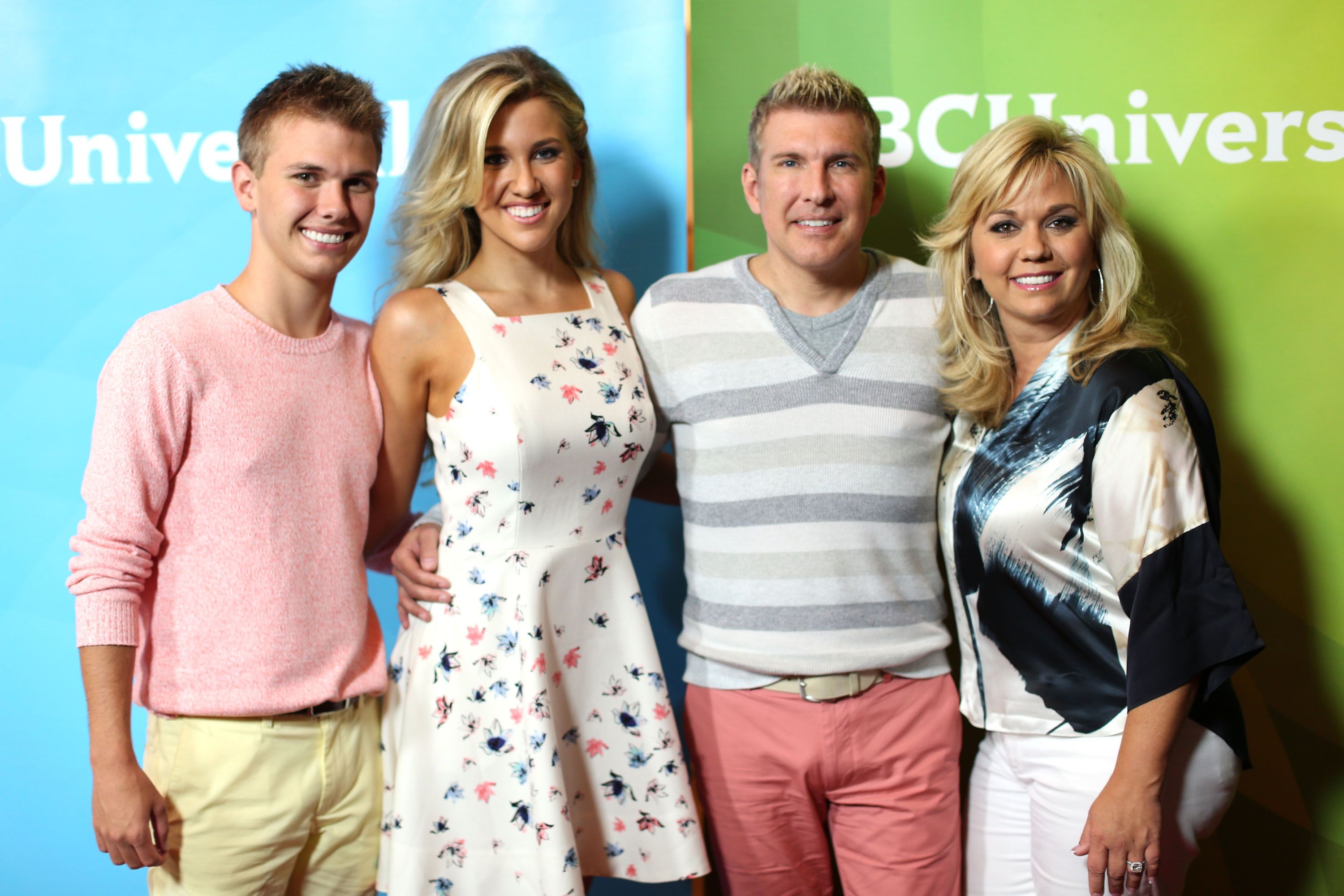 Todd had only just begun. He told the troll that she had to have a lot of gall to come after his daughter, Savannah. On reviewing the hater's profile, the fuming dad wrote that he understood where her jealousy stemmed from.
If bringing up hateful words about alleged botox to Savannah was all the hater had up her sleeve, Todd was ready to tell her just how weak she was. 
Continuing his fiery response, the reality star added that it was tragic that the hateful commenter did not have his genes to boast of, but he blamed it on her mother for not find her way to him and instead made her with someone else.
The troll attacked Savannah's relationship with ice hockey player Nic Kerdiles, alleging that they called off their wedding because he was no longer interested. 
That troll was convinced that having biracial children messed the kids up.
The user, whose username was "tiffanygirlsnyc," then went on to accuse Savannah of dictating outfits to Kerdiles and asking him to join her in her alleged Botox craze.
Todd made sure to refute that claim as well, plainly stating that his would-be son-in-law was still by his daughter's side as well as with the family, as he had always been.
Signing off with an even hotter jab at "tiffanygirlsnyc," he sarcastically applauded her feeble attempt at coming anywhere close to his family. It did not take long for the epic clap back to set the internet ablaze as the comment section of the post lit up with praise for Chrisley and hate for the troll.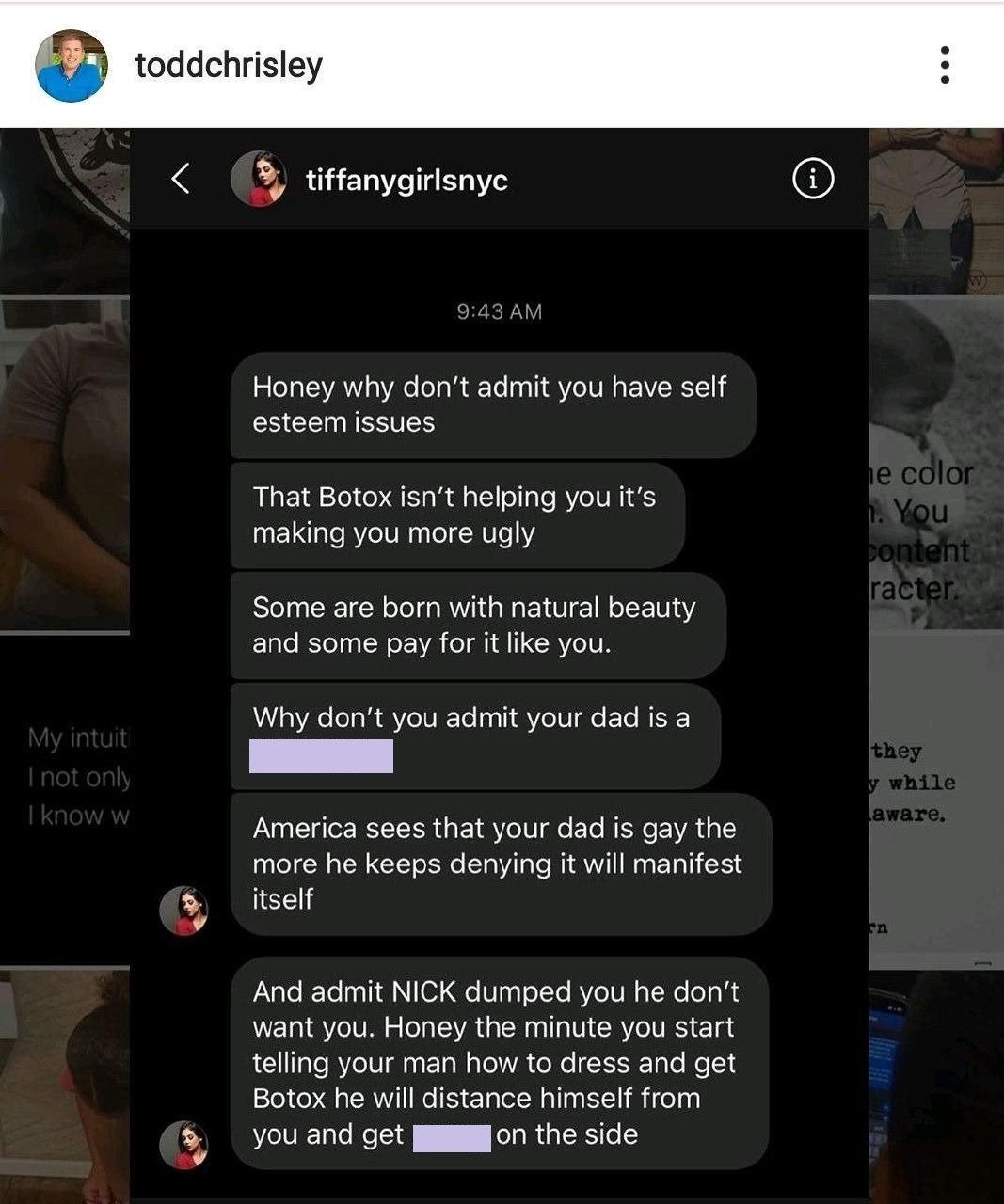 For avid fans of Todd and his show, many are aware of just how protective the reality star can get when it comes to internet haters and his family.
Savannah's social media attack was only a few months after the 51-year-old had to put yet another troll in their place after they made racist comments against his biracial granddaughter, Chloe.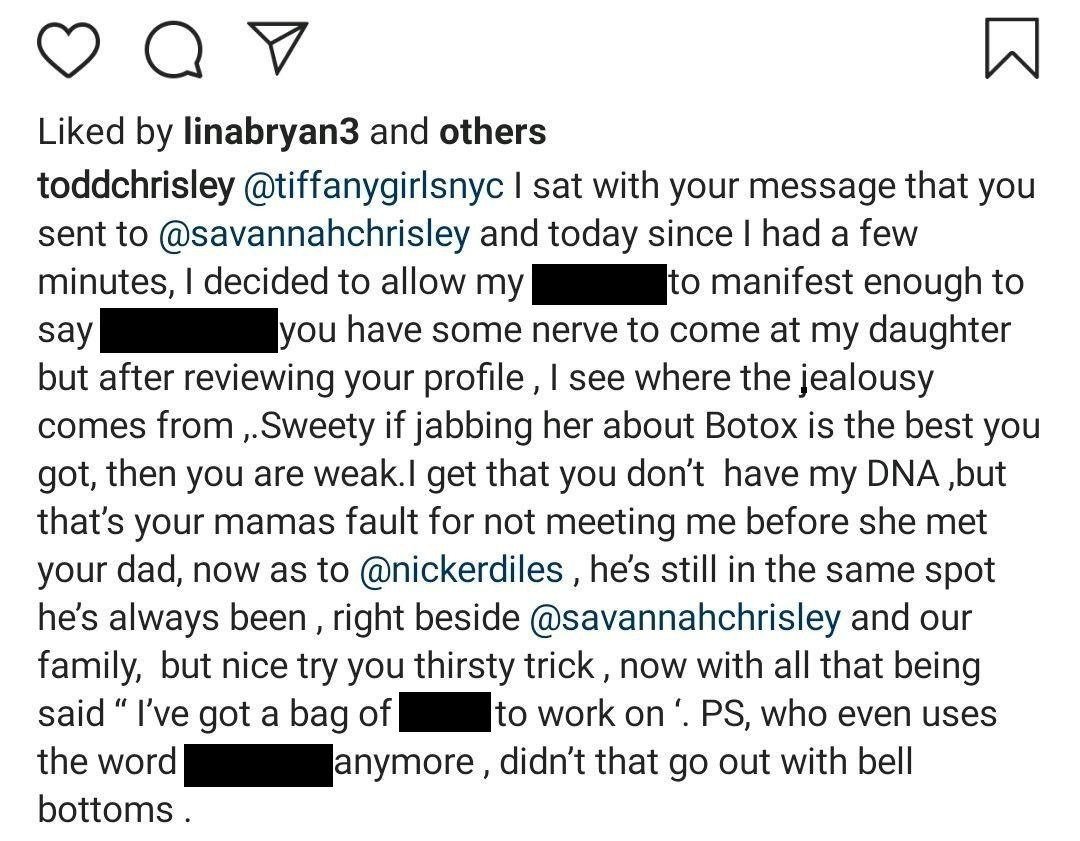 That troll was convinced that having biracial children messed the kids up and believed that people needed to marry people of their own races only.
Todd's response to that was his advice for the troll to fix their mentality because the only thing that messed anything up at all was hate.
August saw another social media chatter when people accused him of getting a facelift after he posted a photo of him looking much younger and better.
It was later revealed in a teaser for an episode of "Chrisley Knows Best" that he rented a hyperbaric chamber that he incorporated in his routine to look younger.
Chrisley might be all about his peace, skin, health, and family, but when anyone begins to poke holes and attack either of those, he never hesitates to put them back in their place.