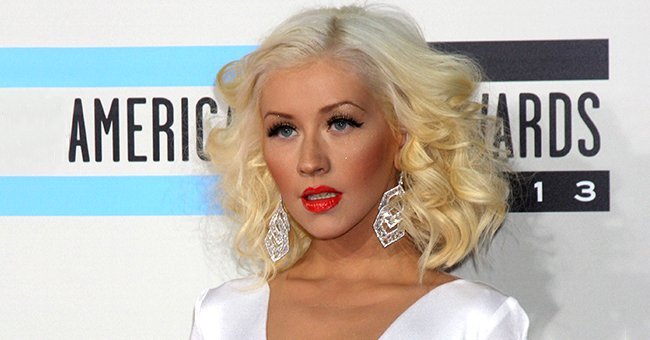 shutterstock.com
Christina Aguilera Gets Cozy with Her Kids as They Watch 'Mulan' for the First Time
Christina Aguilera shared a meaningful experience watching "Mulan" for her two children at home for the first time.
Christina Aguilera, 39, took to Twitter to express how happy she was to reach a time when she and her children, Max Liron, 12, and Summer Rain, 5, watched the iconic movie together. She tweeted:
"They've heard the music, they saw me recording it in the studio — so it's a beautiful thing to share that with my children now"
Singer Christina Aguilera has revived the popular song "Reflection" for the Disney live-action remake of "Mulan." | Photo: Getty Images
To make her children's movie experience more fun, Aguilera, like most mothers do, prepared popcorn and more snacks, which include Sour Patch Kids, Raisinets, Hot Tamales.
Aside from snacks, the "Genie in the Bottle" singer also ticked off a movie night checklist - a comfortable dim room and a candle-lit mood. She began to tweet her movie experience.
As she reflects on the song, Aguilera said that singing the classic Disney song again is like a full-circle moment.
As soon as the movie started, Aguilera said she was hooked on the show's first few clips, and so her children.
Aguilera shared that her children were aware of her contribution to the Disney classic film's live-action remake, but they were not aware of the movie release.
Mulan's live-action was released this month, after its animated movie version in June 1998 was shown. The voice behind the iconic character was actress Ming Na Wen.
Aguilera revived the iconic song "Reflection" this year for Disney's live-action remake with Liu Yifei as the lead actress.
Many fans were thrilled that the Popstar re-recorded the empowering song after 22 years. In the music video, Aguilera can be seen in a long flowing blue gown as she belts out the familiar lyrics.
The song tells about Mulan taking big decisions that would benefit her family. The character was based on a female warrior in the Chinese folk poem "The Ballad of Mulan."
As she reflects on the song, Aguilera said that singing the classic Disney song again is like a full-circle moment. From being a teen, she is now a grown woman with a successful music career.
Giving a modern take of the iconic song also made Aguilera feel nostalgic about her youth. She first sang the song when she was only 16.
Aside from "Reflection," Aguilera also wrote an inspiring ballad titled "Loyal Brave True," which tells the story about strength and persistence.
As the live-action Mulan continues to gain attention from all over the world, there's one granddaughter of an NFL star who decided to throw a Mulan-themed birthday party.
NFL star Walter Payton's granddaughter, Blair, recently celebrated her 4th birthday in a Mulan costume. A series of photos were shared on Instagram, where Blair clearly idolized her favorite Disney character.
Please fill in your e-mail so we can share with you our top stories!