Carrie Underwood Has Hilarious Discussion about Jesus & Marshmallows with 5-Year-Old Son Isaiah
Carrie Underwood's son Isaiah might be only 5-years-old, but he is already stealing the show with his contagious laughter and "random thoughts," as the country singer gave a peek into her life at home.
Children never fail to surprise, and Carrie Underwood shared how her son, Isaiah's thoughts combined Jesus and marshmallows into the most randomly delicious statement she just had to share. 
Young Isaiah is responsible for hearts melting on a regular basis. The mother of two often features him in her updates, and on Sunday, it's his thoughts that she found irresistibly adorable as opposed to his contagious laughter recently.
RANDOMLY ADORABLE 
Taking to Twitter on Sunday, Underwood shared a conversation she had with her 5-year-old son, Isaiah, her eldest of two kids with the retired hockey player Mike Fisher. The couple also has another son named Jacob, who celebrated his first birthday in January.
"Random thoughts out of nowhere from my 5-year-old. Isaiah: 'A long time ago, when Jesus was on the earth, he didn't even know that marshmallows were going to be a thing.' Me: 'I don't know, buddy, somehow, I think he knew...,'" the country singer shared. 
THE CONTAGIOUS LAUGH
End August, Underwood posted a precious moment captured of little Isaiah riding a toy ATV. Their family dog Zero protectively stayed close by, but it only made Isaiah laugh more in addition to the bursts of movement every time he pressed the gas. 
The result - short bursts of bubbling unbridled joy coming out through his giggles, and fans loved it. Comments streamed in as they wrote: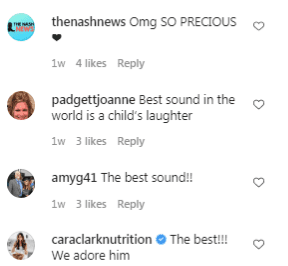 'MY GIFT'
However, little Isaiah will soon feature in more than just his mom and dad's social media feeds. Underwood recently announced that he will also feature on her holiday album called "My Gift" when she released the tracklist. 
One of the songs is what Carrie Underwood called her "very special" version of "Little Drummer Boy," wherein the one and only Isaiah will be a drummer boy.
The album is set for release on September 25, and the country singer said that it's a "mix" of new songs and Christmas classics she made her own.
Excited about the upcoming album, Underwood said that the release date can't come "soon enough." The tracklist includes songs such as "Have Yourself a Merry Little Christmas," "Silent Night," and "Away In a Manger."