DJ Khaled's Youngest Son Aalam Melts Hearts Driving Cute Red Car in Pics with His Brother Asahd
DJ Khaled proudly showed off the tight bond between his sons Aalam and Asahd as they enjoyed a Sunday ride. Younger brother Aalam, however, stole the show in a cute red car. 
At just seven months, DJ Khaled's son, Aalam Khaled knows just how to melt hearts with his adorable nature. A recent update on the tot's verified Instagram page showed him enjoying his weekend in a cute car.
The toddler tugged at hearts as he donned a cute red-and-black onesie and rode a red mini-car. Aalam proved that he was indeed a heartbreaker as he shined his bright, gorgeous eyes at the camera while he grabbed the steering wheel with one hand and the car door with the other.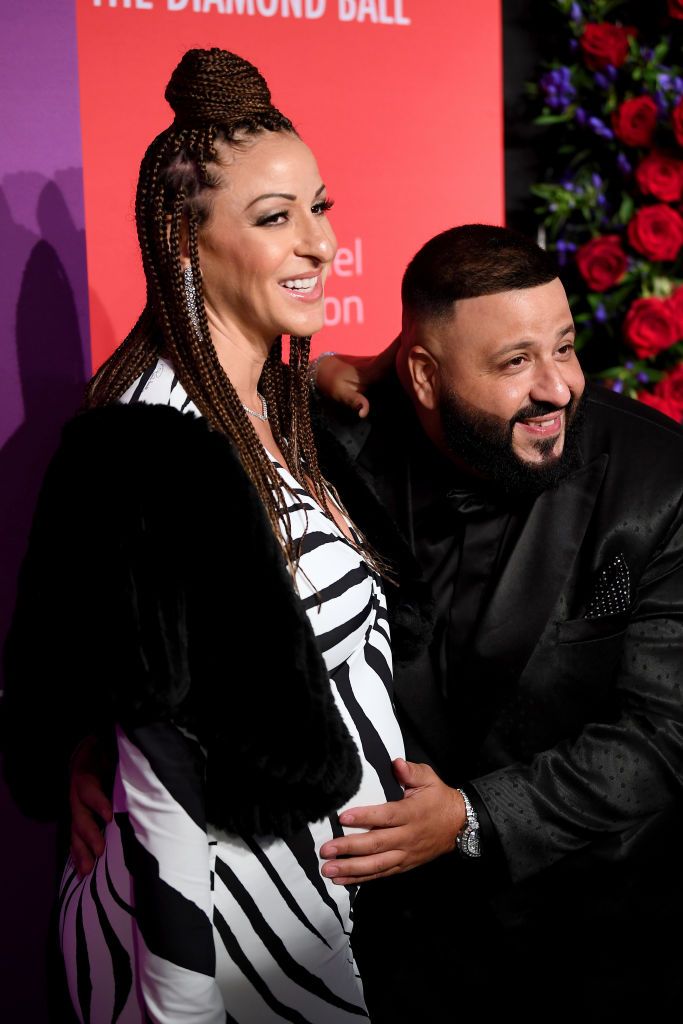 His lovely baby hair was styled down and parted to the side showing off the striking resemblance he bore with his famous father. In the next slide, Aalam was seen with big brother Asahd who was in a ride of his own.
[DJ Khaled] didn't show off his newborn until nine days later with a heart-melting photo that showed Asahd doting on his baby brother. 
Asahd also matched his outfit with his ski jet-like vehicle as the three-year-old donned blue and green pajamas. While flaunting his cute gold bracelet, he held on the steering wheel of his baby brother's car, teaching him how to drive.
In the background of the photo was a glimpse of another vehicle from the children's extensive collection and fluffy white center rug. The heartwarming post was hilariously captioned: 
"Trying to take a nice Sunday drive, but my bro @asahdkhaled won't let me lol."
In no time, many of Aalam's 131,000 followers trooped to the comments section to gush over the producer's mini-mes, calling them "handsome." One user who noticed how much the boys looked like their parents wrote: 
"His big bro looks just like mom, but he looks just like his dad."
Khaled welcomed Aalam with wife Nicole Tuck on January 20, 2020. The proud father shared the news of his son's arrival with a series of photos of him in the delivery room waiting with his wife's doctor, Dr. Jin.
One photo showed him in the hospital looking up at the sky and saying a prayer while the other saw Dr. Jin allaying his fears. The good news of Aalam's successful birth finally came with an image of him giving Dr. Jin a high-five. 
However, he didn't show off his newborn until nine days later with a heart-melting photo that showed Asahd doting on his baby brother. Asahd looked in love as he watched over his baby brother who was wrapped and asleep. 
Aalam's birth not only expanded Khaled and Tuck's family but brought along the "Wild Thoughts" crooner's first Grammy Award. 
A week after his birth, Khaled received the award for Best Rap/Sung Performance for the song "Higher" with the late Nipsey Hussle and John Legend. 
In his acceptance speech, he revealed the meaning behind his son's name saying, "His name is Aalam. It means 'the world' in Arabic. And I also want to big up my other son, Asahd. Daddy will be home!"
He also celebrated the safe delivery of Aalam's birth during the Roc Nation brunch that month. He shared a video of the party that showed Jay-Z and Diddy congratulating him.