Fitness Trainer Emily Skye Shows 12-Week Postpartum Body and Gets Real about Regaining Posture after Childbirth
Emily Skye recently shared a video on social media of herself flaunting her 12-week postpartum body. In the caption, she said that it takes hard work to fix her posture.
After giving birth to her second child, son Izaac, twelve weeks ago, renowned fitness trainer and influencer Emily Skye is now determined to regain a postpartum body.
In the video she uploaded on Instagram on September 13, the 35-year-old can be seen holding up her back and sucks in her stomach. She also showed her followers what her belly looks like when she doesn't hold it in.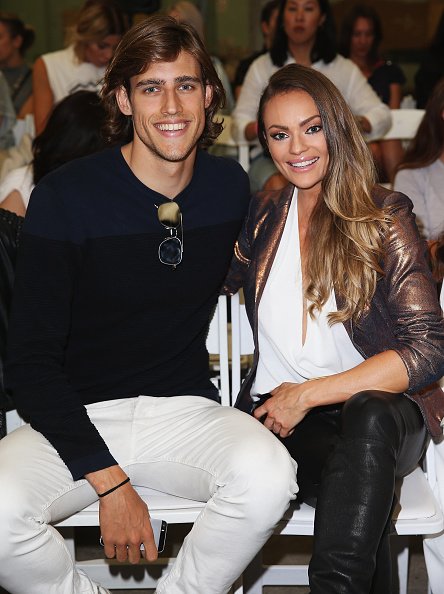 "It is SO hard to hold your tummy in after having a baby — it's pretty much a core workout in itself haha!" Skye captioned the clip, which already garnered more than 420,000 views.
As well as pelvic floor and core-specific exercises, the Australian native said she thinks it is imperative to also draw the tummy in while standing and strolling around, to support the back while carrying an infant. 
Even before she became pregnant with Izaac, she still found it challenging to keep her tummy tight.
Skye recommended lifting up the pelvic floor muscles and pulling in the stomach from the bottom up. She admitted that holding that position all day long is unthinkable.
However, she discovered that it assists with fixing the abs in the event that they split during pregnancy. According to her, those core muscles will return together all alone for some fortunate individuals. 
Unfortunately, that is not the case for her, she confessed. Skye recalled that it took almost a year for her body to return to being close to her pre-baby body after giving birth to her first child, daughter Mia.
Even before she became pregnant with Izaac, she still found it challenging to keep her tummy tight, Skye added. She then reminded her fans that this process should not be rushed.
Skye pointed out that it requires hard work and time to regain one's posture as most bodies do not "snap back." The fitness model previously dealt with an eating disorder, an experience that led her to love her body more.
In August, she said it makes her sad that many women, including her old self, hate their bodies. In July, Skye updated her fans on how her recovery was going after giving birth to Izaac. She shared that her body was doing well and was in much better shape than when she gave birth to Mia.
Skye, whose fitness journey has become an inspiration for many, said her abs are almost entirely back. She added that it is only the part below her belly button that appears to need more improvement.
In June, Skye had an "unexpected" birth at home after Izaac arrived three weeks early. The fitness trainer immediately shared the great news with her fans on social media.
The proud mother of two posted photos on Instagram of the moment just after giving birth to Izaac. In the caption, she quipped that her son could not wait any longer to enter the world.
In related news, fitness trainer Anna Victoria also recently shared a video on social media of herself showing off her postpartum body in a black two-piece swimsuit.
In the caption, Victoria explained that she could hardly believe her body was home to her daughter for nine months, and that's what makes her proud of her new stretch marks and squishy lower belly skin.