Dick Wolf Celebrates 'Law & Order's 30th Anniversary — a Look Back at How He Created the Show
Show creator Dick Wolf hit the world with his crime drama franchise, "Law And Order" in 1990. Thirty years down the line, the series remains a top pick among its vast audience.
Three decades after the media franchise, "Law And Order" hit the screens, the executive producer, Dick Wolf, celebrated its success in style.
Wolf's production company, Wolf Entertainment, shared a throwback photo on various social media platforms. The picture featured Chris North, a regular on the show as Detective Mike Logan for the first five seasons. Other cast members present on set were also featured in the post.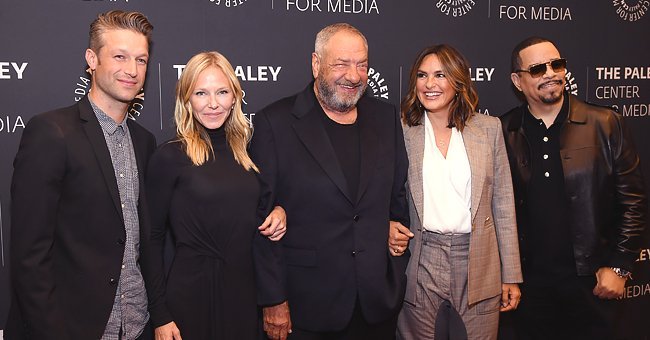 The caption reflected on the series' 30-year run and its premiere in 1990. The "Law And Order" franchise aired for two decades with 20 seasons until it went off the air in 2010. However, several spinoffs of the show have since graced the big screen, including "Law And Order: SVU," "Law And Order: Criminal Intent," and "Law And Order: LA."
Dick Wolf's "Law And Order" series has attained media success in the last three decades, grossing several million dollars. One can't help but wonder how this legendary television series came to be on the big screens.
HOW THE FRANCHISE WAS CREATED
"Law And Order," admittedly inspired by legendary TV shows like "The Rockford Files," was originally aimed at giving an hour-long insight into the law enforcement agency. Wolf planned to split the show into two 30-minute-long halves, with the first focusing on the police, while the second half dwells on attorneys and legal proceedings.
Hence, the production company came up with several names to do justice to the idea, including "Night And Day" and "Life And Death." Eventually, they went with "Law And Order," which remains the best decision 30 years later.
Another twist from the initial plan was making each episode an hour-long, rather than the planned 30-minute half. This happened thanks to the NBC Network, which agreed to grant a first-time hour-long program after Dick Wolf pitched the idea.
DEBUTING THE FIRST SEASON OF "LAW AND ORDER"
After pitching the idea to major networks like CBS and Fox, and suffering last-minute cancelations, NBC finally granted the franchise the first season.
"Law And Order" also faced challenges with casting, incorporating female lead characters, and dealing with scandalous actors. Notwithstanding the initial pitfalls, the season became a success.
The debut season featured entertainment icons like Chris Noth, Jerry Orbach, Stephen Hill, S. Epatha Merkerson, Jesse Martin, and Sam Waterston. "Law and Order" aired for twenty years until NBC canceled the show in May 2010. However, its various spinoffs continued airing on the network.
WHAT WOLF HAD TO SAY ABOUT HIS CRIME SERIES
The instant success of "Law And Order," leading to multiple spinoffs, ranked Wolf among Hollywood's top producers. As for the success of the production, the icon failed to take the credits alone. 
During an interview, Dick Wolf credited his entire production team with the success of the show. He explained how everyone worked together, keeping "quality control" in mind. Thanks to his crew of "enormously talented people willing to work," the series became top-rated.
Additionally, he prefers referring to his series as a brand, not a franchise, and as such, aims to keep up with the brand's quality in all its spinoffs. That, and his ripped-from-headlines approach, has helped Dick Wolf's TV shows and crime series become Hollywood hits over the years.
"LAW AND ORDER" THROUGH THE YEARS
Years of building major headlines into binge-worthy stories gradually graduated into decades. Today, the "Law And Order" franchise easily qualifies as the most-viewed television series of all time.
Since its final series last aired in 2010, spinoffs like "Law And Order: Special Victims Unit," "Law And Order: Criminal Intent," and "Law And Order: Trial By Jury" have won hearts. "Law And Order: LA," "Law And Order: True Crime," "Law And Order: Organized Crime," and "Law And Order: Hate Crimes" have also seen gross success in the industry.
Remarkably, each spinoff came with its new selection of talented casts, accounting for a vast array of actors and actresses linked to the show. Some of its top stars include Mariska Hargitay, Ice-T, Kelly Giddish, and Peter Scanavino, all starting in "Law And Order: SVU," which airs to date.
DICK WOLF BESIDES HIS PRODUCTION TALENTS
Dick Wolf may have found his niche in the production of crime series, but long before that, he tried his hands at other short-lived niches and was an accomplished writer.
In addition, the 73-year-old, born Richard Anthony Wolf, also built a family alongside his Hollywood success. He has five children from his three previous marriages.
He married his first wife, Susan Scranton, in 1970, and the pair divorced after thirteen years together. In 1983, following the end of his first marriage, he tied the knot with Christine Marburg. 
They divorced in 2005 after twenty years and three children together. Following the divorce, Dick Wolf and his former spouse had a heated battle over divorce entitlements. His last marriage was to Noelle Lippman in 2006, and ended in divorce in 2019.
ANOTHER HIT SEASON ON THE WAY
In July 2020, NBC announced the upcoming spinoff show, "Law And Order: Organized Crime," set to feature former "Law And Order: SVU" star, Christopher Meloni. 
The special spinoff, in which Christopher would reprise his role as Detective Elliot Stabler, will air on NBC by 10 p.m. on Thursdays. Although the premiere date of "Law And Order: Organized Crime" is yet to be released, the show's first season would reportedly have thirteen episodes.
At 73, with over two decades of experience in crime drama series, Dick Wolf's newest production would undoubtedly make it to the top of the rank like its predecessors.