Miranda Lambert Performs at the ACM Awards Looking like a Country Queen in a Denim Fringe Shirt
Miranda Lambert wowed at the ACM Awards with her impressive fashion sense as she rocked a chic denim fringe shirt during her performance. The country singer took breaths away with her voice and looks.
Miranda Lambert was a spectacle at the just-concluded 55th Academy of Country Music Awards as she cemented her status as the Country Queen with her daring outfit.
Lambert turned heads and channeled her country diva in a chic denim fringe shirt. The stylish piece featured fringes on both sleeves and the breast area.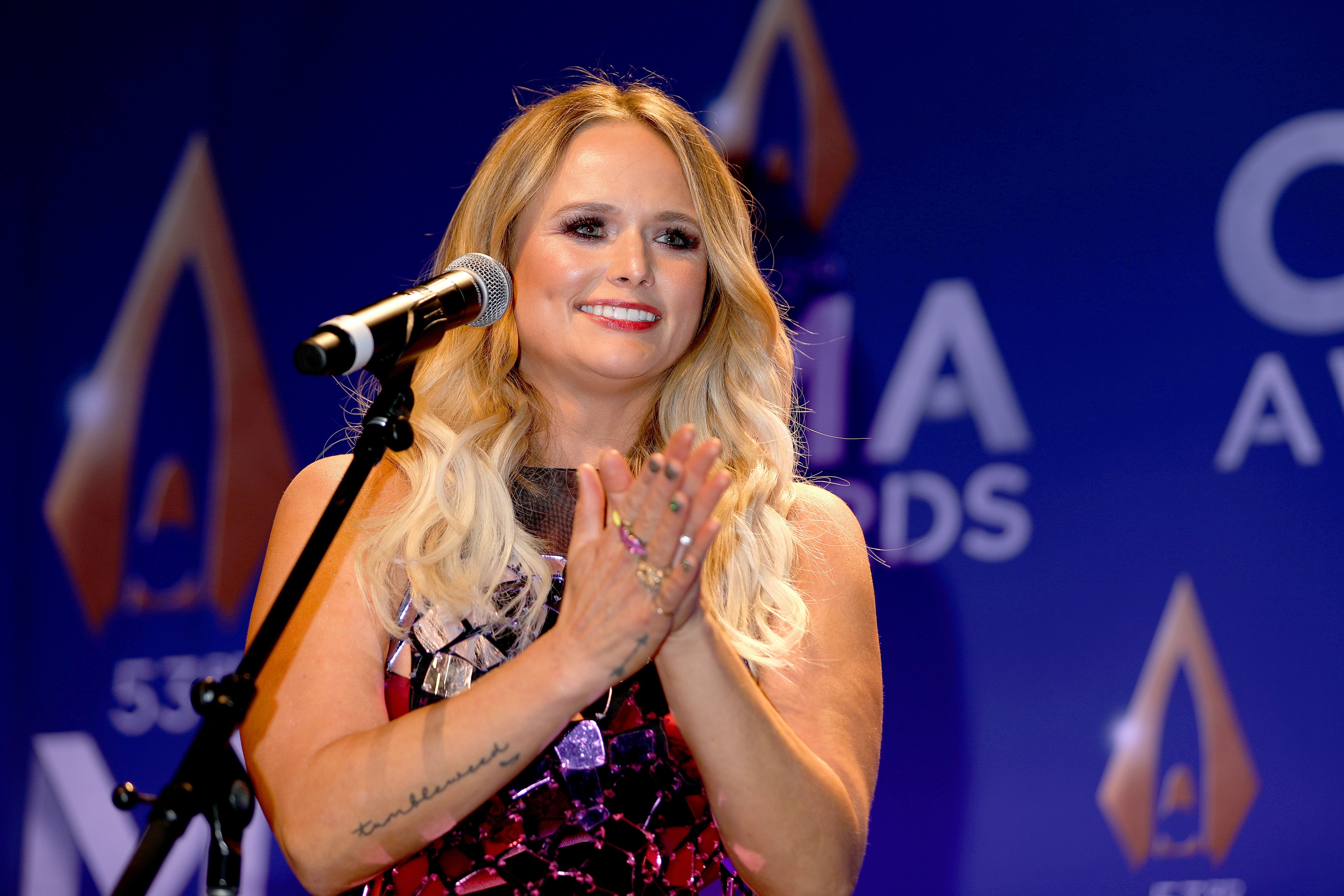 The collar and cuffs were of light blue satin material while the rest of the shirt was dark blue denim with silver embellishments. The 36-year-old teased fans with a glimpse of her cleavage as she buttoned down the shirt, giving it a deep V-neckline.
During her appearance on the red carpet, [Miranda Lambert] opened up about how her music has helped her through the pandemic.
She tied the top into a knot and paired it with dark high-waisted jeans with a bootcut hem and high heels. Lambert accessorized with a chunky sequin belt, large silver hoop earrings, and a huge diamond ring on her finger.
Her blonde tresses were styled into a high ponytail as she left two strands out to frame her face. She matched the theme of her outfit with blue and silver eye shadow and nude lips.
The two-time Grammy Award winner performed her No. 1 hit song, "Blue Bird" from her album, "Wildcard" alongside co-writers Luke Dick and Natalie Hemby. They sang a stripped-down version of the tune that received over 8,000 views on Twitter.
Shortly before her performance, the country star teased fans with a glimpse of her outfit with a video of her and her glam squad singing along to Aretha Franklin's "I Say a Little Prayer."
🐦 @MirandaLambert, Natalie Hemby, and @lukedick performing "Blue Bird" from the iconic @BluebirdCafeTN at the #ACMawards was one to remember. Tune-in to @CBS right now and don't miss any more! pic.twitter.com/HgrviO61i8

— ACM Awards (@ACMawards) September 17, 2020
During her appearance on the red carpet, the "Kerosene" crooner opened up about how her music has helped her through the pandemic. She said:
"I definitely have used music to bring me comfort and joy throughout quarantine and all the things going on in the world."
Miranda Lambert extended her #ACMawards record by winning her 35th award at tonight's show! https://t.co/jyzAmK2M8E

— JustJared.com (@JustJared) September 17, 2020
She also mentioned her favorite albums while quarantining with her husband, Brendan McLoughlin. At the award ceremony, Lambert was up for three nominations but only won one for the Music Event of the Year.
Carrie Underwood and Thomas Rhett tied for the Entertainer of the Year Event while Maren Morris bagged the award for Female Artist of the Year.