Ciara Sets Goal to Lose More Weight by Sunday as She Shows Weight Loss Progress in New Snaps
Since giving birth to her third child, Ciara has been on a fitness journey and has been sharing the progress with her fans. Check out how she is doing. 
Earlier this year in July, Ciara gave birth to her third child, Win Harrison Wilson, with her husband, Russell Wilson. The pair also have daughter Sienna and her son Future who she shares with her ex, rapper Future. 
Since then, the singer has been on a weight loss journey and she recently revealed that she had already lost 20 lbs of her 48 lbs goal. 
Last month, Ciara let her followers know that she would be starting her fitness regime and was flooded with supportive messages.
In the post, the singer posed for the camera as she decided to let everyone in on her journey and as she tried to get back into shape. She wrote:
"48lbs to go! Starting the game plan tomorrow!! P.s. don't know how easy it's going be considering 3 baby's now! Going to work really hard at this! Let's go Mamma's ????."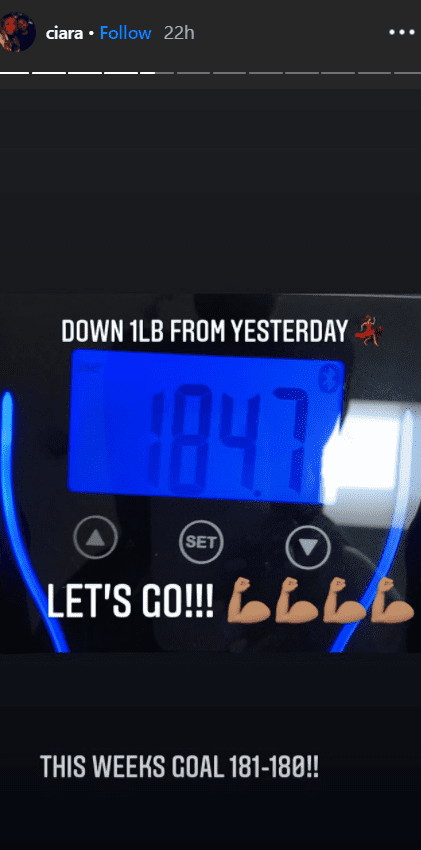 This week, the star shared her workout with her fans, posting a video of herself to her Instagram story as she hit the treadmill which was fitted with a device to trap in her body heat. 
In the video, she revealed that she aimed to lose 4lbs this week, and from today's post, it looks like Ciara is on target to hit her goal, with only one more pound to lose before Sunday.
The person who has the responsibility of whipping her into shape will be personal trainer Davis Decker.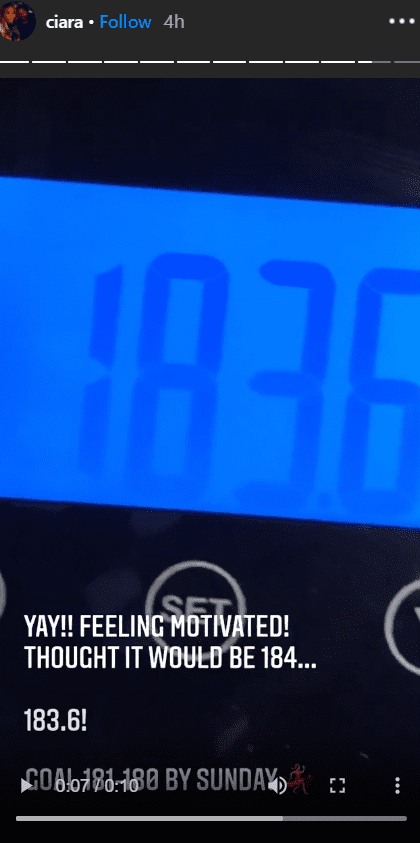 Ciara recently shared her progress to her Instagram story, showing her weight from the day before as 184.7lbs, now down to 183.6lbs.
While she is trying to get fit, Ciara also spoke about her children, revealing that jumping from two children to three had been challenging. She said:
"Ther's definitely going to be a lot of learning to do because every day is a new day in this era. But I think as a parent, once you have two, any more after that it's like you're ready."
As for the person who has the responsibility of whipping Ciara into shape, that would be personal trainer Davis Decker who will be coming up with her workout and diet. 
And it looks like he makes her work in the story shared by the star, during which she came up with a fun song to keep her motivated.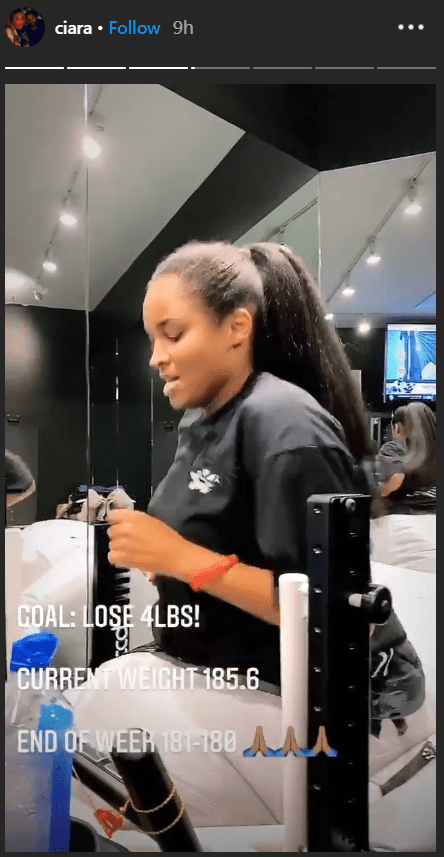 While she was pregnant, Ciara did not seem to slow down, even shooting the music video for her hit single "Rooted" a few days before she gave birth. 
The star described her pregnancy as the slowest pregnancy out of all of her pregnancies. However, she revealed that while shooting the music video, she could only work for short bursts of time before needing to rest.