Meet the Family of Rising NBA Star Donovan Mitchell
NBA star Donovan Mitchell who has become a rising star with the Utah Jazz has professional sports running in his family as well as an unbelievable amount of support coming from them.
NBA star Donovan Mitchell has proven himself to be one of the cornerstones of the Utah Jazz and things are going great for him. Interestingly, professional sports run in Mitchell's blood. In June, Mitchell celebrated his father, a former baseball player, Donovan Sr. on Father's Day and wrote on Instagram:
"Happy Father's Day @dmitch2010... we came along way and I was supposed to be a baseball player?? Thank You for everything❤️"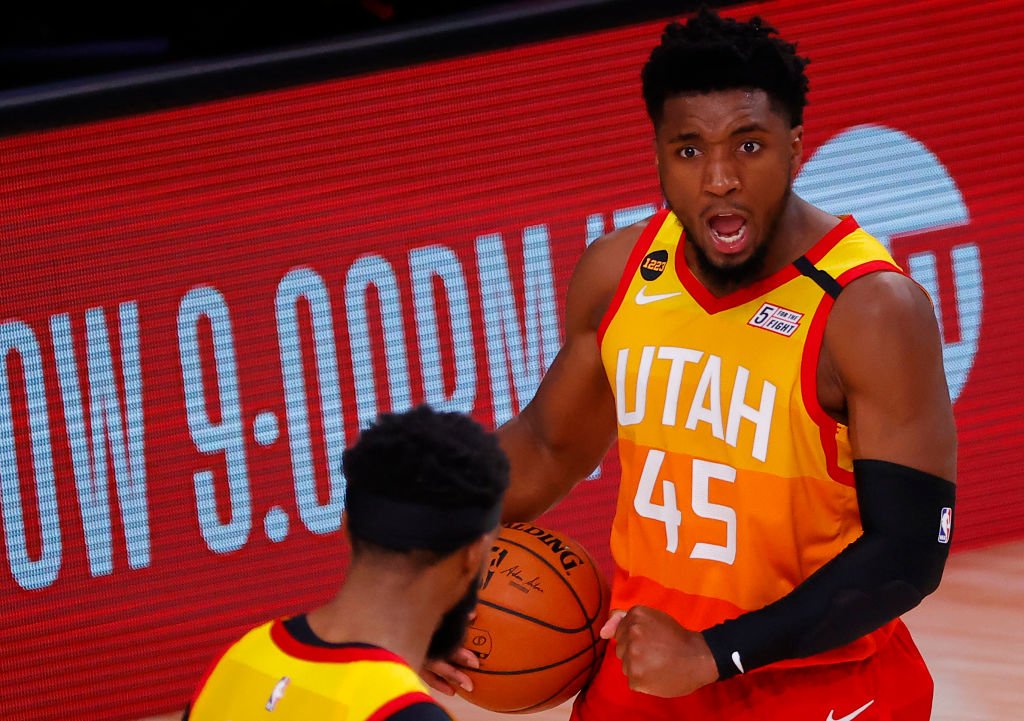 Donovan Sr. was a former Minor League Baseball player who now serves as a New York Mets executive in the baseball operations department as the Director of Player Relations and Community Enlargement. 
Although Mitchell did not follow in his father's footsteps and go professional in baseball, both father and son have done incredibly well for themselves. 
Mitchell's basketball journey was an inspiring one right from his younger days as a high school teenager who knew he wanted to be more than just the athlete at school. Unsurprisingly, with hard work and determination, he made it.
Sadly, the young NBA star reportedly tested positive for COVID-19 in March and had his future seem quite uncertain and shaky. For fear of having caught the virus too, Donovan Sr. was tested but was thankfully found to be negative for the virus.
Mitchell became the second Jazz player to contract the disease after French player Rudy Gobert. He recovered late in March and was ready to get back in the game and cement his place as a leader of the Utah Jazz.
Mitchell would donate $45,000 from the sales of the shoe release to support Blake's children's education.
Mitchell's rise to the top and leading spot with the Jazz came at a high price not just for him but for his sister, Jordan as well. In February, when he won the NBA Slam Dunk Contest at L.A.'s Staples Center, he completed a dunk by jumping right over actor Kevin Hart, Hart's son, and his sister, Jordan. 
He then revealed why he needed his sister to be a part of the epic slam dunk. He said it was a way to thank her for being there for him and dedicating most of her childhood to be a part of his journey in such a fundamental way. 
Their evidently tight-knit family suffered a tragic loss early in September when Mitchell's grandmother passed away. 
The mourning grandson shared a touching tribute on Instagram in honor of his late grandmother, thanking her for the sacrifices she made, just like everyone in his family, to get him to where he was.
Keeping true to his words all those years ago, Mitchell has worked hard to be more than just an athlete. In August, the Utah Jazz guard revealed that he would use his latest shoe release to help the family of Jacob Blake, a Black man who was partially paralyzed after being shot by a cop in Wisconsin.
Mitchell would donate $45,000 from the sales of the shoe release to support Blake's children's education. He also had the help of Adidas which would match his contribution for each dollar to make a total of $90,000.
Not only is he a great athlete who holds his family dear and sees them as the reason for his passion, but Mitchell is also a passionate man who has cultivated the habit of being kind. That is how stars do it.