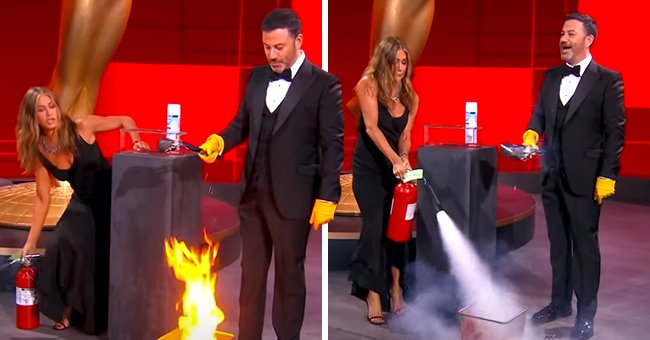 YouTube/Jimmy Kimmel Live
Watch Jennifer Aniston & Jimmy Kimmel Set the Envelope on Fire for 2020 Emmy Award Winner
Comedian Jimmy Kimmel and actress Jennifer Aniston teamed up for the first-ever virtual Emmy Awards show and started things off in a very interesting manner.
Jimmy Kimmel and Jennifer Aniston teamed up for the first-ever virtual Emmy Awards show. They presented the award for Outstanding Lead Actress in a comedy series together, and unsurprisingly, they were a hilarious comic duo.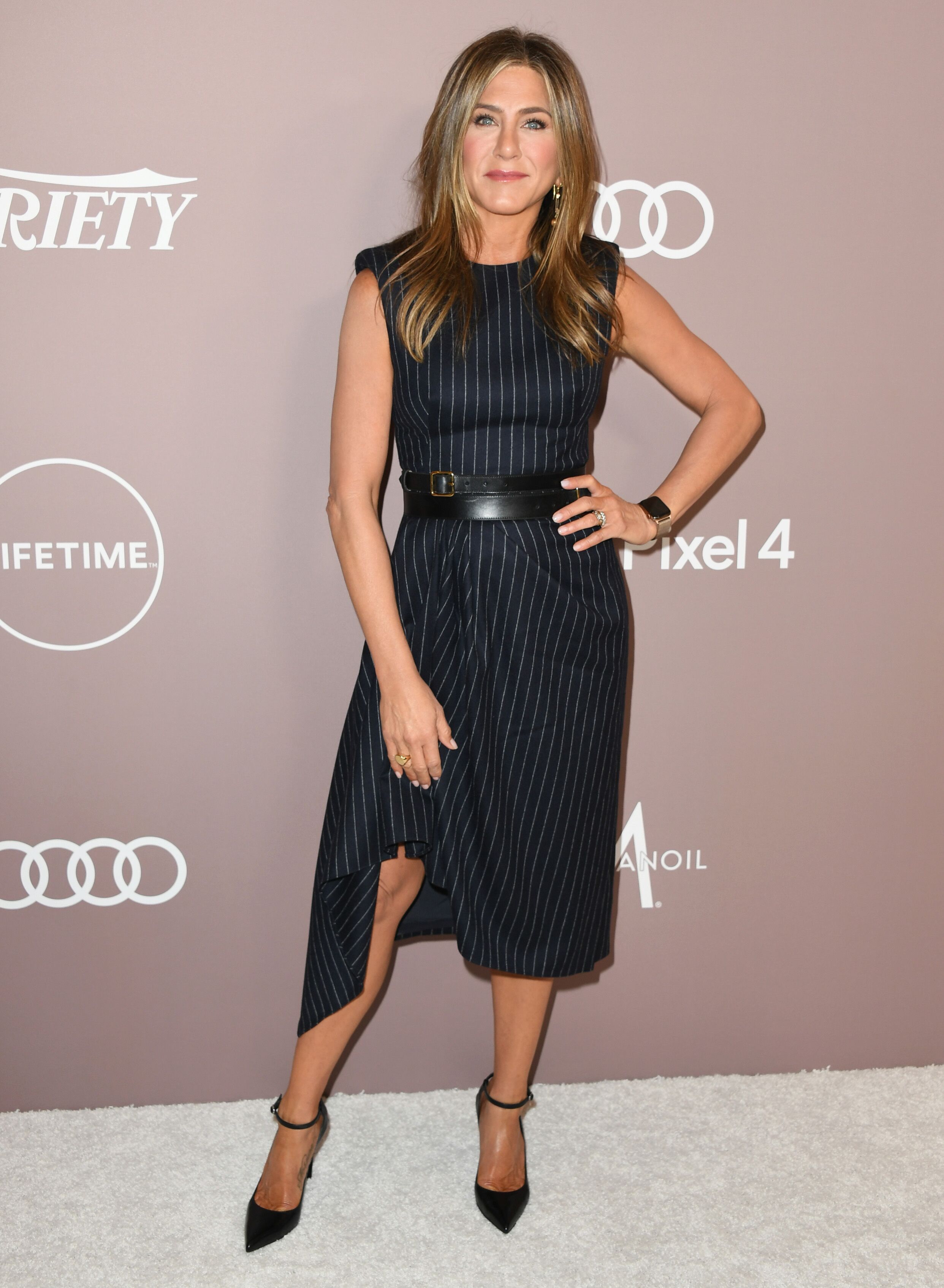 Jennifer Aniston attends Variety's 2019 Power Of Women: Los Angeles. | Source: Getty Images
After introducing the nominees, Kimmel proposed that they sanitized the envelope that bore the winner's name. That seemingly great idea quickly turned into something else. He started by spraying the envelope with a disinfectant. The already stunned Aniston said:
"That's a lot. That's a little extreme, Jimmy."
As one would expect from the comedian, he did not think it was extreme at all. As though, his co-presenter was not stunned already, he set the envelope ablaze in a basket after justifying his actions by saying they had no idea where the envelope's handlers' hands had been.
They somehow managed to make a beautiful night for everyone.
Kimmel joked that they needed to let it burn for five seconds to kill all the germs before Aniston put out the flames with a fire extinguisher.
It became more hilarious when the fire refused to be put out and needed to be blasted with the extinguisher a couple of times.
Catherine O'Hara was the winner for her role in the Eugene Levy-executive produced comedy series, "Schitt's Creek." The award was not their first together as well.
In 1982, Levy and O'Hara scored their first Emmy Award as writers with their sketch comedy series for Second City TV. Levy, and his son, Dan Levy, also starred alongside O'Hara and scored Emmys as well. The show's Twitter account wrote:
"...that means our little Canadian show is the first comedy OR drama to ~ever~ sweep all four acting categories, and that is absolutely wild."
Thanks to O'Hara, the two Levys, and actress Annie Murphy's awards, the series made history at the Awards show and O'Hara and Eugene Levy got to relive their iconic moment from 1982.
O'Hara's award presenter, Aniston also snagged herself a nomination, Outstanding Lead Actress in a Drama Series, for her role in Apple TV+'s "The Morning Show."
It was her seventh nomination after she won her first and sole Emmy Award eighteen years ago for her role in the famous sitcom, "Friends."
Although significantly different, this year's Emmy Awards show was wonderful with a lot of incredible moments to look back on. Despite the rough terrain with 2020 thus far, they somehow managed to make a beautiful night for everyone.
Please fill in your e-mail so we can share with you our top stories!