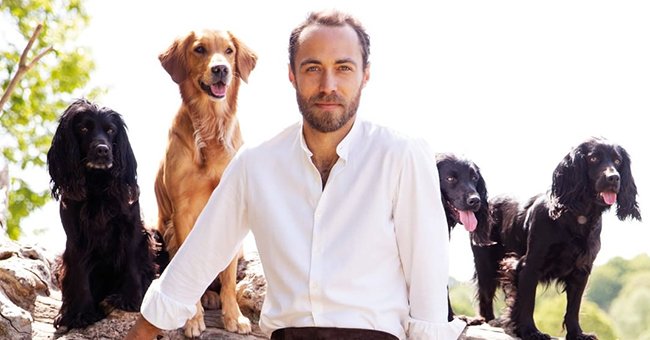 Instagram/ella.co
Here Are a Few Tips James Middleton Gave Pet Owners about Traveling with Their Animals
James Middleton revealed that he brings his dogs nearly everywhere he goes and shared a few tips about "how to keep your dogs safe and comfortable while traveling."
Dogs are a man's best friend, and they never fail to prove this. Recently, Kate Middleton's younger brother, James Middleton, revealed how his dogs often go on vacation with him.
Like humans, they too love trips to the beach as it "washes away all their anxiety and worries," apart from making them happy to be with their owners instead of alone at home, according to James.
James Middleton and Alizee Thevenet attend the Men's Finals Day of the Wimbledon Tennis Championships at All England Lawn Tennis and Croquet Club on July 14, 2019 in London, England. | Source: Getty Images
In an Instagram post, James shared a few tips for traveling with furry friends through land to keep them comfortable and secure. First, he suggested placing something in between the driver and the dog, as not to be distracted while keeping them safe.
Next, make sure the dog has air by keeping the window slightly open or facing the air conditioner towards the canine. "This is particularly important in summer as cars can heat up all too quickly," he added.
James also noted that dogs need breaks and stopovers to relieve themselves, stretch, or drink water. For dogs to feel more comfortable, a blanket or toy is best placed beside them. Finally, he wrote that dogs should never be left in a "hot car," as the temperature inside quickly shoots up.
The animal care tips were posted in James' business account, Ella & Co., alongside a series of photos of his adorable dogs aboard a red boat while cruising around the sea.
The little pup is the daughter of James' other dog, Zulu, and the granddaughter of Ella.
One of the photos featured the entrepreneur's fiancee, Alizee Thevenet, about to throw a ball for Mabel, the golden retriever, to catch along the shore. James' other dogs are Ella, Nala, Zulu, Inka, Luna, and Mabel.
Last March, as the coronavirus was spreading across borders, the 33-year-old shared an adorable photo of his dinner party, which he hosted for his four furry companions.
In the post, the duchess' brother gathered his four dogs to sit on the table, with pink bibs around their necks. Although they were probably ready to chow down on their plated meals, the cute canines looked at the camera to pose for a picture.
James did his part well to isolate with his dogs while bringing smiles to his fans and followers. As he treats his dogs with respect and love, they too, have helped him battle his mental health issues.
Nala was the newest addition to James' family, whom he took under his wing in the middle of the year. The adorable Cocker Spaniel's name was inspired by Disney's "The Lion King" character.
The little pup is the daughter of James' other dog, Zulu, and the granddaughter of Ella, who has played a significant role in his recovery, accompanying the royal's brother to therapy sessions.
James, an animal advocate, announced the launch of The Paw Print Fund, which assists animals and their owners, who are struggling amid the pandemic. Indeed, James has helped dogs the same way they have helped him.
Please fill in your e-mail so we can share with you our top stories!