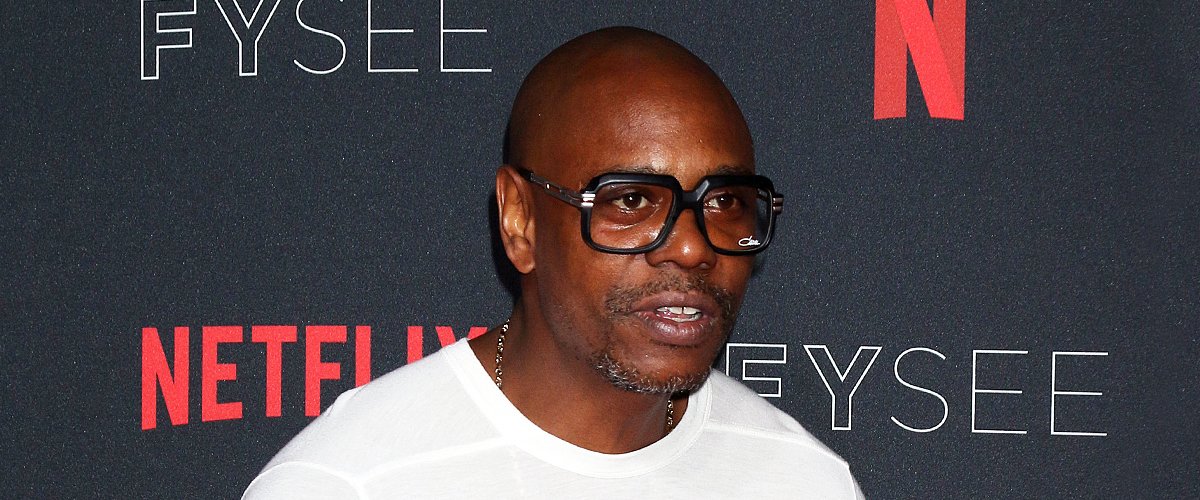 shutterstock.com
Dave Chappelle Once Said Islam Is a Beautiful Religion — inside His Relationship with Faith
American comedian and actor Dave Chapelle is a firm adherent of the Islamic faith. Over the years, the 47-year-old has upheld his beliefs, building a lasting relationship with his religion.
Dave Chapelle, the actor and legendary comic genius of America, has a unique view about his Islam faith. Having practiced Islam for the most part of his life, the icon has been able to inculcate his priceless religious values into his everyday life and career.
As a husband, a father of three, and a career-oriented figure, Chappelle's relationship with faith somehow balances up other aspects of his life.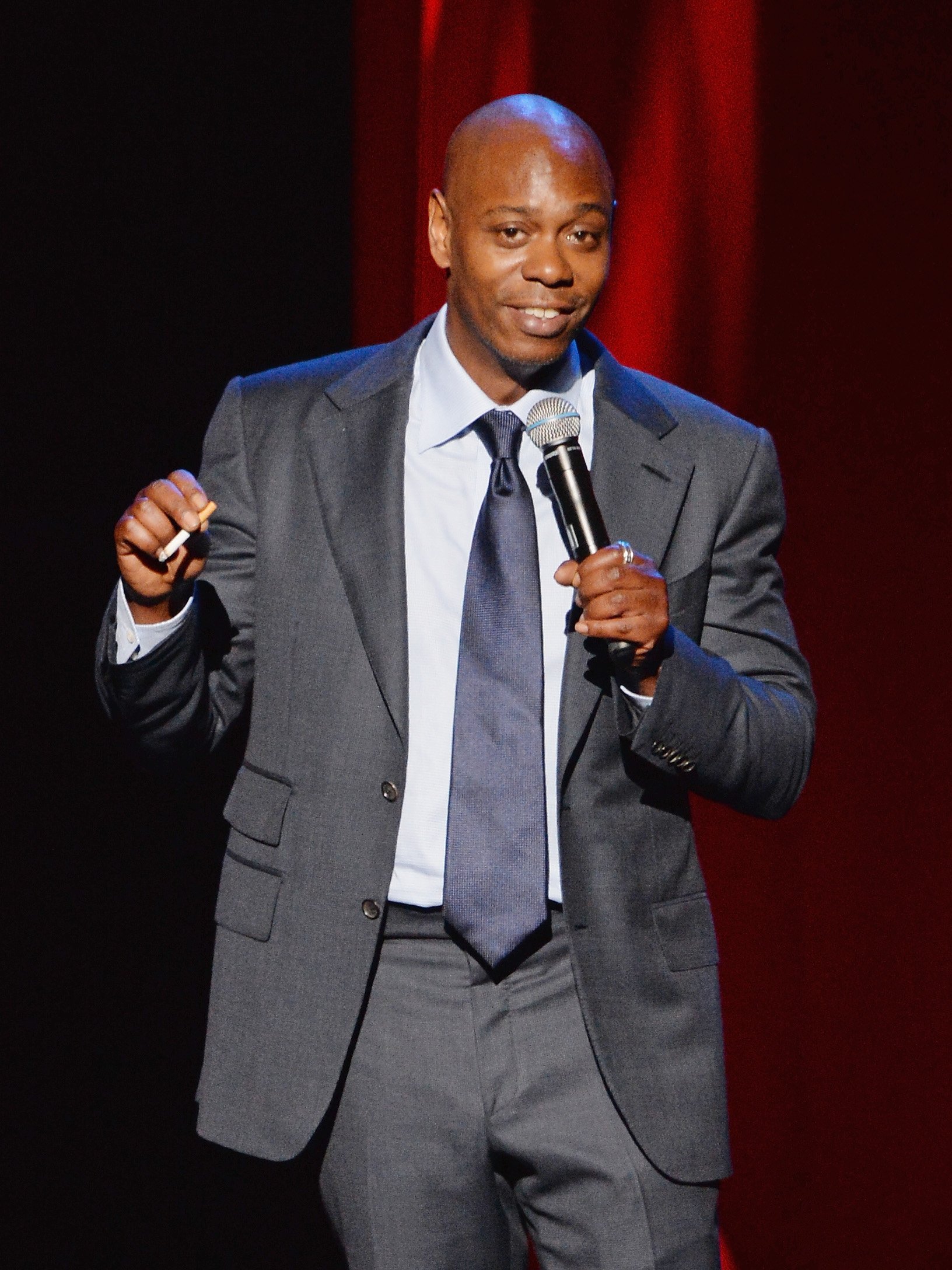 Comedian Dave Chapelle performs at Radio City Music Hall on June 19, 2014 in New York City. | Photo: Getty Images
DAVE CHAPPELLE'S CONVERSION TO ISLAM
Dave Chappelle was born in 1973 to parents, Yvonne and William Chappelle. His parents separated while he was young, forcing the icon to split his time between Washington with his mom and Ohio with his dad during summer breaks.
Chappelle descended from a line of political activists with no major religious affiliations. In 1998, the African-American icon embraced the Islamic religion, about seven years after bagging a theatre arts degree from Duke Ellington School Of The Arts.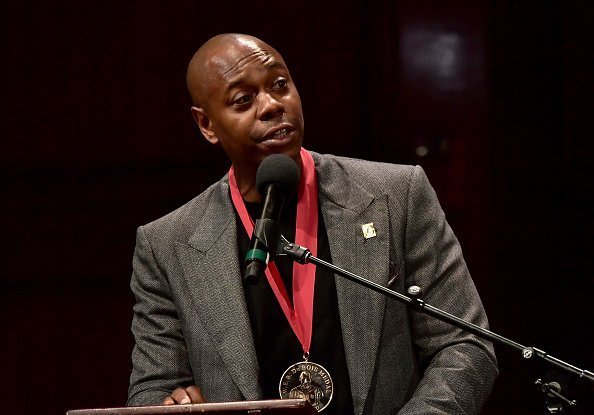 Dave Chappelle on stage at the W.E.B. Du Bois Medal Award Ceremony at Harvard University on October 11, 2018 | Photo: Getty Images
DAVE CHAPELLE AS A DEVOTED MUSLIM
Following his conversion, the 47-year-old welcomed his newfound faith wholeheartedly. Although he rarely addresses his faith, the icon has, on occasions, spoken out about his dedication to his faith. During an interview in May 2005, Dave Chappelle referred to Islam as a "beautiful religion."
The actor also dedicates his time to enlightening others about the beauty of his religion. A video of the icon explaining the Islamic backstory of the Well of Zam Zam to pilgrims went viral years ago, further confirming his stance on religion.
CHAPPELLE'S LIFE WITH FAITH
Remarkably, faith played an important role in many of the feats the actor achieved through the years. It also contributed to his firm and sometimes controversial standpoint in society.
In 2017, following President Donald Trump's Muslim Ban, Dave Chappelle was one of many prominent Muslims to kick against the unconstitutional development.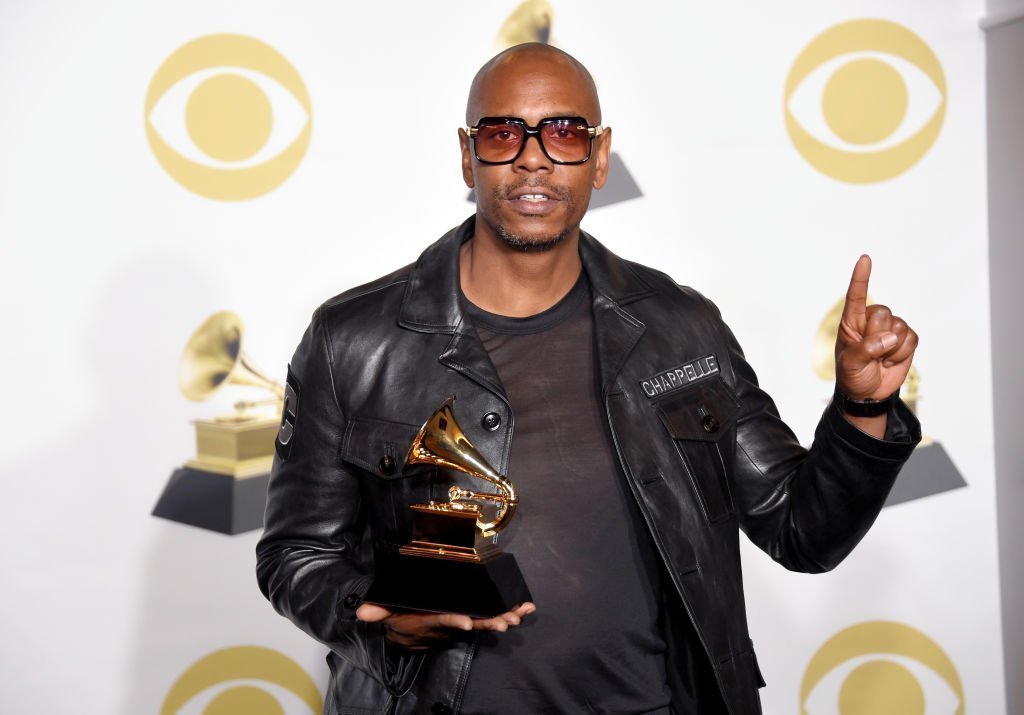 Dave Chappelle attends the 60th Annual GRAMMY Awards. | Photo: Getty Images
The father of three joined the rally in Dayton, Ohio, where he crowned the protest with a brief but powerful speech addressing the president. He rebuked Trump's actions and reaffirmed his support for refugees, immigrants, and the Muslim community.
DAVE CHAPPELLE'S PERSONAL LIFE AND FAMILY
In addition to his Islamic beliefs, Chappelle is interested in real estate, with a vast collection of houses and landed properties. He lives with his family on a 65-acre farm in Yellow Springs, Ohio.
The actor is married with three children, two sons, Sulayman and Ibrahim, and a daughter, Sonal. All of Dave Chappelle's kids came from his two-decade-long marriage to Elaine Mendoza Chapelle. Elaine Chappelle became Dave Chappelle's wife in 2001 after they sealed their union in a traditional ceremony.
DAVE CHAPPELLE'S CAREER
Chapelle began his career in showbiz in the early 90s. He first delved into stand-up comedy, with an appearance on the first episode of "America's Funniest People" on ABC. He later relocated to New York City to pursue his comedy career full time.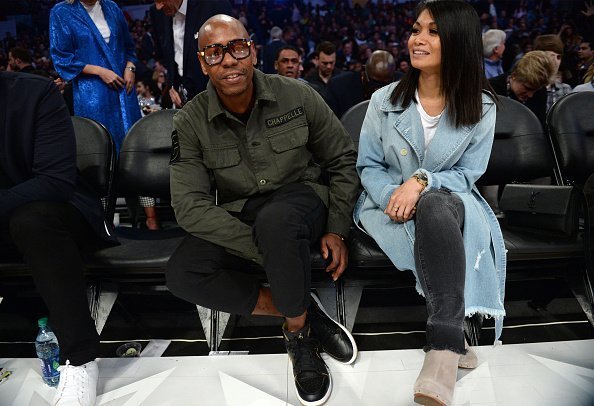 Dave Chappelle and wife Elaine attend the NBA All-Star Game 2018 on February 18, 2018 | Photo: Getty Images
The entertainment icon's first comedy gigs were far from rosy. He once described how the audience booed him during his first appearance at the Apollo Theatre as a stand-up comedian. Notwithstanding the bad reception, Chappelle remained dauntless. He continued his pursuit and eventually stamped his name in the New York Comedy circuit.
Chappelle began to make regular appearances on popular comedy shows like "Politically Incorrect," "The Late Show With David Letterman," "Late Night With Conan O'Brien," and "The Howard Stern Show," among others.
After achieving a certain level of fame in NYC, the star branched into acting. He made his acting debut at 19, with a role in "Robinhood: Men In Tights." Chappelle went on to land roles in "Half Baked," "You've Got Mail," and "Undercover Brother," among others.
The icon later debuted his comedy show, "Chappelle's Show," in 2003, and in 2004, produced his self-titled documentary, "Dave Chappelle's Block Party." The star did several comedy gigs before eventually taking a step back from comedy in 2011.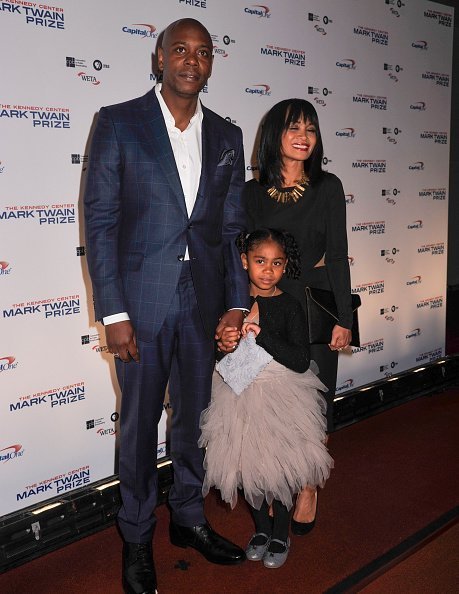 Dave Chappelle with wife Elaine Chappelle and daughter Sonal Chappelle at The John F. Kennedy Center on October 18, 2015 | Photo: Getty Images
In 2013, Dave Chappelle made his big comeback with an appearance on "Flight Of The Conchords." He has since starred in "Chi-Raq," "Dave Chappelle: Sticks And Stones," and "A Star Is Born," while pursuing his comedy career.
Chappelle's endeavors through the years have rightly earned him the title of the Comic Genius of America as per Esquire.
Please fill in your e-mail so we can share with you our top stories!