Catherine Zeta-Jones Shares Rare Photo with Her Dad as She Celebrates His Birthday
Catherine Zeta-Jones has shown how good a daughter she is as she celebrated her father David's birthday by sharing a rare photo of them together on social media.
On September 17, acclaimed actress Catherine Zeta-Jones uploaded a sweet picture on Instagram that shows her and her father David enjoying cake and tea. The 50-year-old captioned the post:
"It's my dad's birthday today! He inspires me to no end! Happy B Day Papa."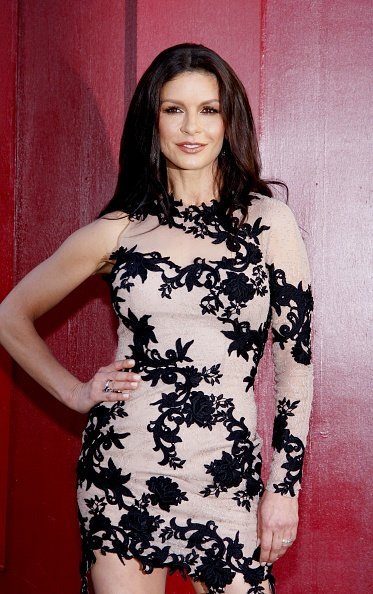 As of this writing, the photo received more than 46,000 likes from the actress's avid fans. Most of them also wished David a happy birthday. In the charming snap, David flashes a wide smile as he looks at the camera.
The proud father shares Zeta-Jones with his wife, Patricia. David and Patricia welcomed their only daughter in September 1969 in Swansea, Wales. Zeta-Jones has an older and younger brother.
In June, the "A Little Night Music" actress took to Instagram to honor her husband, Douglas, on Father's Day.
The actress had previously spoken about how supportive her parents were when she was growing up. In an interview, she said that they sent her to dance and ballet lessons from a young age despite coming from a modest background.
David, who owned a candy factory, and Patricia, a seamstress, also enrolled Zeta-Jones in a private school in Swansea. Zeta-Jones gained local media attention when her rendition of a Shirley Bassey song won at the Junior Star Trail talent competition.
Zeta-Jones has been married to actor Michael Douglas since 2000. The couple, who first met in 1998, have two children together — Dylan Michael and Carys Zeta. 
In June, the "A Little Night Music" actress took to Instagram to honor her husband, Douglas, on Father's Day. Zeta-Jones posted a family photo taken a few years earlier.
The picture featured Zeta-Jones, Douglas, and all of their children. The actor sat with Carys on his lap, while the doting mom sat next to him, holding onto Dylan.
Zeta-Jones, who established herself in Hollywood with roles that highlighted her sex appeal, rested her head on Douglas's shoulder and beamed as he leaned to kiss her forehead.
Zeta-Jones and Douglas have opened up about their children in quite a few interviews. The "Basic Instinct" actor also has a son named Cameron with ex-wife Diandra Luker.
Michael said he is delighted that all of his children want to be actors or are already great actors. He added that his youngsters understand the whole system, which is an advantage for them.