Pink Is Joined by Her Children as She Explains How She Comes up with Songs in Cute Video
Singer Pink shared a highly relatable video with her two kids as she attempted to share a new song with fans. Little Willow is too adorable. 
On Tuesday, Pink, 41, uploaded a heartwarming video to Instagram showing off her song creation process. Her son, Jameson, and her daughter, Willow, both appeared in the clip.
In the background, Pink's husband, Carey Hart, was lounging on a seat as he focused on something other than the noise being made mere feet away. The video is found below. 
KIDS' BOUNDLESS ENERGY
Willow, nine, appears first as she sits next to her mother. She holds the hair at the front of her head and brings her head back as if to display some special move. 
"What's the song called?" Pink asks. James, three, quickly pops in and puts his face right up to the camera as he screams, "Hidden Nuggets, aahh." Just then, Pink explains how her new song came about. 
INSPIRATION FOR THE SONG
She and Willow have two horses, she noted. Everyone morning, she said, the mother-daughter duo care for the dogs. "And mama wrote a song, huh? Since I'm a country singer now," she continued. 
The whole time, little Jameson is making funny faces at the camera and laughing at his own adorable self. When his mom shares part of her new song, he jumps in and repeats the title with perfect timing.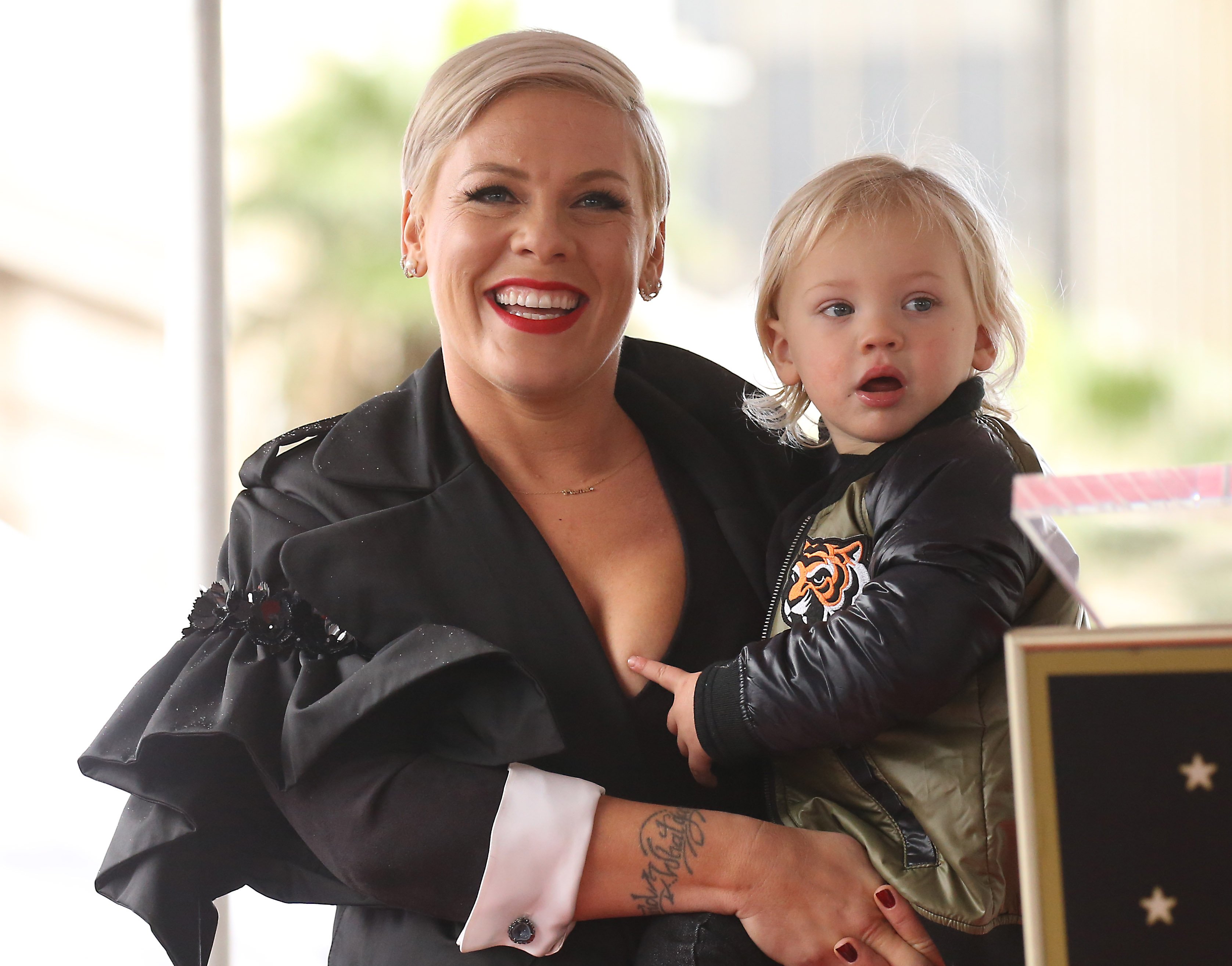 THE MUSICAL PROCESS
Behind them, an energetic Willow starts moving about on the couch before ending up standing at the top of the backrest. Mom Pink continues to showcase her impressive pipes. 
Finally, her brother closes off the song with more of his fearless vocals. In the caption, Pink wrote: "How songs are made." The heartwarming post received over 1.3 million likes within its first day. 
PINK'S THUNDER THIGHS
Pink's latest post follows a more adventurous moment she shared last month. The singer and her entire family went wakeboarding, and Pink reveled in having "thunder thighs" to navigate over the ocean. 
In another post, Hart held little Jameson as the pair wakeboarded over the ocean with impressive skill. Hart held his son protectively as James danced to Lil Jon's "Turn Down for What."
JAMESON GETS COVID-19
The lakeside outing follows Jameson's diagnosis and recovery from COVID-19 in March. Both Pink and her son fell victim to the coronavirus early on during the pandemic. 
Online, Pink talked about the illness and how no one is safe. She acknowledged that many other mothers were going through the same thing she was and asked her followers to stay safe.
WILLOW, PINKS MINI-ME
Later that summer, Pink doted on daughter Willow by sharing a photo of the little girl who looks just like her mother. The selfie featured Pink and Willow resting their heads against each other and looking like twins. 
Pink wore a pretty white headscarf over her hair while Willow looked cute with her short hairstyle. Both of them smiled bright, toothy smiles, with Pink sporting red lipstick as well. 
Pink got married to her former motocross pro husband back in 2006. In 2011, the pair welcomed Willow. Though Pink and Hart have been through their ups and downs, the family of four is thriving.