Pink Is the Proud Mother of a Daughter and a Son - Facts about Willow and Jameson
Behind the camera, singer Pink is a doting mother to daughter Willow and son Jameson. Through the years, she has been balancing her time between motherhood and her career.
Grammy-winning singer Pink is blessed not only with incredible talent and massive stardom, she is also fortunate to have a supportive husband and two adorable children.
The "What About Us" songstress gave birth to daughter Willow Sage on June 2, 2011. Five years later, on December 26, 2016, Pink and husband Carey Hart welcomed their son Jameson Moon.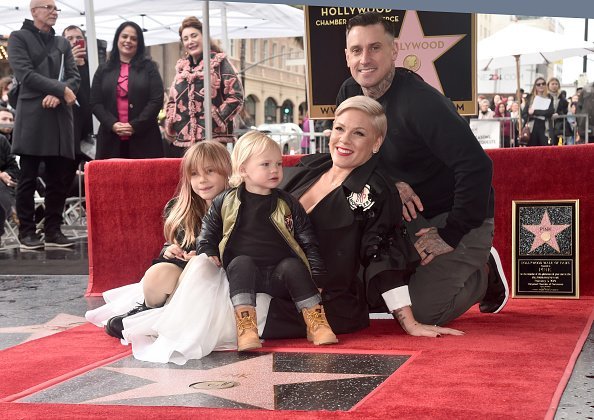 Willow has grown to become a spitting image of her famous mother. Back in 2011, Pink gushed over her firstborn. She said:
"Willow is a pro! Or else she is a borderline narcoleptic like her daddy – she slept the whole time."
The singer and her husband, a motocross champion, could not be happier to become parents. Pink said she was overwhelmed with joy after Willow was born.
Before Jameson was born, and during the time Pink and Carey were still expecting Willow, the couple already had a name for him.
The acclaimed vocalist explained that her father's name is James, and her brother is Jason. Carey's middle name is also Jason.
In 2019, Pink gushed over her husband while accepting her star on the Hollywood Walk of Fame.
The couple also both loved whiskey. For them, naming their son Jameson, which is also the name of whiskey, was a no brainer.
Pink and Carey tied the knot on January 7, 2006. They met in 2001 at the Summer X Games and became engaged in 2005.
It was not a smooth-sailing relationship at first. The couple separated early in their marriage. Pink revealed that they have, in fact, broken up twice.
Their first separation lasted a year, and the second one, 11 months. But through marriage counseling, the singer and former motocross champion saved their marriage.
In 2019, Pink gushed over her husband while accepting her star on the Hollywood Walk of Fame. She called him her muse and told him to never change.
Family tops the award-winning singer's priorities. She earlier revealed that family dinners are important for her. Even when she is on tour, they would have family dinners at least twice a week.
Carey recently underwent shoulder surgery because of a torn rotator cuff. Pink has, of course, been by his side throughout his ordeal.
A week before the surgery, the couple and their children went wakeboarding. After the operation, Pink expressed her love for her husband, calling him her "man baby."