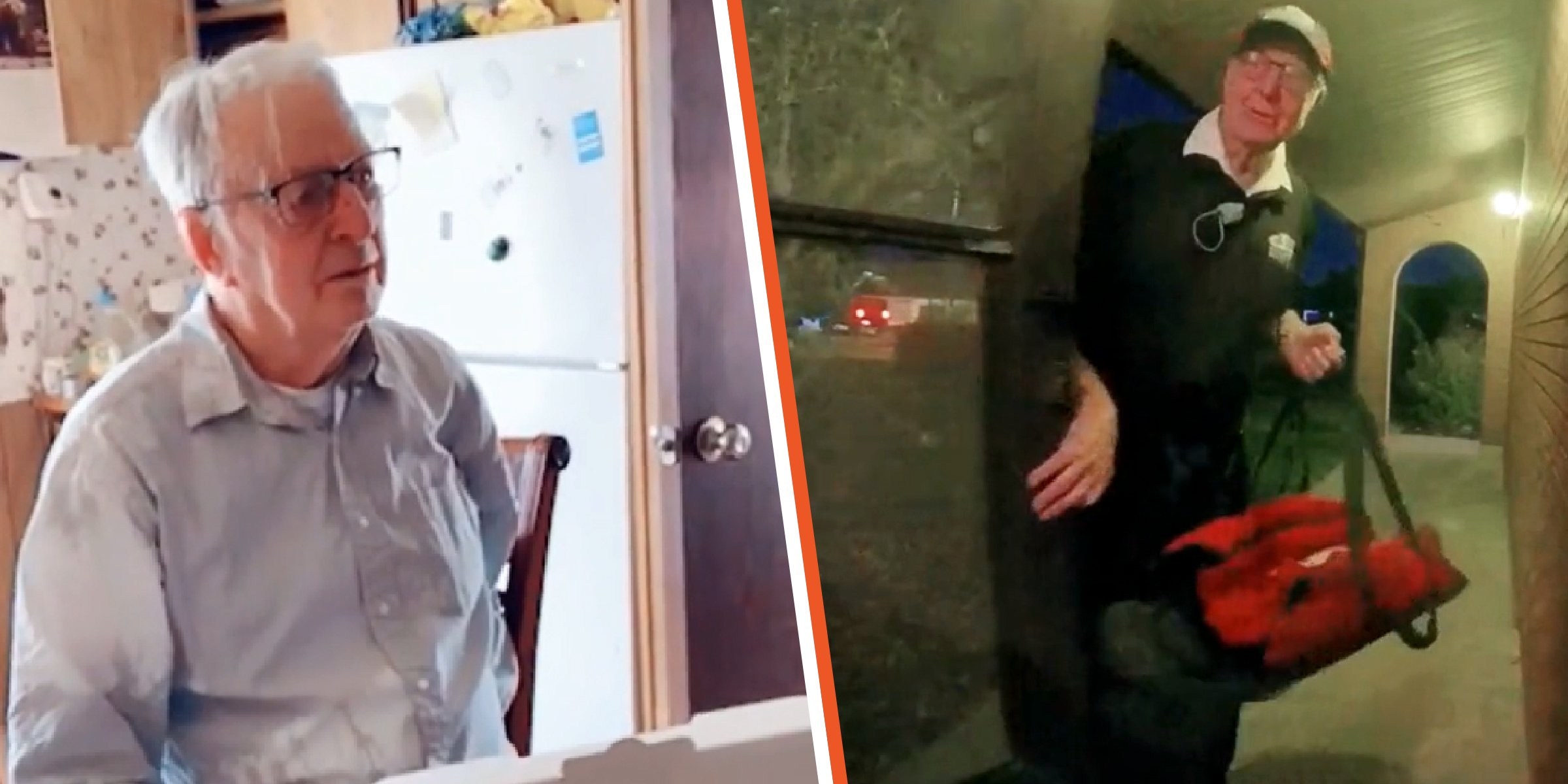 Tiktok.com/vendingheads
Couple Tips 89-Year-Old Pizza Delivery Man with $12,000 They Raised for Him
TikTok fame is something the youth of today are all interested in achieving. However, they have shockingly been bested by an 89-year-old pizza delivery man who had his life changed by some of his regular customers.
Derlin Newey is a much-beloved pizza delivery man in his community who treats all his customers with kindness and respect. Because of this, Carlos Valdez felt compelled to help change the octogenarian's life.
Valdez and his family became so close with Newey that they asked for him by name whenever they decided to order a takeout pizza. He made such an impression on the family that they decided to do something lovely for him.
Valdez and his family, like many of us, are pizza lovers, and they have a particular shop they order from each time -- Papa John's in Roy, Utah. It just so happens that they have built a special relationship with Newey.
It was the phrase Newey used each time he arrived at their house to deliver their pizza that endeared Newey to Valdez and his family. He greets them each time with a cheery:
"Hello, are you looking for some pizza?"
Because of this phrase and the fact that Valdez and his family loved having their pizza delivered by Newey, they began recording his pizza deliveries and posting them on TikTok. These videos gained thousands of views and turned Newey into a TikTok sensation in 2020.
However, while many of the viewers loved the videos and thought Newey was adorable, there were also many concerned viewers. One of the viewers asked why the 89-year-old man was still working.
Although Valdez and his family loved seeing Newey when they ordered pizza, they agreed with the sentiment and decided they should help Newey in any way they could. They had plans to surprise him with some money so he wouldn't have to work so hard.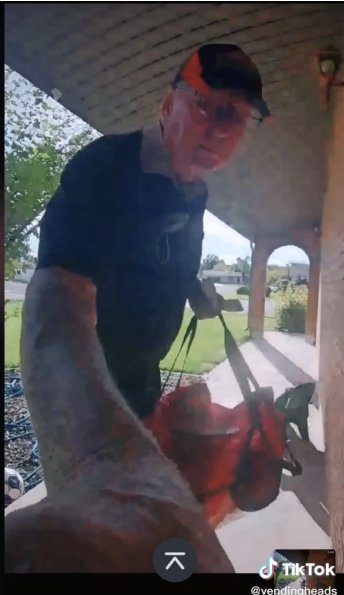 Newey ringing the Valdez's doorbell to deliver pizza | Source: Tiktok.com/vendingheads
Valdez and his family posted the idea on their TikTok account, asking viewers to donate some money toward their cause. They were attempting to raise some money they could give Newey as a tip for all the times he delivered pizza to their home.
Papa John's was then contacted for the cheapest menu item, and Valdez asked that Newey be the one to deliver the $10 chicken wings. When Newey arrived, Valdez gave him a $20 tip and asked for his contact information after telling him that the internet had fallen in love with him.
Newey gave his contact details, and Valdez knew that when he had the money, he would phone him to deliver the surprise. The family revealed that while they had faith that people would donate, they could never have expected the amount of money that came pouring in. Valdez revealed:
"Collectively as a TikTok community, we all came together, and we were able to raise $12,000 for this amazing person."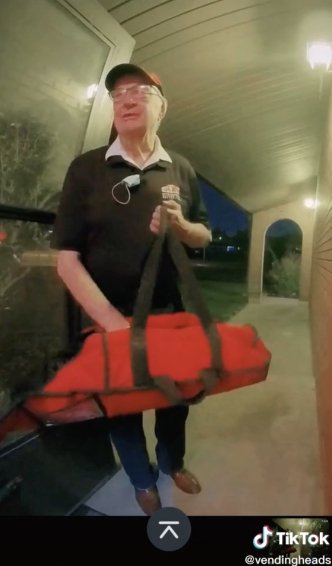 Newey once again ringing the Valdez's doorbell to deliver pizza | Source: Tiktok.com/vendingheads
The amount of money that came in was special to Valdez and his family, but it would be even more special for Newey when Valdez showed up at his front door on a Tuesday morning to hand the money over.
Newey opened the door to a smiling Valdez, who greeted him with a cheery "Good morning, dude. How are you doing?" Newey thought that perhaps Valdez would be giving him a shirt with his signature phrase "Hello, are you looking for some pizza?" printed on it.
Although Valdez did hand a shirt to Newey, he could never have anticipated the money that was about to be placed in his hands. Valdez said that although Newey had no idea what TikTok was, he told him that he and the TikTok community had collectively gotten him a gift.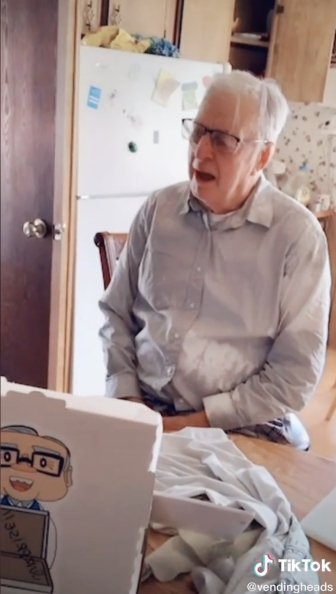 Newey after receiving the gift of $12,000 | Source: Tiktok.com/vendingheads
Newey was excited to receive the gift but wanted to know what TikTok was and had some questions about the platform, asking:
"Is that an online group you communicate with each other through the telephone?"
It was then that Valdez handed Newey a check for $12,069. Newey could not believe his eyes and asked Valdez how he could ever thank him for all he had done. Newey expressed his gratitude to Valdez with tears in his eyes.
What Valdez found out next was something he wasn't prepared to hear, but it was clear that this money would significantly help Newey live a life that was a little less stressful and a little more enjoyable for his age.
Newey revealed that he lived alone in a mobile home and took the job as a pizza delivery man because he could not afford to pay his bills without working. He revealed that in an average week, he worked for 30 hours.
Since the initial $12,000 was raised, more donations have poured in for Newey, and the total amount now stands at over $20,000. At this point, Valdez stopped the crowdfunding account and set up a new Venmo account where the donations could go straight to Newey without him having to be the middleman.
When asked why he did it and what his thoughts on the situation were, Valdez shared that it came from the heart. He said:
"He needed this. I'm just glad we could help him. We just need to treat people with kindness and respect the way he does. He stole our hearts."
In a world where nothing is certain, one man gave another the best gift of all -- the gift of peace of mind and being able to enjoy one's golden years.
Please fill in your e-mail so we can share with you our top stories!