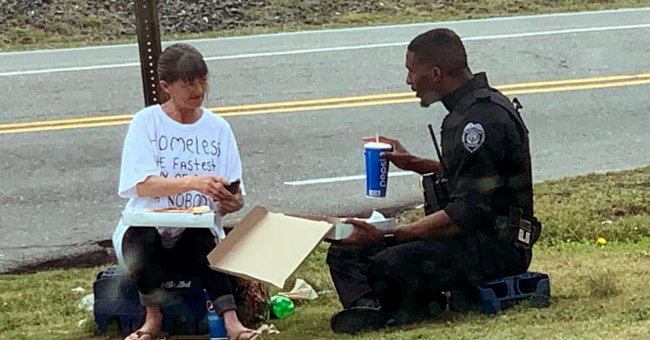 facebook.com/BarnesNC
Police Officer Captured Sitting and Eating Pizza with a Homeless Woman
A heartwarming picture of a cop and a homeless woman engaging with one another was shared online. Netizens loved it, but for some, this innocent snapshot sparked heated debates.
In 2020, a North Carolina police officer Michael Rivers came across a homeless woman, Michelle. The 29-year-old's conscience was struck, and he chose to buy her and himself a pizza.
Sitting next to her, Rivers shared the food, conversing with Michelle as an equal, with the officer reporting that their discussion was insightful and stimulating.
A TOUCHING MOMENT IN TIME
Cassie Lea Barnes caught sight of the Good Samaritan and Michelle and was so struck by the beautiful image that she took a picture of it. Her husband Chris Barnes uploaded the snapshot to Facebook, with a status that partially read:
"Cassie was out on her lunch break and observed Goldsboro's Finest enjoying lunch with a homeless person."
The post has since gone viral. So far, it has accumulated just over 5000 shares, just under 4000 reactions, and around 500 comments.
THE INTERNET WARRIORS CLASH
Most of the remarks were positive, with the comment section exuding vibrant energy throughout. However, as is usual on social media, controversy sparked, as one fellow netizen penned:
"I wish someone could show this to Colin Kaepernick (forgive me for mentioning that name)."
There were mixed replies to this, many saying he was being negative for no reason. Some also criticized homeless individuals, but most remained compassionate.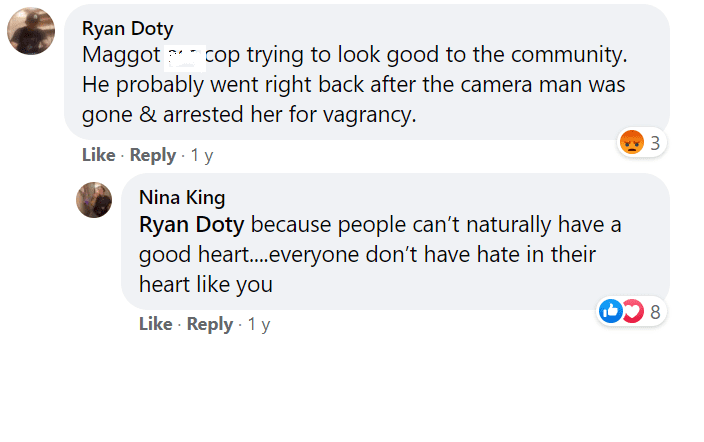 Individual's comments on a Facebook post by Chris Barnes. │Source: facebook.com/BarnesNC
BINNING THE LABELS
The police officer's comments on the incident remained wholesome. He encouraged individuals to look beyond their assumptions of cops and the homeless. Police Chief Michael West also commented:
"The circumstances around our job are often an unpleasant call to service, but this picture just shows we're human like anyone else."
Rivers opened up about his opinions regarding homeless individuals, stating that those who live on the streets have just had bad luck. He affirmed that anyone could end up in that position.
ALTRUISM IN ACTION
This hot-button debate continues to rage throughout society. While the chatter continues, one woman who helped a homeless individual chose to act based on her beliefs.
As someone who volunteers to assist the homeless, Carmen Mendez is very familiar with the plights of those who spend their nights on the streets.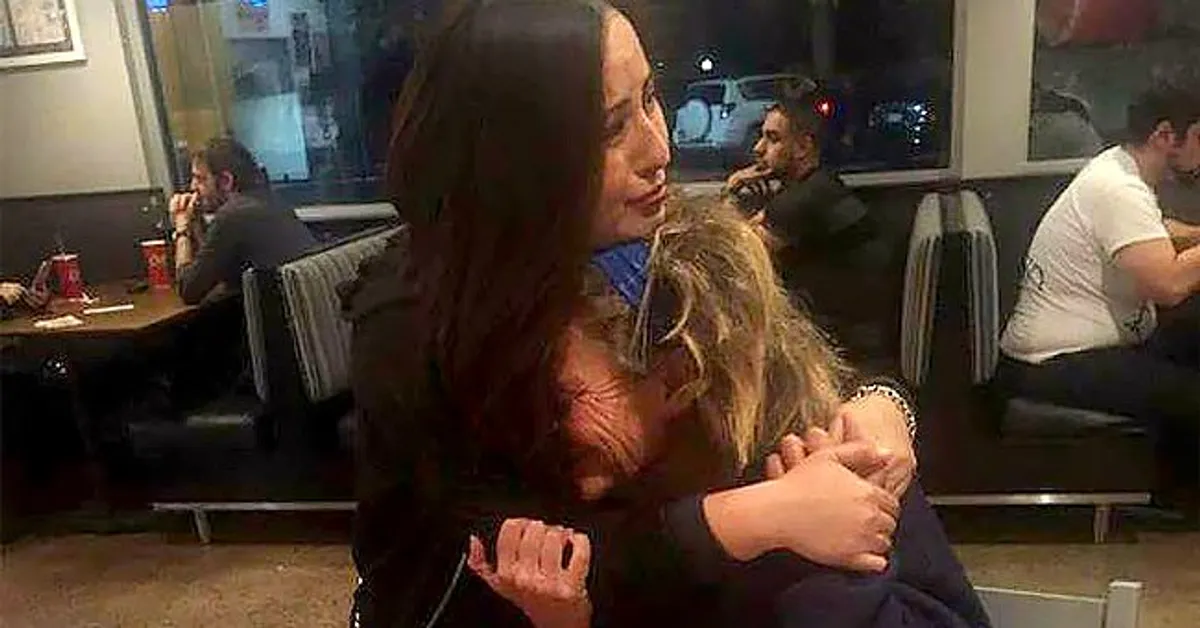 A homeless woman crying in the arms of Carmen Mendez.┃Source: facebook.com/carmen.mendez.39142
This is why when she came across a woman being treated with disgust by fellow restaurant patrons, she took action. The homeless lady wanted some leftovers, but Mendez chose to buy her a full meal.
This touched the receiver so profoundly that she began crying in Mendez's arms, proving how just one gesture can make such a massive impact on another's life.
Please fill in your e-mail so we can share with you our top stories!