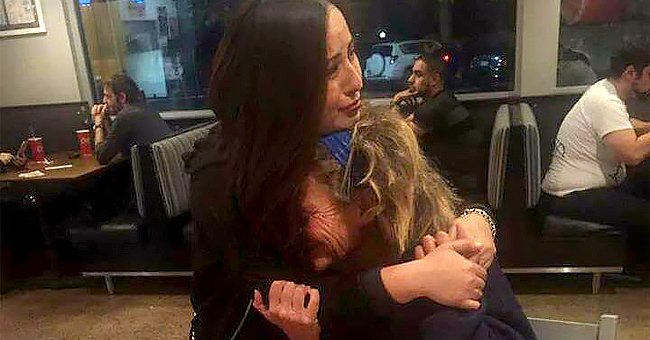 facebook.com/carmen.mendez.39142
Kind Woman Ends up Crying and Hugging Homeless Woman Asking for Leftovers outside a Restaurant
As a society, we are sometimes desensitized to those who are down on their luck, leaving them forgotten, downtrodden, and freezing on the streets - one woman has chosen not to turn a blind eye on the abandoned.
Carmen Mendez from California is highly familiar with the plights of the homeless, having worked and volunteered with these individuals for many years. This good-hearted angel expressed:
"Literally right outside my door, there are homeless people at the parks. So sometimes I'll go sit with them and ask about their day."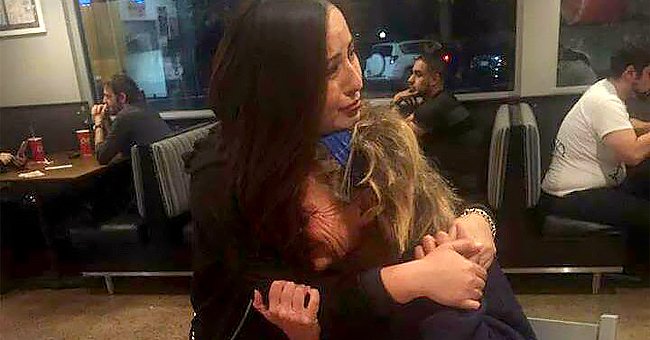 A homeless woman crying in the arms of Carmen Mendez.┃Source: facebook.com/carmen.mendez.39142
Being so close to this lived reality, Mendez's heart was shattered to see a homeless woman treated disrespectfully and with disgust by the individuals around her at an eatery.
You May Also Like: Son Reunites with Homeless Father after Desperately Searching for Him for 11 Years
DOING THE HONORABLE THING
Taking to Facebook in 2020, this woman with a heart of gold shared a sad yet beautiful story. It was about her interaction with a homeless woman while she was eating at a restaurant. The Facebook user said that this individual was asking customers for their leftovers, writing:
"Not one person said yes; they all ignored her and threw it away. It broke my heart."
The Good Samaritan eventually decided to give her some of her leftovers but couldn't find her when she got up to do so. Almost throwing her food away, the homeless lady appeared behind her, and Mendez offered her the scraps from her meal.
A SOULFUL EMBRACE
However, she felt that only giving her leftovers was demeaning, and so, despite all the judgmental looks, she invited the individual into the restaurant and bought her a full meal. Mendez penned in her post:
"That hug she gave me was like a hug I had never felt....those tears she shed were felt deep in my heart...I held her tight and let her let it out."
Her Facebook share went completely viral. It has accumulated nearly 100,000 reactions, just over 100,000 shares, and around 160,000 comments.
WE ALL DESERVE DECENCY
Out of these comments, many stated how touched they were by the story. They thanked the poster for emphasizing that all of us should be kind to those who have less. One fellow Facebook user wrote:
"Always put yourself in their shoes for a min. God bless this lady that helped that girl, And GOD will reward her one day."
Mendez's post reminds everyone that those who find themselves on the streets are just human like us all. As she wrote: "Next time u judge a homeless person think twice...not all of them are homeless because of A drug addiction or because they are lazy."
Please fill in your e-mail so we can share with you our top stories!