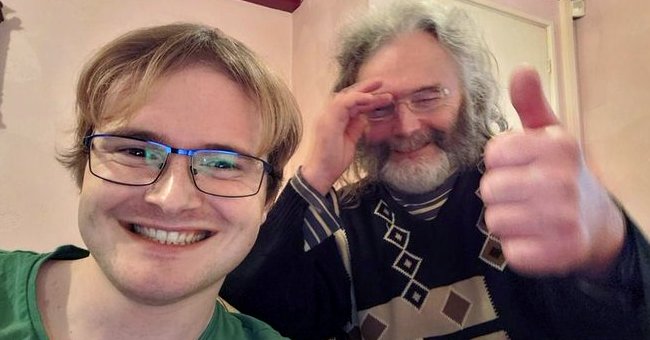 twitter.com/DailyMirror
Son Reunites with Homeless Father after Desperately Searching for Him for 11 Years
A young man hadn't seen his dad since he was 12 years old. The father had reportedly distanced himself from his son after his relationship with his wife worsened. But in a Christmas Eve miracle in 2020, they were finally reunited.
Having a solid support system, whether in family or friends, can make a world of difference in people's lives. Sadly, some people are deprived of spending time with their loved ones due to many reasons.
For a parent, nothing can be as painful as being away from their kid. The same holds for children who grow up without the tender love and care of their parents.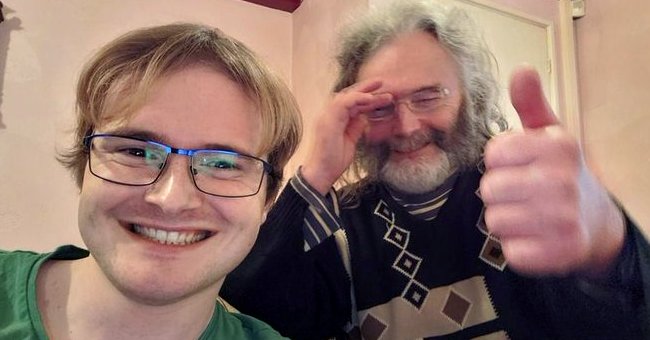 Jason Kelly pictured with his long-lost father, David Kelly. | Photo: twitter.com/DailyMirror
MISSING HIS FATHER
Jason Kelly was familiar with these bittersweet feelings as he had grown up missing his father, David Kelly. After his split with Jason's mother, his dad had moved out of their family home in Tuebrook, Liverpool, Liverpool, England.
Tragically enough, David had had a hard life, sleeping rough on the streets for several years. For a long time, Jason wondered about his dad, not knowing how to find him.
Liverpool ECHO then ran his story a few days before Christmas in 2020, where they showed a picture of David taken in the late 1990s for ease of identification.
It was the only picture Jason had of his long-lost father. Fortunately for him, someone recognized his dad's photo and gave him an address where they knew he was staying.
After spending time with his mom and siblings on Christmas day, Jason visited his dad with a plate of Christmas dinner and a cell phone.
Jason felt slightly nervous for some time, but eventually, he mustered the strength to see his father in person. On Christmas Eve, he decided to visit the address where his father had been rumored to be living.
THE FATHER-SON REUNION
An elderly lady in her 70s answered the door, confirming that David lived at the address but wasn't home at the time. After dropping his number, Jason was about to leave when he saw his father coming from his morning run. He also shared:
"I was shouting dad it's me, Jason. Eventually it started to sink in and I caught up to walk beside him (sic)."
Jason said that the moment he began talking to his dad, he was so shocked that he started to run away from him. He then had to chase after his 67-year-old father until he finally stopped and recognized who he was.
CHRISTMAS MIRACLE
David then asked his son about the family and tried to remember his date of birth. The then 23-year-old young man revealed how his dad's eyes were filled with tears the entire time they were talking.
As it turned out, David had been living with his friend in Wavertree for the past five years. Jason, who had met his dad after 11 years, said that he wanted to help him get back on his feet, as he didn't have a birth certificate and couldn't access a bank account.
After spending time with his mom and siblings on Christmas day, Jason visited his dad with a plate of Christmas dinner and a cell phone. He had saved his number on the phone so that they could stay connected.
The young Liverpool man shared that he was happy to finally meet his dad. While he was nervous at first that his father didn't want to see him, he was grateful for the Christmas miracle he experienced.
Please fill in your e-mail so we can share with you our top stories!