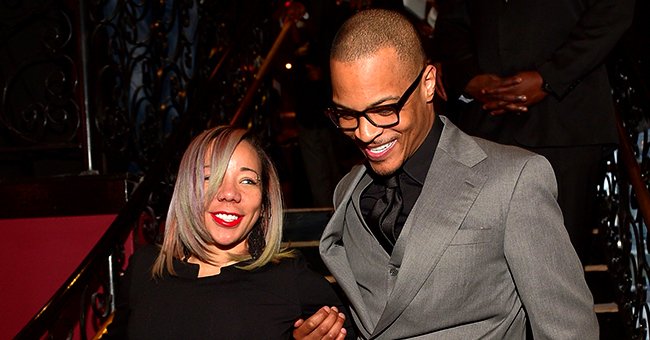 Getty Images
Tiny Harris Celebrated TI's 40th Birthday in a White Dress That Showed off Her Chest Tattoo
T.I.'s wife, Tiny Harris showed off her chest tattoo in a white dress on her Instagram post for the rapper's 40th birthday party on Friday.
American singer and songwriter Tiny Harris showed off her chest tattoo during her husband, rapper T.I's 40th birthday party in a series of photos posted on her Instagram feed.
The curvy 45-year-old gave her fans and followers a sneak peek into the all-out birthday bash held last Friday. Posting many photos, she showed off her style and that of her friends.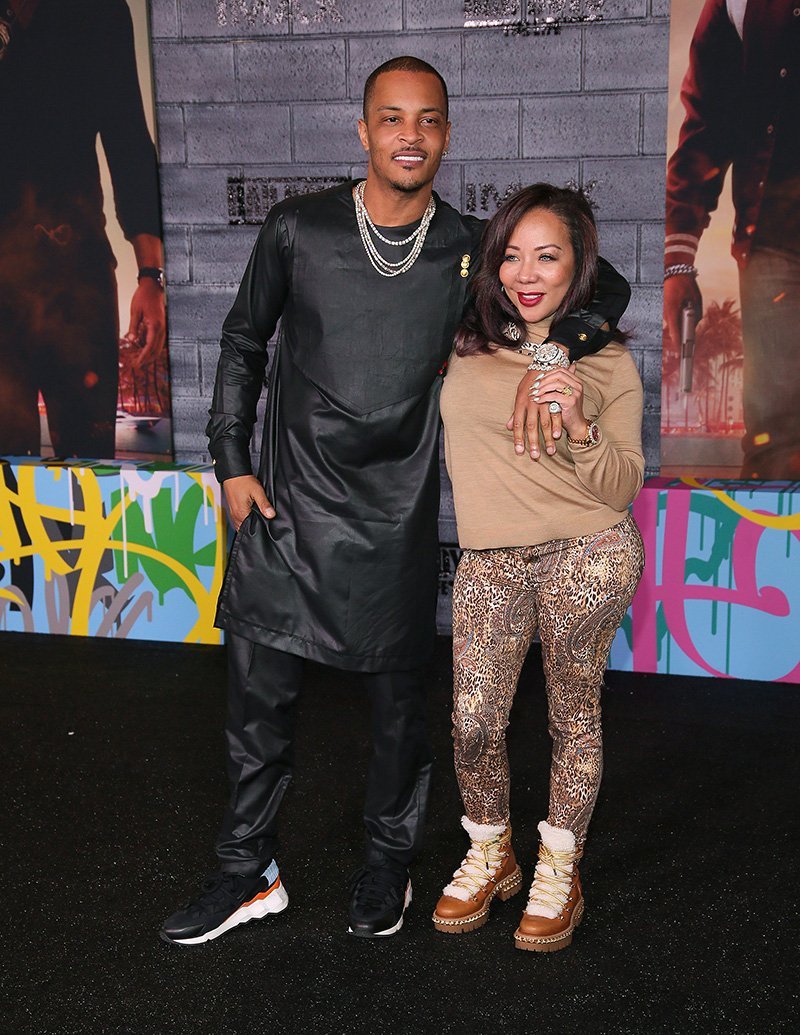 T.I. and Tameka Dianne "Tiny" Harris attend the world premiere of "Bad Boys for Life" at TCL Chinese Theatre on January 14, 2020. | Photo: Getty Images
The star had on a white body-hugging knee-length dress that had long draping shoulders. With a low neckline, it gave a perfect view of her cleavage and her intricate chest tattoo.
She combined this look with a studded purse, glittering stone accessories, and a pair of netted heels. Harris also had her crimson hair packed up in a bun with a few wavy locks framing her beautiful face. Beneath one of the photos, she captioned:
"Rich & Delicious ? Half white half black… my kind of party ? Happy 40th to my Sexy Black Man!!..."
The couple reportedly met when Harris was a 26-year-old successful singer and a former member of the popular music group Xscape. T.I, on the other hand, was a 21-year-old upcoming artist.
Harris revealed that she had not been interested in the rapper when they met. T.I, however, continued to try his luck and he eventually won her heart when he invited her for one of his performances.
She received a lot of criticism from her fans and followers after dropping the news.
The couple then went on to build a blended family of seven children. Harris had a daughter before her marriage, while T.I. had three other children. The pair share three kids.
Their first son Clifford Joseph Harris III was born on August 25, 2004, and Major Philant Harris on May 16, 2008, followed by Heiress Diana Harris on March 26, 2016.
Harris' first child is 24-year-old Zonnique Jailee Pullins, born on March 20, 1996. T.I's first child, Messiah Ya'Majesty, was born in 2000, while Domani and Deyjah Imani were born in 2001.
As if the family was not large enough, Zonnique announced that she is pregnant with her first child earlier this year. However, she received a lot of criticism from her fans and followers after dropping the news.
Harris reportedly came to her daughter's defense. She explained that her daughter was a very well-rounded woman who was not different from all the others out there. She also added that she was happy that Zonnique had someone to love and share a baby with.
It sure has been a busy year of planning for the Harris family. To commemorate his birthday, it was also reported that T.I announced his new studio album and posted the video for the first single on his YouTube channel.
Please fill in your e-mail so we can share with you our top stories!