Gospel Stars Tamela Mann & Kirk Franklin Reunite in the Studio — See Video of the Fun Moment
Gospel icon Tamela Mann was excited in her recent media share as she gave fans a peek at how her cherished reunion with fellow star, Kirk Franklin went.
Tamela Mann's recent Instagram post had her thrilled and psyched as she let fans know how sweet her reunion was with her former gospel group member, Kirk Franklin.
The clip she shared on Instagram showed her and Franklin carrying off a sweet rhythm as they coined a hilarious reunion tune while sharing a peal of hearty laughter.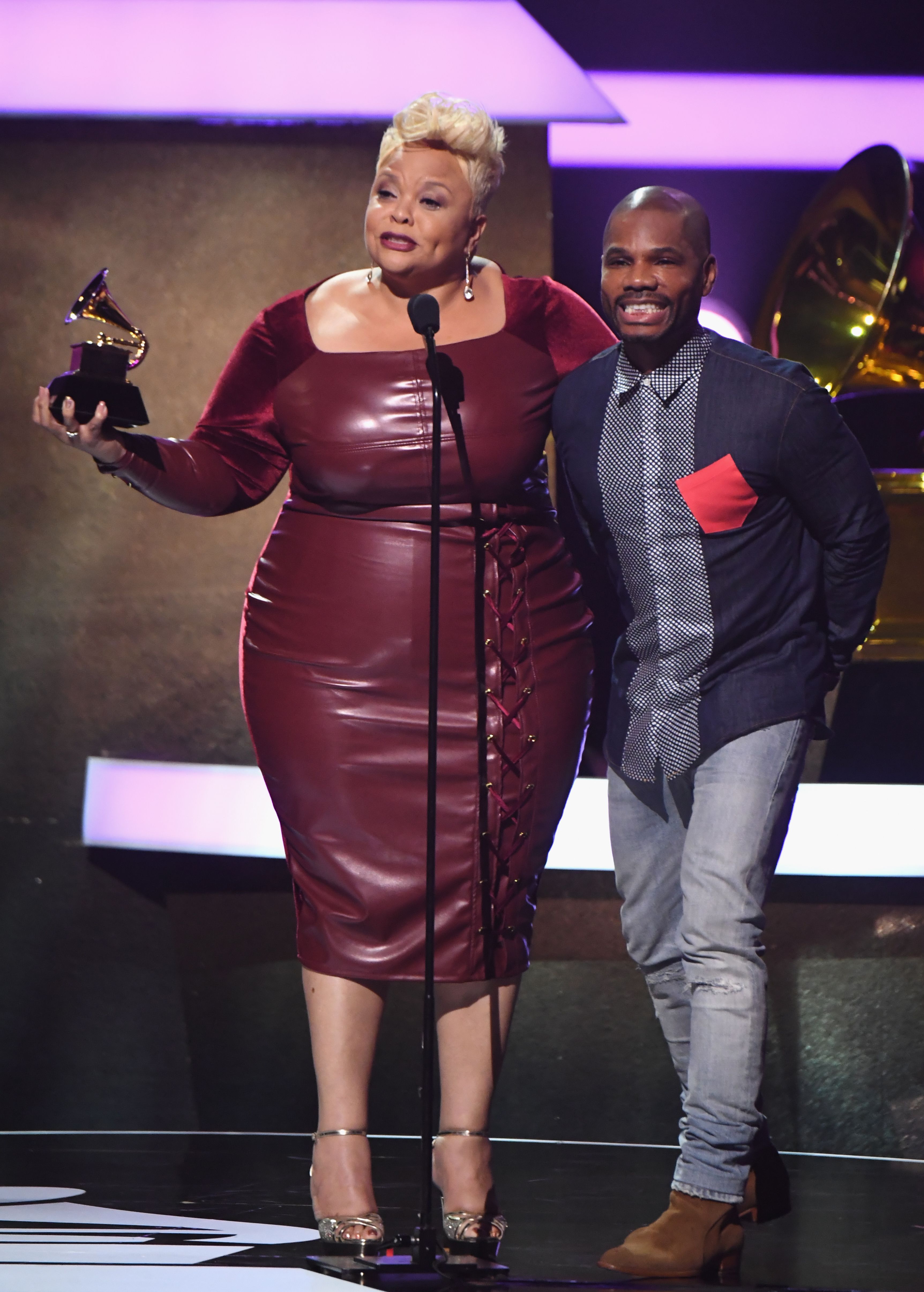 While the "Take Me to the King" crooner donned jean dungarees on a black fitted shirt, Franklin looked cool in a long-sleeved top, a pair of jean shorts, and a red bandana.
[Mann] formed a point of inspiration for her fans after she informed them that she was going on a weight loss journey.
At a point, Tamela's husband, David Mann, seemed to join in their reunion talks from the back of the camera as he jokingly asked them what they were doing. Tamela sweetly captioned her post:
"Reunited and it feels so gooooood @kirkfranklin."
Once speaking on the "Donnie McClurkin Show," Tamela, 54, revealed that being with the musical group, Kirk Franklin and the Family, was an intricate part of her musical journey.
She said that the musical group helped her discover herself as an artist. The "Best Days" crooner shared that it was a real family and Franklin was the ideal leader who looked out for his team members.
The "Change Me" singer who is at the top of her game in the music industry has been through trying times with her husband, but they always pull through.
One such time was when the duo was robbed while they were dining leisurely at a restaurant in Atlanta. The celebrity pair was alerted that their vehicle was burgled, and valuable items like jewelry and technology gadgets were carted away. 
This made her dejected, but after she unexpectedly listened to her song, "God Provides" on the radio, she felt relieved that things would be better.
Although Tamela started her showbiz career as a backup singer for Franklin, she got her big break as an actress in Tyler Perry's "Madea," and it's sequel. At the time, she and her spouse starred alongside each other in many of Perry's string of film projects.
These days, the Grammy-winning singer and her spouse keep fans updated via their family reality shows, "It's a Mann's World," and "The Manns." The duo, whose union has spanned for three decades, has also written a book on marital life.
Last year, the 54-year-old gospel songstress formed a point of inspiration for her fans after she informed them that she was going on a weight loss journey.
True to her words, Tamela took to Instagram some months later to flaunt her trimmer figure and weight loss result. The star had joined WW and the program helped manage her diet and workout routine.
While she was dropping calories last year, Franklin, 50, dropped his thirteenth studio album "Long Live Love," which featured his hit track, "Love Theory."
The thirteen-time Grammy winner backed his album release with a 25-state music tour starting with Austin, TX, Atlanta, Chicago, Detroit, and Houston. Last year was a fully scheduled one for the songwriter who later hosted the 34th Annual Music Awards.