Twitter Reacts Hilariously to Video of 50,000-Litre Wine Spill in Spain
Footage that shows a massive tank of red wine leaking has gone viral recently and many Twitter users reacted hilariously to the video, which has already garnered millions of views.
The incident happened at the Bodegas Vitivinos winery in central Spain. In the clip uploaded to Twitter on September 25, red wine can be seen spraying out of an enormous metal tank.
Spilled wine soaked the surrounding area, including a field and some gear. The amusing video that has amassed over 16.8 million views and 19.7 thousand retweets was captioned: "50,000 liters of wine down the drain in Spain."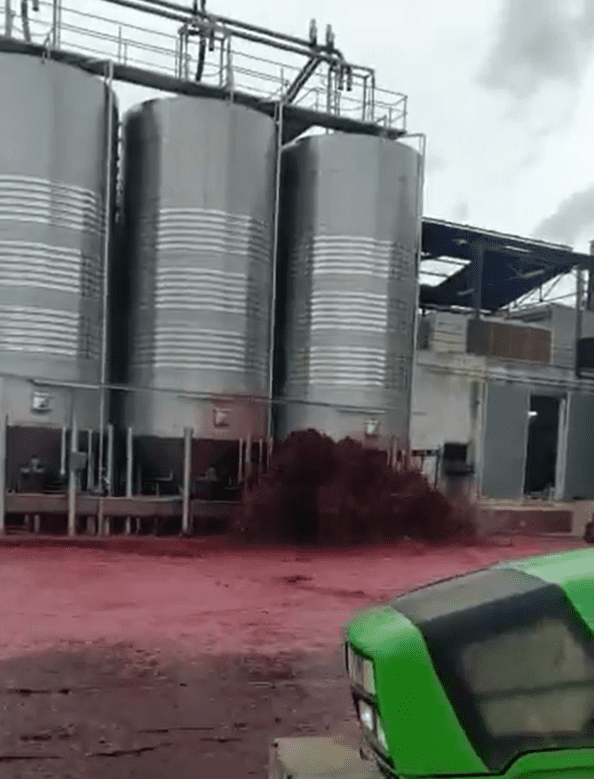 HILARIOUS REACTIONS ON TWITTER
The clip immediately went viral on the popular microblogging and social networking service. Many users poked fun at the incident, quipping that they would be glad to volunteer to help clean up the mess.
"Am sure if we got some straws we could sort this out.." one user wrote. Another user added that 2020 just wouldn't take its foot off everybody's necks.
Someone else commented that the accident was another reason to really dislike this year. Some users also likened the blood-red spill to the elevator scene in the 1980 psychological horror film, "The Shining," in which a torrent of blood rushes into the corridor. 
50,000 litres of wine down the drain in Spain pic.twitter.com/r9DNdNfr5k

— J Λ M Ξ S (@jamesglynn) September 25, 2020
A break in the tank reportedly caused the spill. As reported by TODAY Food, Bodegas Vitivinos did not immediately respond to their request for comment.
DETAILED WINE-MAKING PROCESS
According to the company's official website, making the dark red wine is a detailed and precise process. Grapes are reaped from select plots at their maximum point of color and sorted out based on color and maturation, the site explained.
Presently, the company's facilities are run under the supervision of Dr. José P. Gracia.
Am sure if we got some straws we could sort this out.. pic.twitter.com/KAoDPLSLTv

— Mel Whittaker 🏴󠁧󠁢󠁳󠁣󠁴󠁿💜💙🇵🇸 (@MelWhittaker5) September 26, 2020
The site added that the wines are then fermented and barreled, with one sort of wine going through longer than a year in a barrel and an additional half-year in a wooden tank until bottling. 
In 1969, Bodegas Vitivinos was established, with a production of 6,000,000 kilos of grapes. Presently, the company's facilities are run under the supervision of Dr. José P. Gracia.
Wow... 2020 just wont take its foot off our necks.. pic.twitter.com/0Y3wR0sFjH

— Kessica Rabbit (@Eyeneticz) September 27, 2020
BEER SPILL IN CHICAGO
In a related incident back in July, Avondale's Revolution Brewing spilled beer in the alleyway of a neighborhood in Chicago, leaving behind a foul smell.
One of the residents named Natalio Valdovinos said in an interview that it was a big spill. His alley smelled like a brewery, Valdovinos added.
Thanks, 2020. Another reason to really dislike this year.https://t.co/se1hcWSQhl

— GriffinSentinel (@GriffinSentinel) September 28, 2020
Revolution Brewing explained at the time that an outside hauler was transporting the liquid and that they followed up as soon as they were made aware of the spill.
The company added that they sent colleagues to help in the cleanup. The spill happened around 11:45 in the morning. According to neighbors, it was the first time such an incident happened in the area.