See the Sweet Tribute Jennifer Lopez Shared to Her Son Max on National Son's Day
Popular American actress and singer, Jennifer Lopez took to her Instagram to pay a heartfelt tribute to her 12-year-old son, Max, on National Son's Day.
Parents worldwide took to their different social media platforms to post messages of love and honor for their sons in celebration of the National Son's Day. Superstar singer Jennifer Lopez made sure she did not forget her son, Max.
The 51-year-old actress posted a video of her son alongside a message of love to mark the September 28 event. In the 30-seconds video, Jennifer and her 12-year-old Max were seen playing a game the singer tagged "a test of concentration."
According to a male voice in the clip, which supposedly belonged to the singer's fiancé, Alex Rodriguez, the game was for a hundred dollars. The excited Max could be heard answering all the questions thrown at him by his celebrity mother.
The singer included a line from Bruno Mars's famous song, "Just the Way You Are," in her post on Instagram. She captioned the post:
"Ain't no love like this When I see your face, there's not a thing that I would change… Cause boy you're amazing just the way you are… happy #nationalsonsday!!!!"
The video has gotten over three million views and more than three thousand comments. The singer's 132 million followers wasted no time in pouring accolades on the tribute.
National Son's Day is a day to celebrate and recognize the unique importance and significance of being a son and raising sons. The day aims to celebrate boys and the legacy that is left behind as parents.
Emme and Max no doubt inherited the artistic talent of their parents, Jennifer Lopez and Marc Anthony.
The  actress is quite fond of her kids and is said to be very supportive of their dreams. The singer was reported to have cheered on her 12-year-old son as he performed in a production of "The Wizard of Oz" and sang a solo.
The proud mother of two also posted an adorable video of her son, Max, as he played the coroner of Munchkinland, informing Dorothy and her new pals that the Wicked Witch of the East was no more.
Max was compared to his famous father,
Marc Anthony, after his solo musical performance, which left fans raving with comments.
One fan referred to him
as "little Marc," while another couldn't help but notice the uncanny resemblance between the talented boy and his famous father.
Fruits indeed do not fall far from trees. Jennifer's twins, Emme and Max, no doubt inherited the artistic talent of their parents, Jennifer Lopez and Marc Anthony. Emme is reportedly becoming a published author at just 12 years old.
The talented pre-teen who previously shared the stage with her mother during the Super Bowl 54 halftime performance, has authored a new picture book titled "Lord Help Me," which contains everyday prayers for children. 
According to Lopez, Emme's project has been a few years in the making and was inspired by her love of sloths. The singer further added that her daughter is way ahead of her, discovering her dreams at such an early age.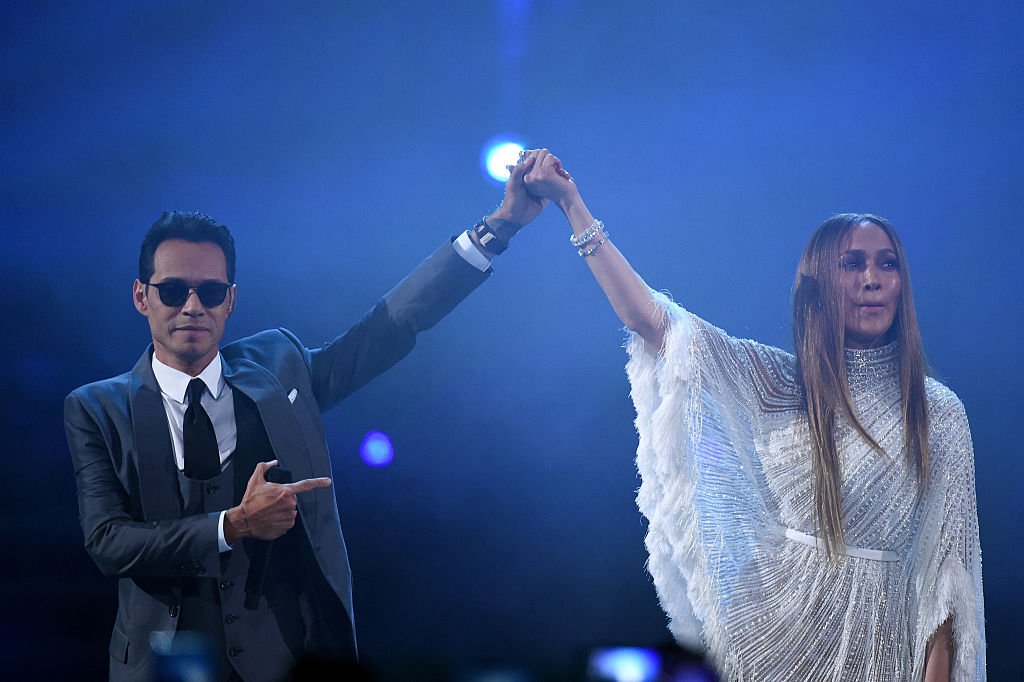 Even though Lopez and Marc Anthony co-parent their two children following their split, the singer and Alex Rodriguez have formed a tight-knit blended family.
The singer said in a local report that her son Max is so fond of Alex because of his patience with him. Alex himself is a father of two and has enough experience in handling the energetic Max.