See Kylie Jenner's Spooky Decorations in Her Mansion as She Prepares for Halloween
The "Keeping Up with the Kardashians" star is a known Halloween enthusiast, and she already transformed her California mansion into a spooky place to enter in full Halloween spirit.
October is here and 23-year-old businesswoman and media personality Kylie Jenner is wasting no time this year when it comes to putting Halloween decorations at her home, as she proudly showed her fans on social media recently.
Taking to Instagram Stories, Jenner welcomed Halloween season by sharing videos and pictures that showcase the spooky decorations in her mansion, giving us all a little tour of her humble abode.
"We are in full Halloween mode at my house. Setting up all these cute little things," Jenner could be heard saying behind the camera as she showed her living room decorated with spider and jack-o-lantern motives.
Two mummies were placed on both sides of the door leading to Jenner's living room. There are also two witch dolls among the decorations, which Jenner called her "friends" in the caption to one of her Stories.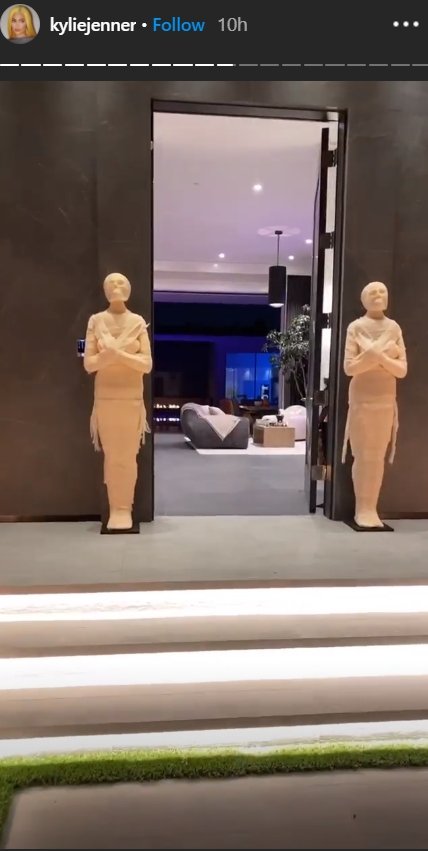 By looking at Jenner's kitchen, we can tell that she is ready for the children in her neighborhood going trick or treating, with the young billionaire sharing images of a lot of candy served in vampire, jack-o-lantern, and skull bowls.
HALLOWEEN FAN
Jenner has never hidden her love for Halloween, and if she enjoys coming up with the most impressive decorations to mark the occasion, she loves even more to think of costumes, especially since her daughter Stormi arrived at her life.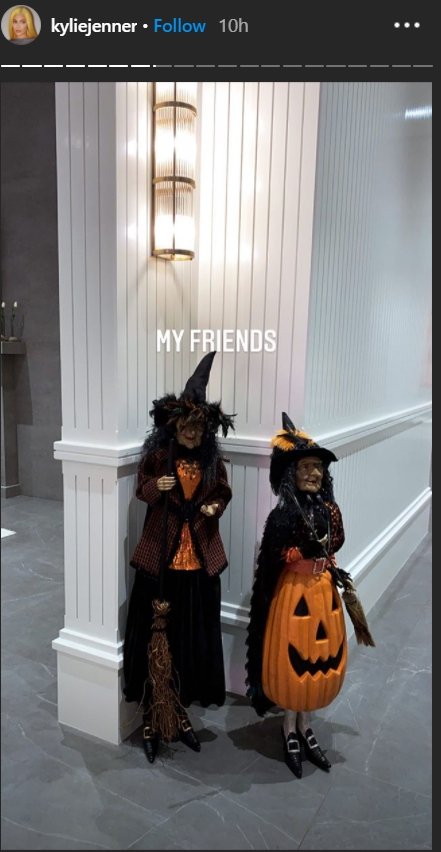 Since Stormi's first Halloween in 2018, Jenner has used the opportunity to play twins with the little girl she shares with rapper Travis Scott, with the two debuting as a Halloween duo by wearing matching skeleton onesies.
That year, Jenner couldn't have enough of trying matching costumes and themes for her daughter and her, and the two also appeared dressed as butterflies and portraying what Jenner called "Stormi Weather."
In October 2019, Jenner took things to a whole new level when she dressed Stormi up like a miniature version of herself, reproducing to the last detail the impressive outfit Jenner wore for the 2019 Met Gala, complete with a purple wig.
"My baby!!!!!!!! I can't handle this" an overwhelmed Jenner proudly captioned the hilarious Instagram on which she revealed Stormi's last Halloween look to date. We can't wait to find out what these two have in store for this year!
DRESSED TO IMPRESS
But while we wait to see what Jenner will choose for herself and her daughter to wear the next Halloween, Stormi has already made a stir because of what she wore during her first day of home school.
On September 30, Jenner took to Instagram to share a video of her 2-year-old daughter jumping and screaming as a way to express her excitement over this milestone, with Jenner giggling lovingly behind the camera.
But there was an item in Stormi's outfit for her first day of school that stole the attention from those with an eye for fashion, with some people noticing that she was carrying a Hermes backpack valued at $12,000.