See the Sparkly Diamond Chain Gigi Hadid Showed off a Week after Giving Birth to Her Daughter
25-year-old model Gigi Hadid showed off her diamond "mama" necklace given to her by designer Jacquie Aiche, as a congratulatory gift for her baby girl's arrival.
Model Gigi Hadid seems to have settled right into the role of the best stylish mama around. Only a week after she welcomed her baby girl with singer Zayn Malik, the new mom debuted her sparkly new "Mama" necklace on her Instagram story:
"OMG @jacquieaiche I love you. Thank you."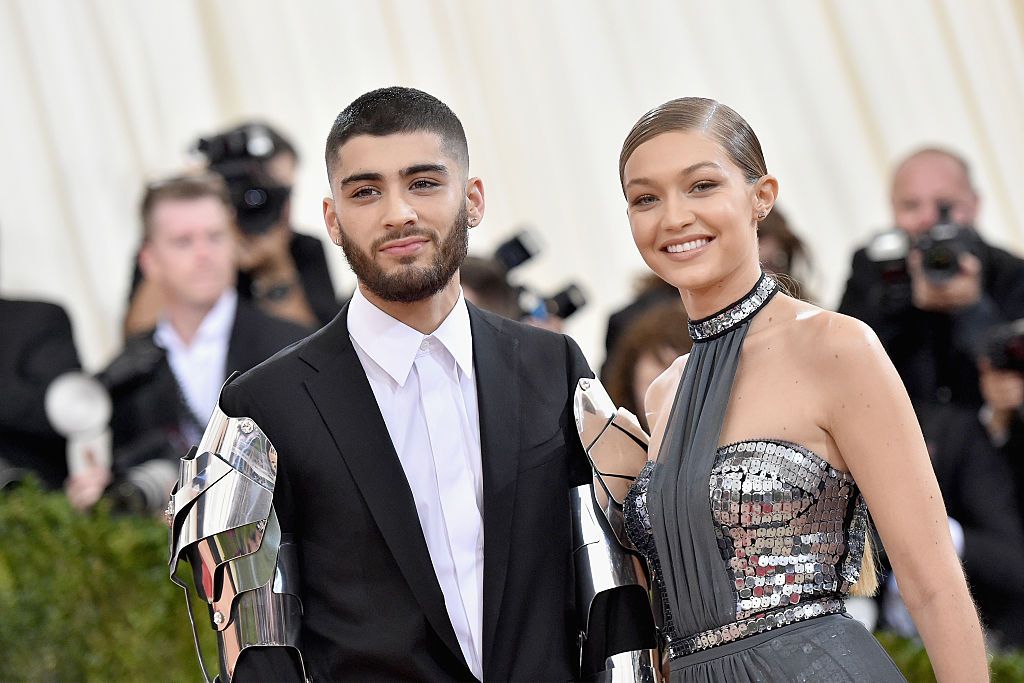 The stunning Jacquie Aiche-designed diamond necklace was a show-stealing diamond-encrusted pendant that hung from a dainty and elegant gold chain that further raised the piece's class and style.
The beautiful necklace sat pretty around the model, Hadid's neck right between the flaps of her hot pink buttoned-down shirt.
Presumably a custom made design from Aiche to Hadid, pieces of that class and brand reportedly ranged from $60 beaded jewels to $8000 for much finer higher-classed pieces like jewel-studded fine gold items.
Aiche's special gift to the newly bedazzled mama was not the only gift that she had received since she welcomed her daughter.
They were spotted rocking matching diamond-stuffed evil eye bracelets.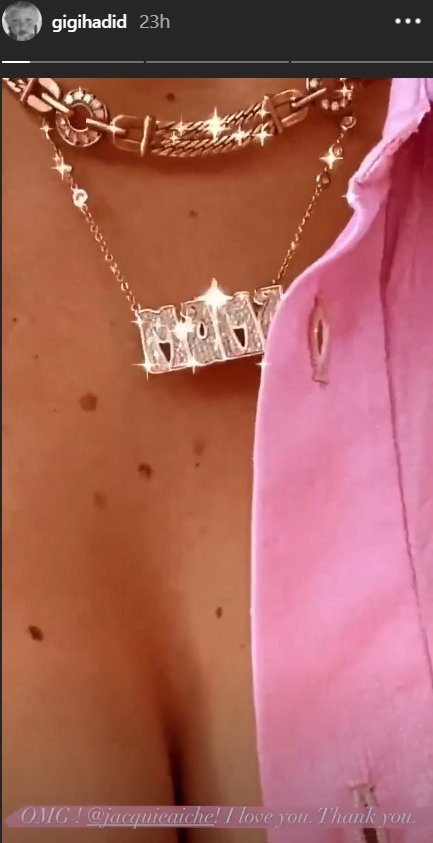 Italian fashion designer Donatella Versace also sent the most adorable baby-sized Versace pieces for Hadid and Malik's little one to wear.
Singer Taylor Swift also gave Hadid and her newborn the most precious hand-embroidered silk blanket that looked a lot like the one she made for singer Katy Perry and her daughter, Daisy.
They announced the arrival of their little one on Malik's Twitter account. The singer shared a heart-warming black and white photo of him holding their newborn baby girl and wrote:
"Our baby girl is here, healthy, and beautiful. The love I feel for this tiny human is beyond my understanding."
Malik wrote that it felt impossible to express how he was feeling with words. He was grateful that the little one was his; he was proud to have her and was already thankful for their future together.
Hadid also shared a touching photo on her Instagram, showing her little one's small hand clutching Malik's hand alongside a heartfelt caption about how she was so in love with the baby.
Even before their little one arrived, hugs started coming in. The model confirmed that she and her partner were expecting a child late in April, and shortly after, they were spotted rocking matching diamond-stuffed evil eye bracelets. 
The stunning bracelets were reportedly designed by celebrity jeweler George Khalife, who said that the pieces carried meaning in their Middle Eastern culture as a means to ward off negative energy.
Judging from how happy Hadid and Malik are with their new lives as parents, it was clear that they had definitely succeeded in retaining all the positive energy there was.