TMZ: WWE's Road Warrior Animal Joseph Laurinaitis Died during Wedding Anniversary Celebration
WWE Hall of Famer Joseph Laurinaitis has died at 60 years. The former wrestler passed away while vacationing with his wife in celebration of their wedding anniversary.
WWE legend and one half of the wrestling tag team, "The Road Warriors/Legion of Doom," Joseph Laurinaitis has died aged 60 years old.
Laurinaitis was on a romantic vacation with his wife, Kimberly when he succumbed to his death. The couple was at the Margaritaville Lake Resorts in Osage Beach, Missouri, when he died following a medical emergency on September 22.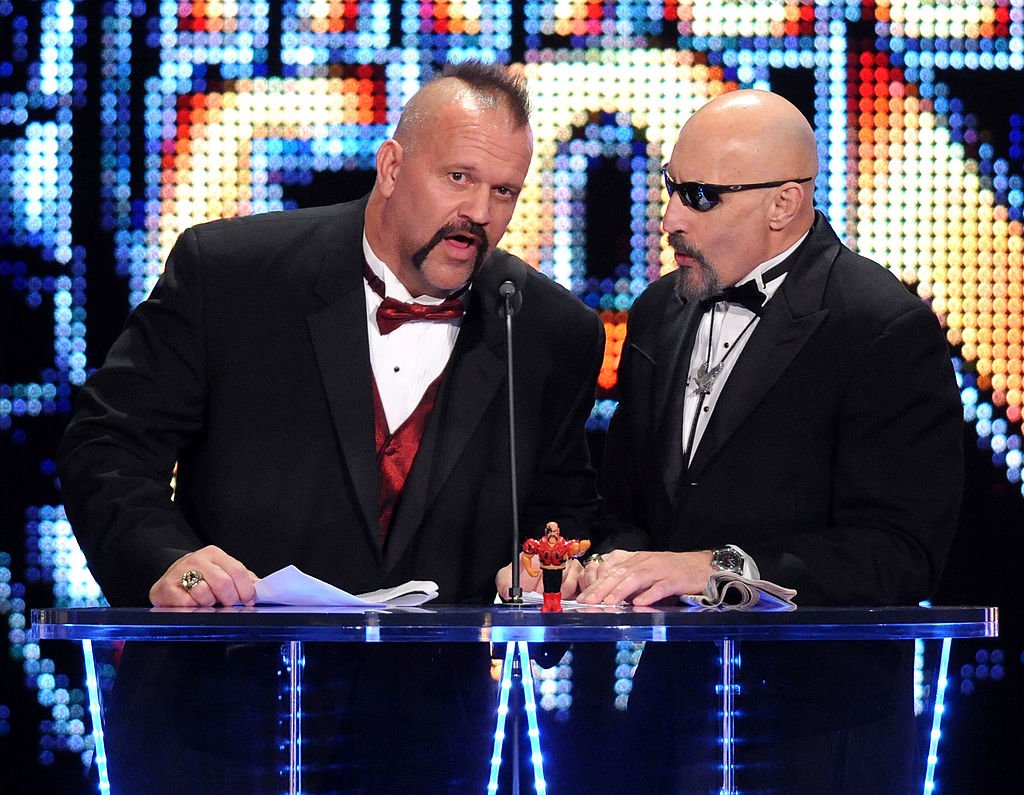 Police reports stated that the late former wrestler had set up a romantic evening for his wife. Part of the sweet treat included a fancy dinner and spending time in their hotel room which had rose petals all over as well as a gift basket.
However, when they returned to the room, Laurinaitis suffered a medical emergency, which caused him to collapse on his bed. His wife tried to perform CPR on him but her efforts were futile. 
WWE's Joseph Laurinaitis, Known as Road Warrior Animal, Dead at 60: 'Terrible News to Wake Up to'​ https://t.co/ersS7QLIBU

— People (@people) September 23, 2020
LAURINAITIS' WWE CAREER
Laurinaitis' death comes as a shock to many wrestling fans and those involved in the sport. The late wrestler is one of the most famous names to have graced the ring.
He found fame along with Michael Hegstrand who was known as Road Warrior Hawk. The duo formed a fearsome tag team and played a vital role in the reemergence of tag team fights as a prominent part of the WWE.
- WWE Hall of Famer
- Tag-team Champion across the globe
- Part of the legendary Road Warriors

RIP, Joseph Laurinaitis AKA Road Warrior Animal

1960-2020 pic.twitter.com/SWUWnqlc2g

— WWE on BT Sport (@btsportwwe) September 23, 2020
With their signature entrance music, chiseled physiques, painted face, and colorful costumes, The Road Warriors defeated their opponents on their way to becoming one of the most successful tag teams in WWE history.
With Laurinaitis' passing, it means that both members of The Road Warriors have died.
RIP Joseph Laurinaitis and all our love to @jlaurinaitis and family during this time. 🙏

Pay homage. pic.twitter.com/sMBHWKuRUJ

— HOMAGE (@HOMAGE) September 23, 2020
OUTPOUR OF LOVE
Reacting to Laurinaitis' death, his son, James Laurinaitis, a former NFL star, said he was heartbroken over his dad's loss. In an Instagram post, the former Ohio State University football star said:
"I don't have the right words to say. I'm absolutely crushed. I miss you already. I hate that I wasn't able to say goodbye. Say hello to Mum Mum, Pop Pop, and Hawk for me."
James also thanked his late dad for the love, support, and many life lessons he taught him, adding that he found it hard to believe he was dead.
With Laurinaitis' passing, it means that both members of The Road Warriors have died, following Hegstrand's death in 2003 due to a heart attack.
Tributes have come from fans and members of the wrestling community who continue to mourn Laurinaitis' passing. In a tweet, Jerry Lawler said it was terrible news to wake up to, adding that he was praying for the late wrestler and his family. 
RIP Animal,love you my brother, I know you and Hawk have a lot of unfinished business to take care of! God speed and blessings to your beautiful family,one love4Life. HH

— Hulk Hogan (@HulkHogan) September 23, 2020
Hulk Hogan also tweeted, saying he knew Laurinaitis and Hegstrand had a lot of unfinished business to take care of before praying for God's speed to his family.
The former WWE wrestler, Laurinaitis is survived by his wife and three kids, James, Jessica, and Joseph. He shared James and Jessica with his former wife, Julie, while he had Joseph from a previous marriage.