Chrissy Teigen, 34, Looks Almost Unrecognizable in Her Childhood Photo
Chrissy Teigen uploaded a picture taken when she was in high school, and she looks nearly unrecognizable in it. The television personality even poked fun at her eyebrows in the caption.
On January 14, 2020, model and entrepreneur Chrissy Teigen reminisced about her time as a high school cheerleader, posting a throwback snap of herself on Instagram. The adorable photo shows her posing with her pom-poms. 
In the caption, the 34-year-old explained that she felt like taking a stroll down memory lane after watching "Cheer," a hit documentary series airing on Netflix starting in January 2020.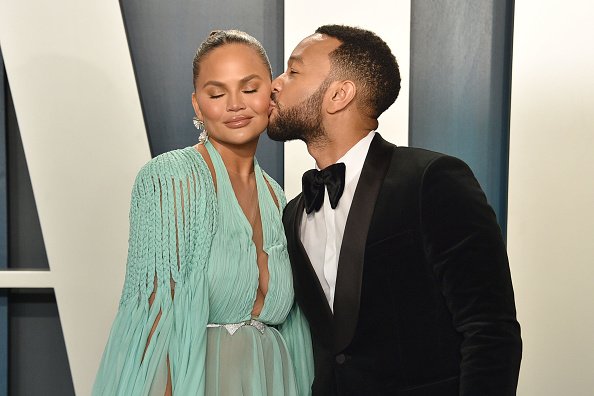 "Watching Cheer on Netflix got me reminiscing about how I sucked at cheerleading almost as much as I sucked at doing my brows," wrote Teigen, who made her professional modeling debut in 2010, appearing in the annual Sports Illustrated Swimsuit Issue.
The doting mother of Luna and Miles Theodore Stephens, whom she shares with her husband John Legend, added that she really had no idea how she made the team.
THROWBACK PHOTO WITH HER MOM
In August 2019, Teigen also shared a throwback photo on Instagram that sent her legion of fans into a frenzy. In the photo, young Teigen is seen posing for the camera with her mother.
The model's facial expression in the picture is what her daughter Luna makes constantly. This is not the first time Teigen shared a throwback photo with her beloved mother, Pepper Teigen.
On July 9, 2020, she uploaded a sweet image that shows her and Pepper sitting together and sharing a meal in what appeared to be a restaurant.
She also had some dark days.
According to Inquisitr, the photograph probably was from the late 1980s. Meanwhile, in the caption, Teigen wrote that she did not pick the "perm life." Apparently, she was referring to her hairstyle.
Fans of Teigen, who tied the knot with Legend in September 2013, found the snap amusing, and they likewise remarked about her striking similarity to her oldest child, Luna.
A CHALLENGING LIFE
Despite the fact that Teigen is quite successful with her career and has a happy family now, life was not perfect for the model. She also had some dark days, according to Cheat Sheet.
For instance, when her mother, Pepper, became depressed after the death of her parents, Teigen shared that she felt she had also lost her own mother.
Although they are very close now, Teigen said that the anxiety she encountered at the time makes it difficult for her to even remember those painful days.
Teigen also struggled to find jobs that paid the bills when she was just starting her modeling work. It took a long time before her career finally took off.