Demi Moore, 57, Shows off Age-Defying Beauty in Black Sweatsuit as She Poses with Her Dog
Demi Moore, who turned 57 in November, is looking as good as she did in her younger years, as shown in a recent photo she posted to social media. 
On October 4, actress and film producer Demi Moore uploaded a snap on Instagram of herself donning a black sweatsuit as she poses for the camera with her adorable dog. 
She went free of makeup for this picture, prompting fans to praise her natural beauty and her courage to be seen without makeup. Moore probably never needs to wear makeup again in her life.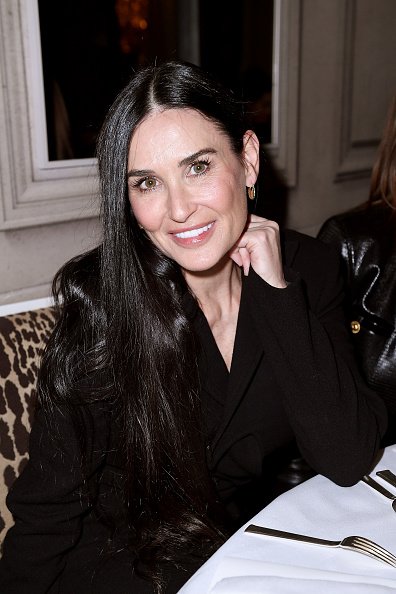 "Reality. Hope you guys loved @savagexfenty show as much as I loved being a part of it!" the "Indecent Proposal" actress captioned the snap that already garnered more than 73,000 likes.
Prior to this photo, Moore made an appearance at Rihanna's Savage x Fenty Vol. 2 show on October 2. For the runway event, the actress rocked a black lace leotard with fishnet tights and layered jewelry.
Moore used makeup to enhance her own natural beauty and kept her long locks down and straight. For her brief appearance on the show, the award-winning actress was filmed in repose on a leather couch.
Meanwhile, back in March, Moore revealed to her social media followers that she had fostered two puppies. According to her, these lovely creatures had been abandoned with three other dogs.
In March, Moore also shared a photo that shows her posing with her daughter Tallulah's dog on her head.
Moore shared that before new owners adopted the dogs, she temporarily looked after them at her home. The post that features herself and the puppies captured the hearts of the actress's fans and celebrity friends, especially the animal lovers.
Hollywood Huskies, the charity that Moore had gone to in order to look after the dogs, thanked the star for her kindness. The charity was also grateful to the actress's three daughters — Rumer, Scout, and Tallulah.
In March, Moore also shared a photo that shows her posing with her daughter Tallulah's dog on her head. In the photo, the actress flaunts her radiant makeup-free complexion. She styled her hair in pigtails.
In the midst of the ongoing COVID-19 pandemic, Moore, who had box-office success in the early 1990s, has been keeping her millions of social media followers updated with her life in lockdown.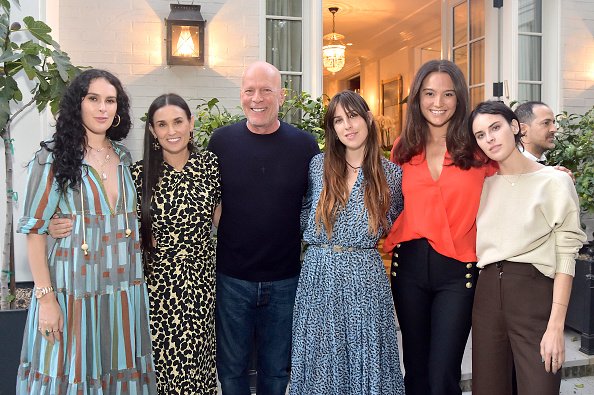 On occasions, she also posts photos that feature Rumer, Scout, and Tallulah, whom she shares with her ex-husband Bruce Willis. The former partners tied the knot in 1987 and divorced in 2000.  
In June, Moore attended the 42nd birthday party of Willis' current wife, Emma, who shared a photo from the celebration. The image shows the group sitting on the lawn in front of her house.