Janie Liszewski Is Eddie Van Halen's Widow — What to Know about the Ballroom Dancer
Eddie Van Halen's wife, Janie Liszewski, used to be his publicist before they tied the knot. After being married for 11 years, she had to say "so long" in an emotional post.
Born in January 1955, Eddie Van Halen was definitely among the most famous guitarists in history. With his brother Alex, Eddie formed the band Van Halen in 1974, which set a precedent in the hard rock scene.
After Kiss guitarist Gene Simmons discovered them, he funded and produced the band's first recording session. Shortly after that, Van Halen started releasing albums almost on an annual basis.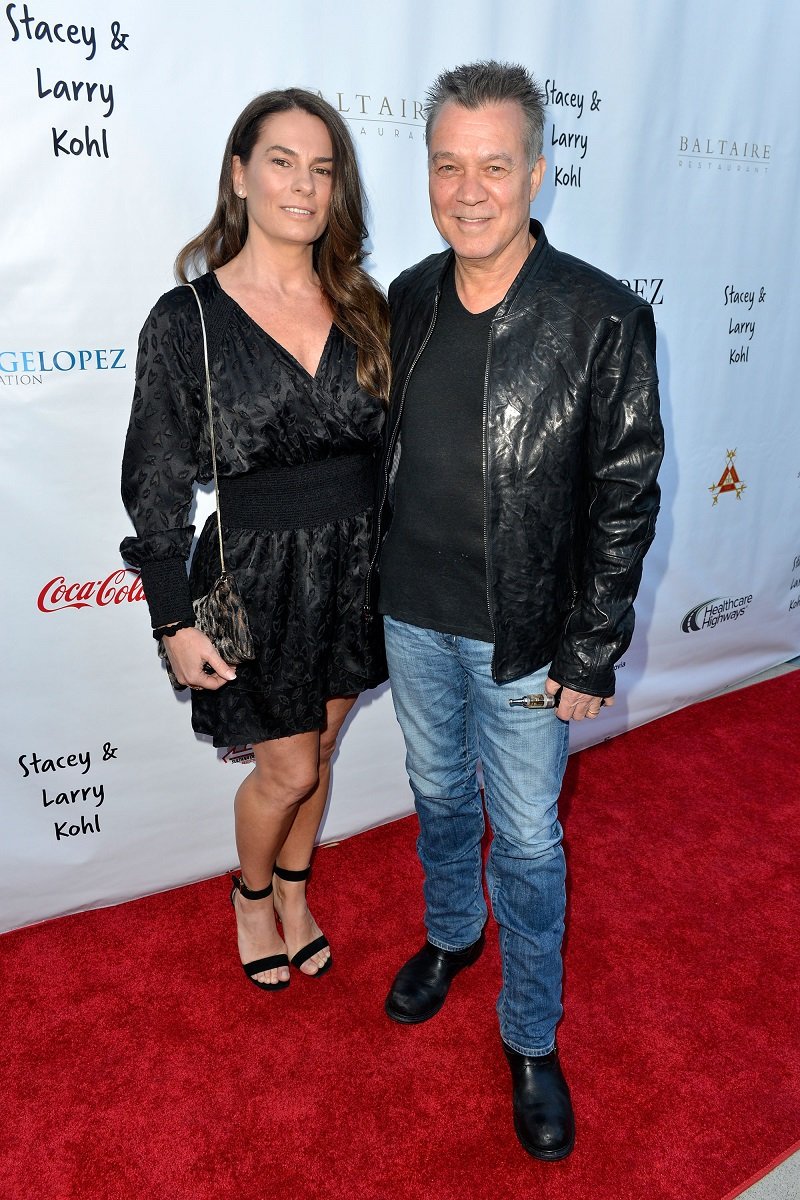 The band's sixth album, "1984," was their most successful one as it included hits like "Hot for Teacher," "Jump," and "Panama." It is important to point out, though, that their previous five albums were multi-platinum.
Van Halen's current members are drummer and percussionist Alex Van Halen, vocalist David Lee Roth, and bassist Wolfgang Van Halen, Eddie's son.
EDDIE VAN HALEN'S DEATH
Sadly, Eddie Van Halen passed away on October 6, 2020. He had been dealing with throat cancer for about five years, and although he used to fly between Germany and the US to get radiation treatment, he died.
After Eddie's death was announced, members of his family shared how heartbroken they were on social media. One of them was the musician's first wife, Valerie Bertinelli.
The actress and TV personality uploaded a black-and-white photo showing her, Eddie, and their only son Wolfgang (as a baby), several years ago.
In the caption, Valerie wrote that the late musician kept his "gorgeous spirit" even during treatment and that she was grateful for being able to hold him in his final moments.
JANIE LISZEWSKI'S HEARTFELT POST
Eddie Van Halen's widow, Janie Liszewski, also shared a heartfelt post on Instagram. The picture, taken on the beach, only showed her feet next to Eddie's with the ocean on the background. For the caption, Janie wrote:
"My heart and soul have been shattered into a million pieces. I never knew it was possible to cry so many tears or feel such incredible sadness."
Janie pointed out that their journey had some bumps along the way, but their connection and love "will always be." She also wrote that saying goodbye was the "hardest thing," so she wrote "so long" instead.
Finally, Janie Liszewski Van Halen (as she identifies herself on Instagram) wrote that she would see her late husband "soon" in a place without pain or sorrow.
Eddie Van Halen's widow also has some acting credits under her belt.
JANIE LISZEWSKI'S CAREER
Speaking of Janie, she used to be involved in the entertainment industry as a stunt woman. Between 2001 and 2005, she worked in 16 different projects, including "The Wedding Planner" and "A Man Apart."
She also worked as a PR agent in the adult film industry before 2007, when she started exclusively representing Van Halen, the band.
Only one year later, Eddie proposed to Janie, who is also a competitive ballroom dancer, inside a Tiffany & Co. store in Hawaii.
Eddie Van Halen and Janie Liszewski's wedding took place in June 2009. They kept things private as the ceremony was held at his home in Studio City, California. Valerie Bertinelli was one of the guests.
In September 2020, Janie was criticized on social media for posting too many photos of her and her dancing partner Louie Martinez and only a few pictures with Eddie.
She took to Instagram to clarify that her relationship and life with Eddie was "private," and that Louie was both her friend and business partner in different endeavors, including ballroom dance and professional wrestling.
Eddie Van Halen's widow also has some acting credits under her belt. She appeared in an episode of the TV shows "Profiler" and "CSI: Miami," and also took minor roles in "Princess Warrior" and "The Third Society."
Eddie, who was 65 years old at the time of his passing, is survived by Janie Liszewski and his son Wolfgang Van Halen. Rest in peace, legend.