Simone Biles Is a Proud Mom of French Bulldogs — 6 of Her Cutest Moments with Her Furry Babies
Superstar Olympic gymnast Simone Biles is a proud mom of two adorable French Bulldogs, Lilo and Rambo with which she melts hearts all the time.
There is a lot to admire about Olympic gymnastics champion Simone Biles. One of those many likable traits would be her undeniable and heartwarming love for her fur babies, two French Bulldogs named Lilo and Rambo. 
As one would expect from a doting dog mom, the gymnast has an Instagram account for her Frenchies. The page is often flooded with the cutest photos and memories of her being the best dog mommy to Lilo and Rambo. Here are six times Biles made fans say "aww" with her Frenchies.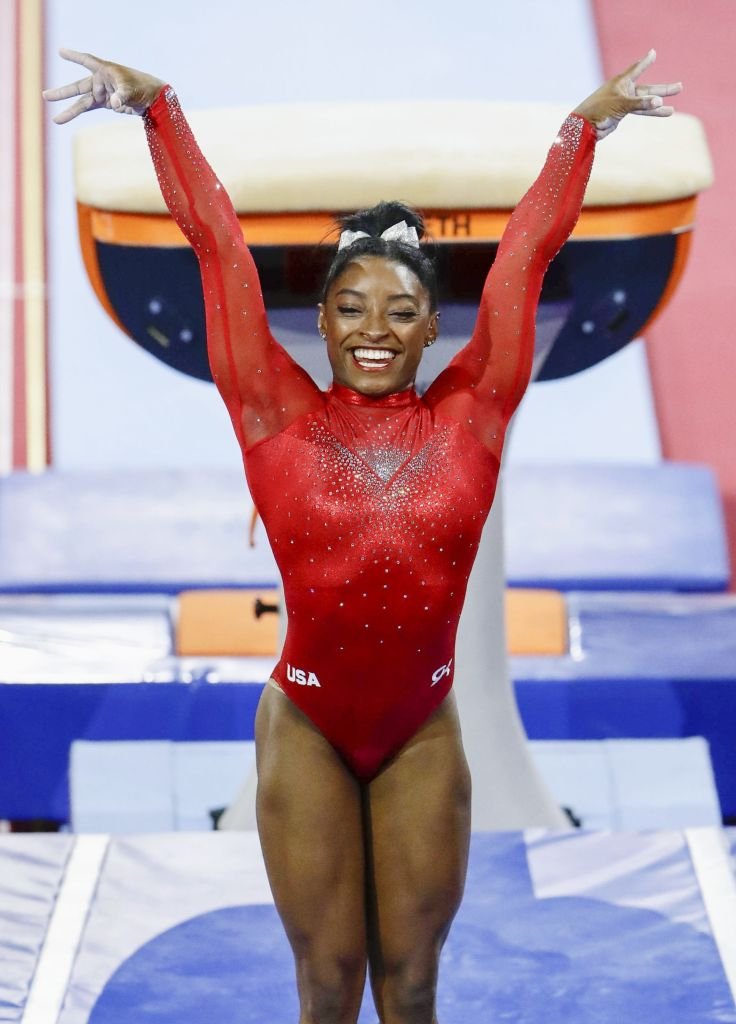 THE WORLD CHAMPIONSHIPS IN GERMANY
In 2019, Biles made her mark in history as one of the greatest gymnasts to have ever competed in the world championships.
However, it was even more rewarding for the young star to know that her sweet fur babies were at home rooting for her. Lilo and Rambo's Instagram shared:
"i [sic] miss my hooman. all the pictures, cuddles, & extra snacks. Good Luck in Germany at World Championships?."
The sweet caption accompanied an adorable photo of Biles giving Lilo a sweet kiss on the head while they sat together. The "hooman" went on to make her dogs very proud, bringing home five gold medals from Stuttgart.
Barely a month after her win, Biles headed straight for the dog kennel on a Friday night in November to raise money and awareness for Houston's Abandoned Animal Rescue.
ON NATIONAL DOG'S DAY
Every August 26, pooch owners come out to celebrate their furry friends in the grandest style in honor of National Dog Day. There was no way Biles was going to miss such a special day with her babies.
The gymnast appeared in a too-cute-to-handle 2019 snap of herself giving Lilo a big bear hug alongside a touching message from her. Lilo was the greatest ever and she always kept Biles entertained while doubling as her cuddle buddy.
A NEW MEMBER TO THE FAMILY 
In December 2019, with Christmas right around the corner, Biles decided it was time to welcome a new member. However, this was not a furry friend. It was a stunning pet snake named Versace. 
Biles posed for a cute photo with Lilo and Versace, but everyone could tell that Lilo was far from thrilled about her new slithering housemate as she gave an unimpressed look while rocking her chic winter sweater. They would grow to become friends eventually.
CHRISTMAS 2019
When Christmas finally rolled around, Biles and Lilo once again melted hearts with a cute photo of them all kitted out in comfy clothing for the season - Lilo in his doggy hoodie and Biles in her pajama shirt and shorts set. They made such a perfect duo.
CRITICAL DECISION-MAKING MOMENT
In February, the Frenchies' Instagram shared a photo of Lilo staring at his "hooman" as Biles appeared to be sleeping. The adorable caption read:
"Should I snore now and wake momma up?"
A LOVING STARE CAUGHT ON CAMERA
Fans know just how much Lilo and Rambo love their momma. In April, Biles caught a selfie with Lilo staring at her with the most loving and adorable gaze ever. 
While the gymnast and her canines stayed at home safely, Biles had quite a lot of fun with them, including taking much needed but safe walks. Biles is now a self-proclaimed suburban dog mom, but neither she nor her fur babies would have it any other way.