Lyon Gardiner Tyler Jr, Grandson of the 10th US President, Dies Age 95
The grandson of the 10th U.S. President John Tyler, Lyon Gardiner Tyler Jr., has passed away at age 95. Lyon died of complications from Alzheimer's disease. 
The former first family of late President John Tyler has lost one of its beloved grandsons, Lyon Gardiner Tyler Jr. According to reports, Lyon passed away on September 26 at the age of 95 at the Williamson Medical Center.
Lyon, a talented lawyer, and historian died of Alzheimer's, according to his daughter Susan Selina Pope Tyler, who was by his side. Lyon Jr. was the older of the two surviving grandsons of the 10th U.S. President, John Tyler, who served from 1841 to 1845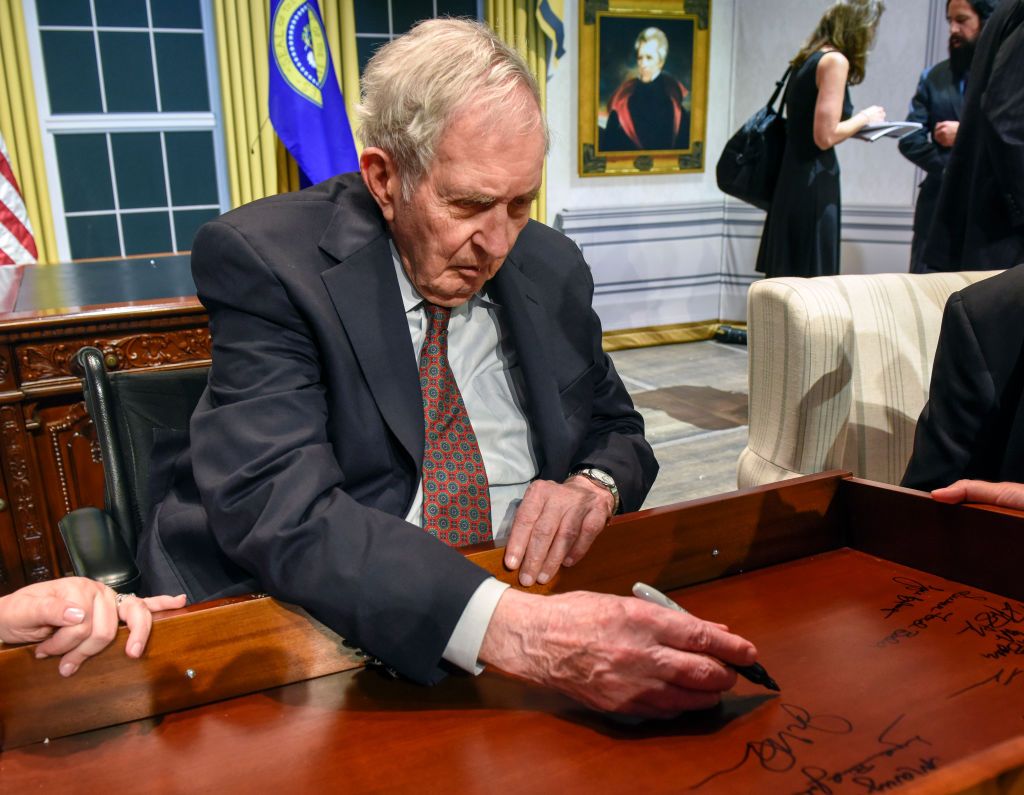 He is among the few people of the three generations that spanned most of American history.  The deceased was born to father Lyon Gardiner Tyler Sr., a former president of the College of William and Mary, and mother Sue Ruffin on January 3, 1925.
President John Tyler's GRANDSON Lyon Tyler Jr. died yesterday which is remarkable, as President Tyler was born in 1790!

His father Lyon was born to 63 year old ex-President Tyler in 1853. Lyon Jr. was born to 72 year old Lyon Sr. in 1925. His 92 year old brother is still alive.

— Spiro Agnew's Ghost (@SpiroAgnewGhost) October 7, 2020
He bagged a law degree from the University of Virginia and was the Virginia Civil War Centennial Commission director from 1959 to 1963. After getting his doctorate from Duke University, he took up teaching at the University of Richmond, the Virginia Military Institute, and the Citadel.
He was married to Lucy Jane Pope, and they had only one daughter. Lyon Jr's grandfather made history as the president who annexed Texas as the 28th state while the nation expanded.
We are deeply saddened by the passing of Lyon Gardiner Tyler, Jr. Lyon was the grandson of John Tyler, the 10th president of the United States. We had the pleasure of hosting him at the 2018 Presidential Sites Summit. Our condolences go out to his family and loved ones. pic.twitter.com/kiaQnySurV

— White House History (@WhiteHouseHstry) October 6, 2020
John, who was initially elected as vice president, became the commander-in-chief after President William Henry Harrison passed away from pneumonia one month after he was sworn in.
The Tylers are also famous for their longevity as the combined lifespan between the 10th president and his grandson amounts to a whopping 222 years. The late Lyon Gardiner has joined the long list of celebrities and prominent personalities and their loved ones who have been diagnosed with Alzheimer's Disease.
In 2018, I had the privilege of meeting Lyon Gardiner Tyler, Jr., the *grandson* of John Tyler, the 10th president of the United States. My condolences to his remaining brother and family on his recent passing. pic.twitter.com/YuezdHBjSv

— 𝕊𝕥𝕖𝕨𝕒𝕣𝕥 𝔻. 𝕄𝕔𝕃𝕒𝕦𝕣𝕚𝕟 (@WHhistoryPres) October 6, 2020
Television reporter Ruth Langsford spoke openly about her father's battle with the disease while Dame Barbara Scott's husband didn't hide her diagnosis from the world. 
While Alzheimer's Disease is seen as a life-threatening disease, the rise of Memory Cafes across the nation has helped make the journey easier for patients. The program offers emotional and social support for patients and their caregivers through fun activities like poetry, music, and art. 
Grandson of President John Tyler—Lyon Gardiner Tyler, Jr.—has died at age 95. @WhiteHouseHstry

— Michael Beschloss (@BeschlossDC) October 6, 2020
2020 has, unfortunately, been a sad year. Many have had to say goodbye to their beloved stars, including Eddie Van Halen, Kenzo Takada, Helen Reddy, Chadwick Boseman, Naya Rivera, Kobe Byrant, amongst others.