Magic Johnson's Granddaughter Resembles the NBA Star in New Pic Showing Her Braces & Brown Eyes
Lisa Meyers Johnson, the daughter-in-law of former NBA star Magic Johnson, took to her Instagram page to share a cute snapshot of her 11-year-old daughter, Gigi. 
Lisa Meyers Johnson, the wife of Magic Johnson's eldest son, Andre Johnson, shared a cute snap of their 11-year-old daughter, Gigi. 
The picture showed the adorable Gigi in a blue polo shirt. She could be seen smiling sweetly at the camera, revealing her braces. Gigi also wore a white headband over her head and a blue hair clip which she used to hold her hair.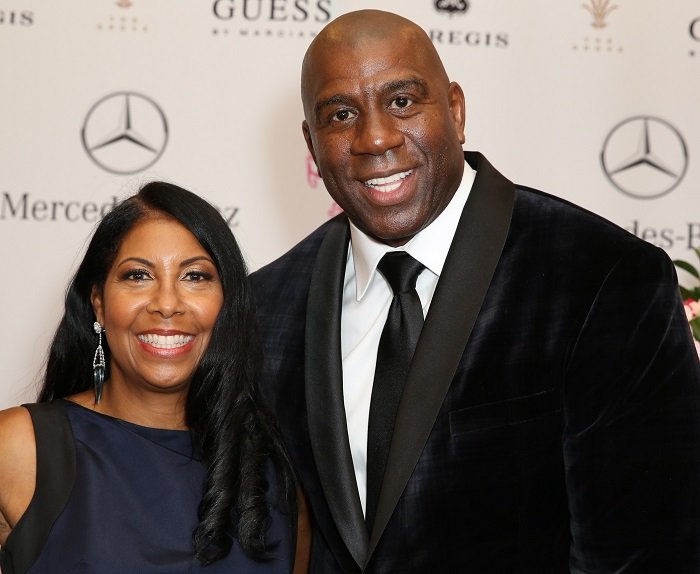 The snapshot also showed Gigi's beautiful brown eyes and her striking resemblance to her grandfather. She not only resembles her famous grandpa in looks; she also takes after his athletic abilities. 
In the caption to the post, Gigi's mom revealed her daughter had committed to City Volleyball, Los Angeles, a volleyball club for young female athletes. 
The volleyball players in City Volleyball are built on the 5 C's of confidence, character, community, commitment, and compassion, so it made Gigi's mom proud that her daughter committed to the team. 
Lisa's fans took turns to congratulate her and her daughter on the milestone by posting words of praise as well as emojis that best conveyed their well-wishes. 
Perkins also revealed one of the former basketballer's advisors tried to force her to abort the baby.
Lisa has many reasons to be proud of her adorable daughter and celebrated Gigi on National Daughter's Day by posting cute photos of her as a baby and some of her childhood memories. In the caption to the post, the proud mom said every day should be National Daughter's Day.
In August 2019, Lisa shared pictures and videos of Gigi performing at the Youth Academy of Dramatic Arts Retreat, again showing how talented she is. 
Magic is also proud of his granddaughter. In 2018, the basketball legend shared pictures of Lisa and her father's dance as the cute father-daughter duo combined for a waltz dance for her 4th grade Christmas program. 
Magic is the father of three children. He shares two children, Earvin "EJ" and Elisa, with his wife, Cookie. Magic and Cookie adopted Elisa in 1995 when she was just an infant. The NBA icon shares Gigi's father, Andre, with his former girlfriend, Melissa Mitchell. 
Of all Magic's children, Andre has stayed out of the public eye. His mom raised him as a kid but he maintains a strong bond with his dad, often spending time with him on vacations. 
Magic's second son, EJ, came out as gay in 2013 and had the support of his parents when he did, with the former basketballer once saying it was important for parents to love their children no matter who they are or what they decide to do. 
Meanwhile, Magic found himself in the news in 2017 when a woman, Renee Perkins, claimed he is the father of her son, Chauncey. The woman claimed the basketball player left her after she told him of her son's paternity.
Perkins also revealed one of the former basketballer's advisors tried to force her to abort the baby. Neither Magic nor his representatives responded to the woman's claims when tabloids requested for their comments.