'Today' Co-host Hoda Kotb Opens up about Changes to Her Destination Wedding Plans
"Today" show host Hoda Kotb talks about postponing her wedding and changing her plans to have a destination wedding due to the pandemic.
"Today" show host Hoda Kotb recently opened up about her plans to tie the knot with her fiancé, Joel Schiffman, and the changes they had to make in response to the pandemic. She said to PEOPLE:
"I don't know if a destination will be in the cards anymore. It's been postponed and I always wanted kind of a beach wedding."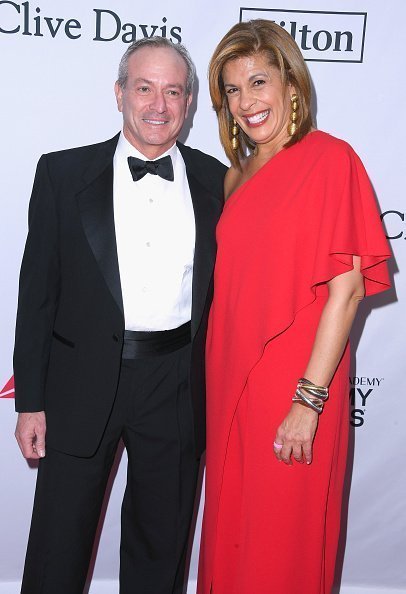 Kotb added that the wedding was actually supposed to happen in November, but their plans were looking very different. She narrated how journalist Maria Shriver called her to confirm if the wedding was truly canceled.
Schiffman dropped to one knee and asked Kotb to marry him in a romantic Mexican beachfront proposal in November 2019. The couple considered tying the knot in Mexico, where Schiffman proposed, but due to the pandemic, they were not so sure that a destination wedding was still in the cards for them.
The show host admitted that she and her husband-to-be are now considering hosting their special day somewhere closer to home in the summer of 2021.
The couple recently revealed that they are considering adopting a third child together.
It would still be a beach wedding, Kotb added and said that New York's environs seemed like a possible location for the big day. The "Today" host went on to express her worry at people's willingness to travel even when things with the pandemic might have cooled down.
With that in mind, Kotb said that the event was most likely going to be very intimate and would be a lot smaller than she anticipated. 
Kotb officially postponed her wedding in August, revealing that she and her fiancé knew that was the best decision they could make, given all that was happening.
Deep down, the 56-year-old did not care where the wedding took place as long as her friends and family were there to celebrate with her and make the day a happy one.
Kotb and Schiffman have been together for over seven years. The show host and her longtime partner shared two adopted daughters, Haley Joy, 3, and Hope Catherine,1. The couple recently revealed that they are considering adopting a third child together, hopefully, a boy.
Whether or not Kotb and Schiffman get married on earth or in space, the lovebirds were sure of one thing — their unconditional love for each other and their kids.