Nikki Bella's Newborn Son Matteo Is Already a Selfie King in Sweet Photos Shared by His Mom
Nikki Bella's son Matteo is proving to be as photogenic as his gorgeous mother in new snaps shared by the former professional wrestler. His dad called him a "model."
On Tuesday, Nikki Bella took to Instagram to share the most adorable selfie photos of her and her son, Matteo. The proud mom was eager to show off her son's photogenic talents.
Nikki, 36, welcomed Matteo on July 31 alongside her fiancé Artem Chigvintsev. Since then, the new mother has shared several snaps of her little one. The latest shot is found below. 
NIKKI'S SELFIES WITH MATTEO
Over several slides, Nikki shared photos of her and Matteo lying down. The two-month-old wore a dark navy onesie next to his mother, who sported a red outfit. 
Matteo appeared to be staring directly at the camera as his mom rested her face on the tot's head. "Selfie King & Queen," wrote Nikki in the caption. Her fiancé wrote in the comments, "Nicole, we have a model baby."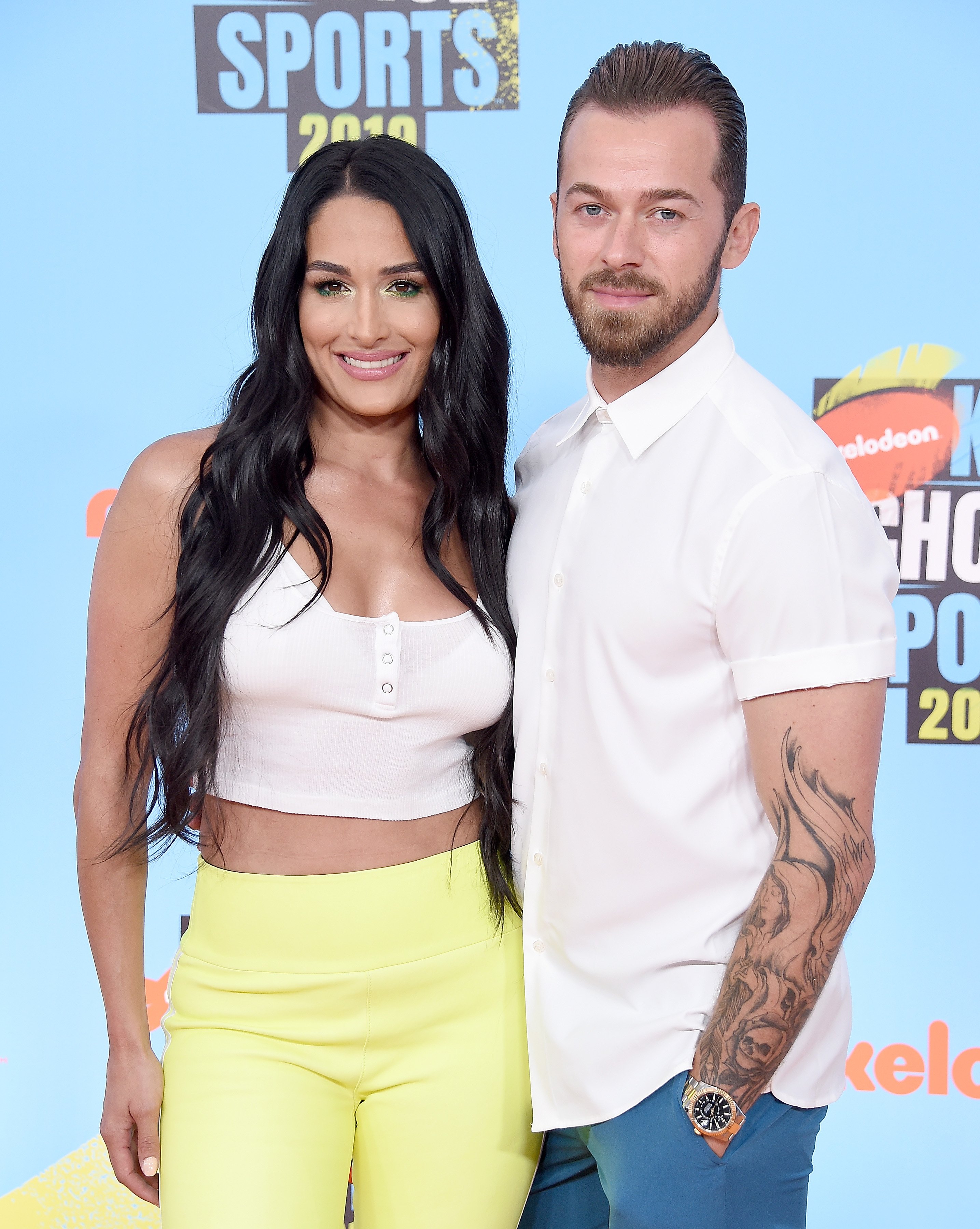 ARTEM PRAISES HIS SON
He continued: "That magnum look is everything." Others in the comment section promptly agreed with Chigvintsev's words, praising Matteo for his natural modeling genes and likeness to his dad.
Unfortunately, Chigvintsev is not around these days as he is currently working on the hit competitive reality show, "Dancing With the Stars." Last month, Nikki talked about going it alone as a new parent. 
BRIE SUPPORTS HER SISTER
The "Total Bellas" reality star luckily has the help of her sister Brie to guide her with new motherhood. Nikki's twin sister also welcomed a son, Buddy, recently — Brie gave birth a day after her sister on August 1. 
One source said that both sisters have been leaning on each other and hanging out just as much as if they did not have kids. Brie, who is married to husband Daniel Bryan, also has a three-year-old daughter, Birdie Joe. 
ARTEM MISSES HIS FAMILY
Soon after the season of DWTS started last month, Chigvintsev admitted that he was missing his fiancée and newborn son. At one point, he shared a photo of himself holding Matteo in his arms. 
"Missing my loves already," he wrote, tagging Nikki in the post. Chigvintsev also revealed that he would be swapping out some photos and putting some up of his own family to feel like he's at home.
NIKKI OPENS UP ABOUT DEPRESSION
Earlier this month, Nikki talked about the major depression she faced right after giving birth for the first time. Speaking on her and her sister's podcast, "The Bellas," the star got candid about her struggle. 
She admitted to having a "massive breakdown" because of her husband's absence and her decision to hire a nanny to care for their son. Brie said it was difficult to see her sister in the emotional state she was in.